Sometimes we all need to take a break from online casinos and relax. In such a situation, it would be nice to turn on Netflix and binge-watch movies about gambling. The best international film crews create drama, comedy and action masterpieces devoted to making stakes and earning easy money. When you feel like playing mobile slots again, visit pebwallet.com. On this site, you will find plenty of valuable recommendations and useful insights. And now, we are going to share with you our hand-picked selection of the best movies about casinos.
Bugsy — a Must-Watch
The action takes place in the middle of the previous century: mobsters are competing for power, couples fall in love, marriages split up, a visionary character comes up with the idea of opening a casino in the middle of the desert simply because gambling is legal there.
In this movie, gambling is depicted as an ambitious dream that should help adventurous people enjoy their life to the max. At the same time, you can see how an unhealthy addiction to this type of entertainment ruined the lives of some protagonists. In the end, you witness the triumph of the business and several personal tragedies.
Croupier — a Remarkably Intricate Plot
Have you ever wondered why and how people start to work as croupiers? The film tells a story of a guy who was not interested in the gambling sphere at all but had to accept the job to earn his daily bread. Quickly afterward, he finds himself involved in criminal activities and starts cheating on his girlfriend with a colleague. In the movie, the casino industry is surrounded by lies, violence and betrayals. It seems that you cannot trust anyone, even your closest family members. Yet such a lifestyle has an irresistible charm that makes all the protagonists put up with the risks that they take. This film is classified as «noir» but it is a rather unusual specimen of the genre.
Ocean's 11 — a Huge Box Office Success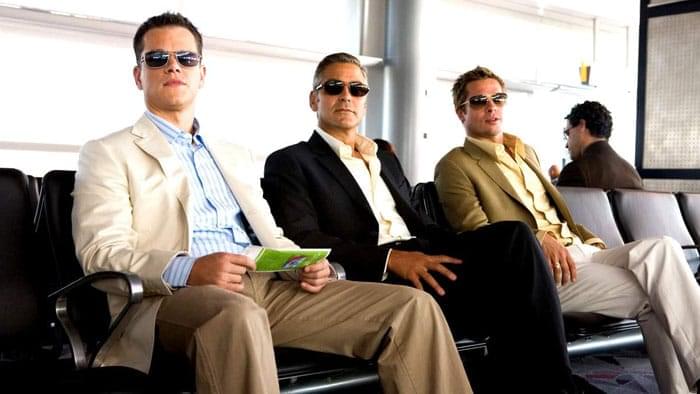 Once again, the film director shows the audience the dirtiest side of gambling. Gangsters are planning to rob the casino and the plot is largely based on their careful preparations. Each of these guys specializes in a sphere that is somehow connected with casino operations, be it security, mechanics or electronics. At first sight, their project seems flawless. But of course, something unexpectedly goes wrong and the crooks need to improvise. This is a highly dynamic comedy with a remarkably brilliant cast.
Guns Girls and Gambling — Top-Notch Absurd Humor
Do you think you are a loser because you lost a lot of money on stakes recently? Then, you should watch this one. From the onset, you cannot stop wondering how unfortunate a gambler can be. It is impossible to guess the next twist of the plot and the bloodshed on the screen seems endless. However, the film is not overloaded with atrocity. Its director brilliantly combines action, sarcasm and surrealism. It might not be the most popular movie about gambling and it contradicts numerous stereotypes about the genre. Yet it is a rare pearl that it is impossible to forget.
Win It All — Gambling Addiction as You Have Never Seen it Before
In Croupier, the main protagonist lands a job at a casino to sustain himself. In Win It All, the main character finds a substandard job because he needs funds to satisfy his gambling addiction. «Addiction» might sound like a sinister word — but the movie is funny. We witness the numerous ups and downs of a guy who desperately struggles to come back to normal life. He is surrounded by people who eagerly help him. He even has a crush on a nice girl and she likes him too. This movie is devoid of drama typical of the above-listed titles.
21 — Intellectual and Full of Drive
In real life, gambling cannot be considered as a stable source of income. Yet the characters of this film steadily earn cash in casinos because they are maths geniuses. A poor but extremely talented student needs the money to pay for his education. In the end, he almost loses his chance to graduate because the dangerous games he participates in suddenly take the wrong direction. If you have ever tried your luck at blackjack, you should guess what the number 21 stands for and how exactly the gang of young talents was cheating on the casino.
Lock, Stock and Two Smoking Barrels — Hilarious and Very British
Gambling is just one of the numerous themes of this witty action-loaded film. It is not dedicated to the casino industry but all the mess starts with a rigged card game. The characters will be involved in robberies, murders and drug-dealing. But they are not professional criminals, so they commit ridiculous mistakes and consistently lose their chances to fix the situation.
Mississippi Grind — A Risky Story with a Happy End
Two gambling aficionados get to know each other when making stakes. They get drunk together and set out on a risky adventure to earn a lot of money. In this movie, you will see almost all the predictable paraphernalia:  robbery attempts, mugging, prostitutes, betrayals, sudden strokes of luck.
Yet the plot does not resemble any other movie or book. It is a one-of-a-kind fascinating story that ends very well. After watching it, you realize that gambling might be risky and tiresome. One might lose a lot of nerves and funds. And maybe, it would be wiser to watch this type of entertainment from the sidelines, relying on the goodwill of the film director.
Casino Royale — a Recent James Bond Classics
By the 21st century, gambling has lost its status of a premium sort of entertainment. Today, it is accessible for everyone who has a smartphone. Yet in this movie, you can still enjoy the old school chic multiplied by the inimitable charisma of the Agent 007. Here, the spectators find all the components typical of this spy saga: multiple murders, cool cars, a femme fatale and the fabulous work of the cameraman. However, you will not penetrate too deep in the backstage of the gambling industry — instead, it serves as a colorful background for the main action.
Lay The Favourite — Based On a Real Story
A young woman is tired of working as a strip dancer and moves to Las Vegas to work as a cocktail waitress. But she quickly finds out that she has a talent for numbers. She works as an assistant to several gamblers, which is rather unusual. The movie is focused on this weird career and the complicated relations between people who share hardly anything else in common except for their desire to make stakes and win easy money. Since the plot was not invented from scratch but based on a true biography, it lacks breathtaking twists — yet its authenticity makes it twice as interesting.
When you want to have a rest from real-life gambling, feel free to watch one of the above-listed movies. They are very different in their mood, genre, cast and other features. Yet each of them is an excellent example of gambling-related content that will make you experience remarkably vivid emotions. After watching them, you might review your attitude towards placing bets and start playing more cautiously. By the way, some of these movies feature top music too — so you might want to download their soundtracks and listen to them when making stakes.