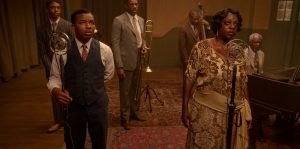 NOW ON NETFLIX! Director George C. Wolfe's Ma Rainey's Black Bottom blew me away. What a joy it is to experience a film so fervently impassioned and lyrical, so perfectly attuned to both the time it was produced and the bygone era it's honoring; a film whose every aspect touches greatness. Towering above all that majesty are two lead performances that are nothing less than profound; the picture never cowers in their shadow but is instead bolstered by their ferocity.
Some may be turned off by the talky nature and limited settings of Ma Rainey's Black Bottom. It is, after all, a faithful adaptation of playwright August Wilson's searing 1982 study (more relevant today than ever) of the exploitation of Black artists by white producers in the 1920s. It's also a tribute to the unflashy filmmaking of yore when shots lasted longer than three seconds, and the focus was on characters and dialogue, as opposed to special effects and general bombast. In other words, if you love blues or jazz but don't have the attention span, that's on you. Go watch La La Land.
"…to switch up the arrangement on Ma's songs, but the band…deems his ambitions futile."
The movie opens with Ma Rainey (Viola Davis), along with her girlfriend, Dussie Mae (Taylour Paige), and stuttering nephew Sylvester (Dusan Brown), running late to a recording session with Ma's Georgia Jazz Band. While they wait, the members – trumpeter Levee (Chadwick Boseman), pianist Toledo (Glynn Turman), trombonist Cutler (Colman Domingo), and bass player Slow Drag (Michael Potts) – engage in an argument. The swaggering Levee has convinced their producer, Mel Sturdyvant (Jonny Coyne), to switch up the arrangement on Ma's songs, but the band – Toledo particularly – deems his ambitions futile. Levee isn't fazed – until later, when Ma Rainey arrives and insists on using the original arrangements, in addition to having Sylvester introduce the band. Tensions run high, spurred by the pressure of the sociopolitical climate, leading to a firing and a death.
Ma Rainey's Black Bottom is essentially comprised of two dramatic threads: Levee's desire to be heard and Ma Rainey's exhaustion from being manipulated. Even if Levee were to "make it," he'd be subjected to a life of deep resentment beneath the silken veil. An encounter with a policeman, a failure to bring a Coke, an equipment malfunction, that final note – Wolfe and company pepper the drama with small moments, as well as searing stories (Levee's dad; Cutler's preacher), that allude powerfully to the racism that still rages on today.
Ma Rainey's Black Bottom has so many things going for it. Wolfe's subtle direction transcends the source material's theatrical roots to imbue the film with vibrant cinematic splendor. There's Wilson's – and by extension, screenwriter Ruben Santiago-Hudson's – musical dialogue, by turns scalding and gentle, deeply sad and witty. "What you care how much I read?" Toledo asks Levee. "I'm going to ignore you because you're ignorant." Enraged and defiant to the end, Ma Rainey proclaims, "What you all say don't count with me, you understand? Ma listen to her heart. Ma listen to the voice inside her. That's what count with Ma."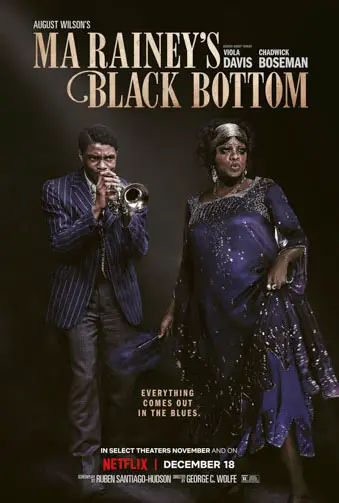 "…functions as an ode to Black culture, Black music, Black art..."