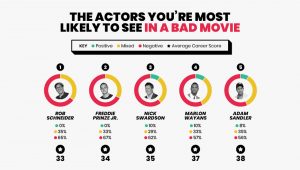 Do you believe that the actor you are most likely to see in a bad movie is Rob Schneider? And on the other end of the spectrum, is Hilary Duff the actress you are most likely to see in a bad movie? Sometimes no matter how hard they try; actors and actresses just can't seem to catch a break and they consistently appear in badly reviewed flicks. They might eventually appear in a successful movie in terms of the box office, but reviews are a completely different story.
A recent investigation from the guys at Bingofind.com has revealed the top 5 actors and actresses that are most likely to appear in a bad movie. The methodology used to come up with their findings included the box office score for 881 of the highest grossing actors as per the stats from Box Office Mojo, and statistics from Metacritic that highlight the number of movies these actors and actresses appeared in and whether they were reviewed in a positive, negative or mixed manner.

Actors Most Likely to See in a Bad Movie
As we mentioned before, Rob Schneider has the unfortunate distinction of topping this list, which is a bit like the Golden Raspberry Awards. You simply do not want to appear on it. He is followed closely by Freddie Prinze Jr., Nick Swardson, Marlon Wayans and Adam Sandler who round up the top five. If you are a fan, you can read more about the latter's gems and duds here. 
Actresses Getting Cast in Bad Movies
The list with the actresses most likely to watch in a terrible movie is headlined for all the wrong reasons by Hilary Duff, followed by a three-way tie, that includes Courteney Cox, Bella Thorne (who apparently made more than $1 million in 24 hours after publishing content on the subscribtion platform OnlyFans), Jessica Alba and Ali Larter.
Good Performances Should Be Rewarded
Not wanting to highlight just the negative aspect of acting, the report also points out to the top five actors and actresses that you will probably see in a good movie. Daniel Day-Lewis heads the men's list, followed by some unlikely heroes, including Mathieu Amalric, Adam Driver, Andy Serkis and Tom Hiddleston. The leading ladies featured on this list include Carey Mulligan, Sally Hawkins, Tilda Swinton, Imelda Staunton and Greta Gerwig.
Whether you agree with the findings is another story, but in true Hollywood style, money doesn't buy recognition from moviegoers.