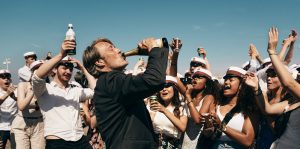 Another Round is the latest film from celebrated Dogme 95 filmmaker Thomas Vinterberg. He is back at it again with the one and only Mads Mikkelsen eight years after their Oscar-nominated The Hunt (fun fact: that film is, rightfully, at number 95 on IMDb's Top Rated Movies list, so catch it if you haven't already – along with Another Round it would make a weird "Mads double-bill"). This film has already won a bunch of awards, is leading the upcoming European Film Awards with multiple nominations, is on many "Best of the year" lists, and, to no one's surprise, is Denmark's entry for Best International Feature for the 93rd Academy Awards.
Another Round focuses on high school teachers Martin (Mads Mikkelsen), Tommy (Thomas Bo Larsen), Nikolaj (Magnus Millang), and Peter (Lars Ranthe). We meet the friends at a birthday celebration dinner, catching up. The group realizes that Martin is depressed, and they are all mostly going through some sort of middle-age crisis. The men are either disillusioned or dissatisfied with their jobs, family, or life in general. They reminisce about the glorious times of their past, try to cheer one another up, and of course, doing so involves a lot of alcohol. The latter is also the subject of one of their discussions.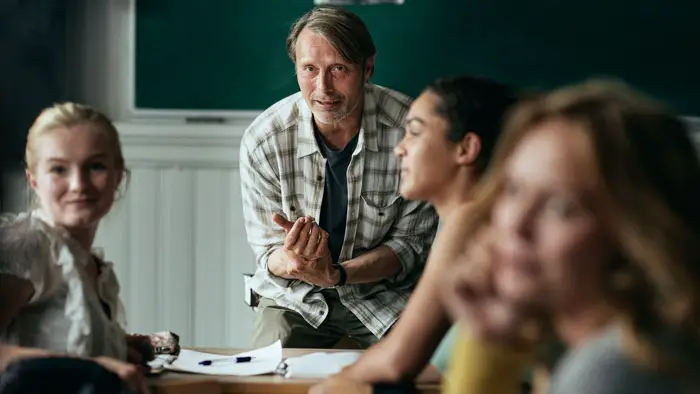 "…one needs to have a specific blood alcohol level to perform optimally…"
They argue whether the idea that one needs to have a specific blood alcohol level to perform optimally or be their true self has merit or not. The friends decide to put it to the test, but seriously and for "research purposes" as one of them will professionally document and write about their experiment. The pact appears "logical" and designed for the greater good except for the fact that, well, they will have to drink at work around all those young kids. Despite the craziness of it all, the theory seems to hold up, and everyone is seeing improvements and is satisfied.
However, not content to keep on living their daily lives with the constant equivalent of a drink in their system, they decide to kick it up a notch… for science, academia, and maybe the happiness of humankind! And so, throughout the movie, we often see them in a very charming and touching "bromance way," enjoying their new selves, but as expected, things get tricky. There are ups, downs, and dramatic consequences.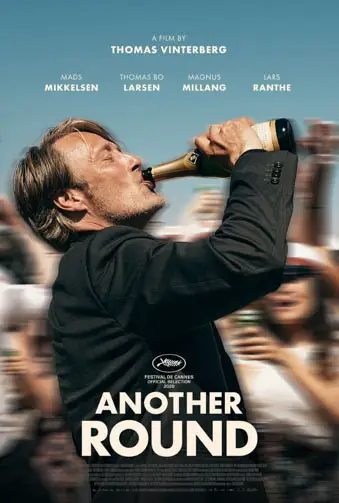 "…touches upon the perception of alcoholic beverages used as a social lubricant..."