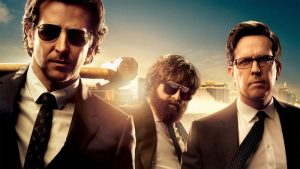 More than a few recreational gamblers have been inspired by what they have seen in the movies. It's kind of hard to not get wrapped up in the exciting gambling action that is often portrayed in the movies. That's with no regard to how realistic a movie might be when portraying gambling activities.
Looking back over movie history, there have been more than a few really good movies that were heavily connected in some way to gambling. Let's take a look at some of the best gambling movies that are tied to very specific movie genres like action, comedy, drama, and thriller.
Action Genre – Casino Royale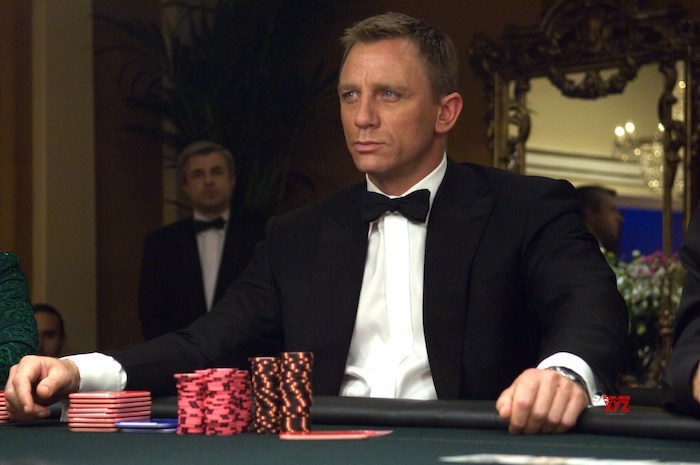 "Bond, James Bond" is easily one of the most recognizable greetings in movie history. It has been the greeting the British spy/secret agent James Bond gives when greeted by a beautiful lady or a new nemesis. As one might expect from a famous movie bachelor who loves living a fast and furious lifestyle, Bond has been featured in more than a few movies that include some form of casino gambling. At the top of the list is the 2006 remake of "Casino Royale."
It's noteworthy that the remake features Daniel Craig in the title role. The original movie (1967) featured the legendary Sean Connery.
Plot Summary: After Bond thwarts a terrorist attack on an airliner, banker/investor Le Chiffre loses tens of millions of dollars he invested by shorting the airliner's stock. It left him in debt to some very powerful criminals. In an effort to win back his money, he organizes a high-stakes Texas hold 'em tournament at the Casino Royale in Montenegro. Bond enters with the goal of taking Le Chiffre's stake, forcing him to seek asylum with the British government to protect him from the criminals he owes in exchange for information n criminal enterprises. Not surprisingly, everything at the end hinges on one final face-to-face hand between Bond Le Chiffre.
Comedy Genre – The Hangover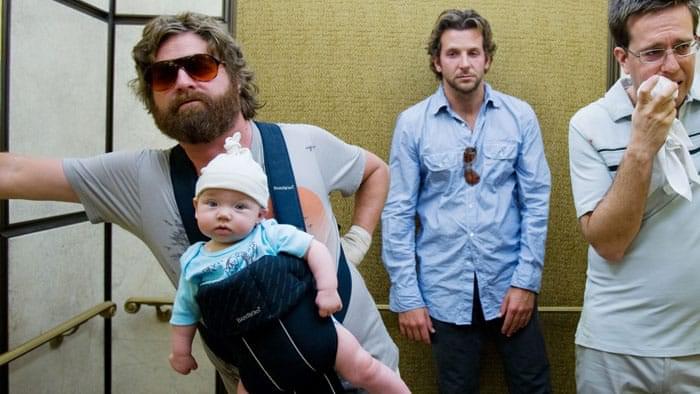 If ever the quote "What happens in Vegas stays in Vegas" was applicable, it would be in the 2009 blockbuster "The Hangover."
Plot Summary: In preparation for his pending nuptials, bachelor soon-to-be husband Doug Billings heads to Las Vegas for a bachelor party with his two best buddies Phil Wenneck and Stu Price and oddball brother-in-law Alan Garner tagging along at the family's request.
Thanks to a night of heavy gambling (no casino bonuses here), drinking, and the possible ingestion of "date night drugs," our four bachelors find themselves getting involved in one misadventure after another. The next day, the groom is missing and the other three hungover men are left to retrace their steps in order to find their missing buddy. An encounter with heavyweight champion boxer Mike Tyson and his pet Bengal tiger is among the most outrageous misadventures that befall the four otherwise lovable saps.
Drama Genre – Rounders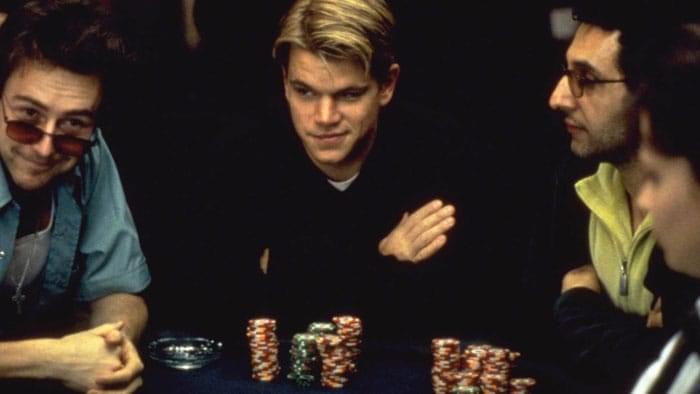 The hit 1998 feature film "Rounders" features Matt Damon as Mike McDermott, Edward Norton Jr. as Lester "Worm" Murphy, and John Malkovich as Russian mobster Teddy "KGB".
Plot Summary: McDermott is a full-time student and part-time poker player. With a dream of entering the "World Series of Poker", McDermott takes a run at KGB's underground poker tournament to build his bankroll before heading to Vegas. In a devastating final hand, McDermott loses his entire stake to Teddy, swearing off poker from that point on.
That lasted until Mike's best friend Worm is released from prison. Prior to going to prison, Worm had gotten himself into debt with KGB, and street nemesis Grama had every intention of collecting the debt. In an effort to save his friend's life, Mike and Worm set out to scam underground poker games in an effort to pay back the debt and get KGB off Worm's back. Nothing goes as planned, and the debt ends up on Mike's head. He is left with two choices, flee or get a stake and go back to KGB's poker room for one last run to clear the debt and his name.
Thriller Genre – Revolver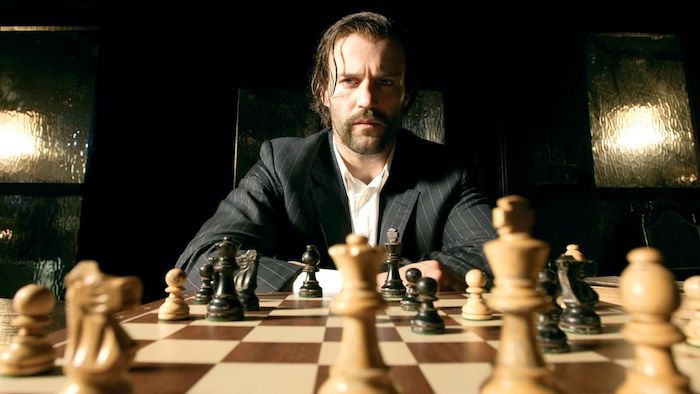 The cast for the 2005 gambling thriller "Revolver" featured Jason Statham as Jake Green and the late Ray Liotta as gangster boss Dorothy Macha
Plot Summary: When gambler Jake Green (Jason Statham) is released from prison, he hits the streets with a bad case of claustrophobia. Green feels Macha is beholden to him because it was Macha who ordered the crime that landed Green in prison. To collect some big cash, Green suggests the two men play a game of high-stakes poker, a game in which Green is victorious. Not taking the loss well, Macha orders Green killed, which leads Green on an adventure through the underworld. During this adventure, he would cross paths with killers, loan sharks, and other high-stakes gamblers who were willing to help him.