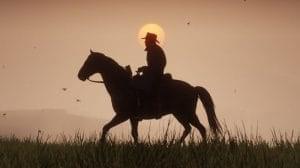 Nicolas Cage is one of the most prolific actors in Hollywood, and he's starred in more than 122 films to date. Surprisingly, though, the Face/Off and Con Air action hero had never been in a Western – until now. Earlier this year, Cage starred in The Old Way, and you're forgiven if you've never heard of it.
This western from Brett Donowho was only released in select theaters and went under the radar for a lot of film buffs. It's clear that Cage has seen that Westerns are making a return in entertainment, and he wants a piece of the action.
Westerns Are Everywhere – From TV to Casino Games
The golden age of Westerns may be long gone, but their influence is starting to return. This could have been helped by the online casino industry, where Wild West themes are all the rage. For instance, one of the top Paddy Power Slingo titles is Slingo Money Train, a game that features all the traditional tropes of classic Westerns. It features a dusty landscape with old saloons, train tracks, bandits, and sheriffs. This is just one of many Westerns in the iGaming sector, highlighting how a vast number of players search for these games.
Westerns have been influential in the modern television industry as well. Deadwood, for instance, is up there with the best television shows of all time. Westworld is heavily inspired by the genre, albeit with plenty of sci-fi elements intertwined as well. Timothy Olyphant was the main star of Deadwood, and he returned in the neo-western Justified in 2010. That title was so well-loved that it recently returned as a limited sequel series in 2022. Justified: City Primeval was also a major hit with television viewers. According to The Guardian, it was a "triumphant return."
The Old Way Released Under the Radar for Many
With all this Western content out there, it made sense for Cage to dip his toe in the genre and star in a Wild West-themed picture. The 59-year-old tends to mix up his movie appearances between blockbusters and lesser-known offerings, with The Old Way falling in the latter bracket. It was released by Saban Films earlier this year in select theaters in the Netherlands, the UK, and Russia. This is why a lot of people haven't heard of it. However, it is now available on DVD, and it's the perfect time to check it out.
Cage stars as a gunfighter tasked with bringing down a notorious bandit — a tried and tested formula of Westerns. It doesn't bring much new to the table, but it will appeal to fans of the genre. It is also great to see Cage experimenting with a new role and spending some time on horseback. In a review from Roger Ebert, the movie was described as generic but with a highly enjoyable ending.
If you're looking for a gritty western with all the classic tropes to sink your teeth into, you can't go wrong with The Old Way. Cage is on form in this new role, and it might encourage him to pursue other similar parts.