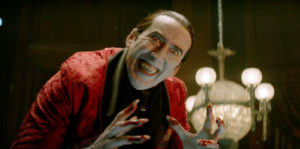 NOW IN THEATERS! Chris McKay's Renfield is not a perfect movie by any means. There's a war waging within the film between the good elements and the bad. Ultimately, you will decide who wins, which is a weird way to watch a movie.
Nicholas Hoult stars as the titular Renfield, the longsuffering man-servant to centuries-old Dracula (Nicolas Cage). While Dracula is recuperating in an abandoned insane asylum after an attack by a gang of Vampire Hunters, Renfield is at a co-dependents support group looking for victims for Dracula to feast on. The intended victims are not the attendees of the support group. Renfield is more interested in their abusers, one of whom turns out to be a drug runner employed by the Lobo family led by Tedward (Ben Schwartz) and his mother, Bellafrancesca (Shohreh Aghdashloo).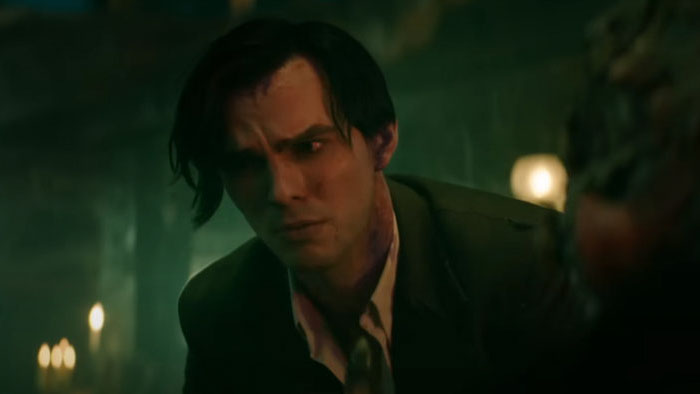 "The intended victims are not the attendees of the support group. Renfield is more interested in their abusers…"
Meanwhile, traffic cop Rebecca (Awkwafina) is hellbent on finding her father's killer, a high-ranking officer in her department. The problem is that corruption flows throughout the police department and its alliance with Bellafrancesca. Rebecca soon finds herself face-to-face with Tedward after investigating the massacre of his henchmen at the hands of Renfield. Now everything comes full circle.
The character of Renfield is obviously at the heart of Renfield. While attending the co-dependent support group, it's only a matter of time before Renfield realizes he is in an abusive relationship with Dracula. Renfield is constantly told that he would be nothing without the master vampire. He'd be lost and alone, and Dracula is the only one who truly loves and cares for him. Wanting no more of this relationship, Renfield secretly tries to build his own life by getting an apartment, a new wardrobe, and finding friends like Rebecca. Unfortunately, you can only hide your secret life from your abuser for so long.
As I mentioned from the start, there is a lot to love and hate here. I'll start with the big one. Awkwafina is horribly miscast. There's just no sugarcoating this. When she's on the street in her police regalia, she looks like someone dressed as a cop for Halloween. The uniform seems too big on her, and the body armor too bulky. She never appears to have the presence or gravitas that a police officer needs in how she walks or when entering a room with a gun in tow. This is not a minor criticism. Her inability to embody the weight and magnitude of an officer of the peace is noticeable. It's not that Awkwafina could never play a cop in the movies, but it looks like she did zero training or research for this role.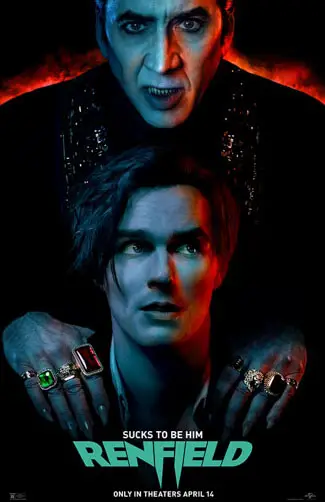 "…squanders its potential to be great."