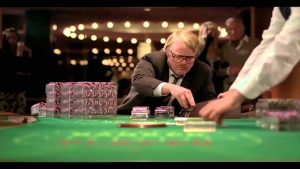 By definition, a movie about gambling is a thriller because it's all about danger. A person being smart and cautious is boring, but seeing someone constantly risk his safety in the hope of hitting the "One Big Score" is downright entertaining. There are a lot of similarities between gamblers in gambling movies and senior cops who take one final case before retirement. In most cases, they don't end up in a serene upstate home where they can sit back and relax after a big win. To win big, check out gclub
These movies might give watchers an itch to place a little money where their mouth is themselves, however, these days it might not be the best of ideas to go drive into the city to visit the local casino. Travelling is also facing problems so those with temptation for a little gambling can only resort to online casinos. Luckily, there are a lot of them on the internet. In fact, there are so many, it can be tough to pick out which one would be best to wager on. This is why there are lists and reviews like the BBI list of the top 10 offers that can educate players about the common and differing traits between competing casinos allowing them to have a reliable source of information when choosing the best online casino in Canada.
Since The Card Counter is out now, it was decided to revisit some of the best gambling movies ever made. There are few who would disagree that Casino is better than Rounders, but Casino is less about gambling and more about the world in which that gambling takes place, whereas Rounders is obviously about gambling. More often than not, our tastes lean toward films about gambling. Fortunately, many of them also happen to be excellent films in and of themselves.
Vegas Vacation (1997)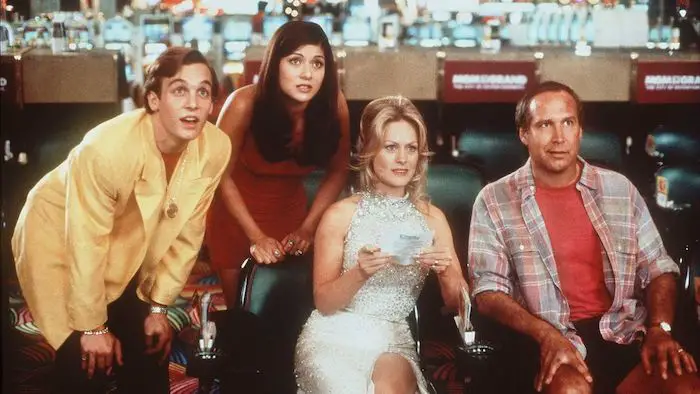 Everybody already knows that this is a bad movie: It's probably the worst Vacation movie, if not the worst reboot starring Ed Helms. In this case, you'll just have to put up with us because it has the funniest and dumbest casino joke ever. For the most part, Clark Griswold becomes addicted to gambling and is tormented by a card dealer named Marty, who is brilliantly played by Wallace Shawn. Clark is so poor at gambling that he gives over $20 to play "Pick a Number Between 1 and 10?" at a "discount" casino. He picks the number "4" as his best guess. The dealer tells him "no, 7" and… simply takes his cash. His face contorted in anger, Clark storms off, cursing at the sky. The fact that such a game exists encapsulates everything that is wrong with Las Vegas and gambling as a whole. It's one of the most straightforward card games out there.
Lucky You (2007)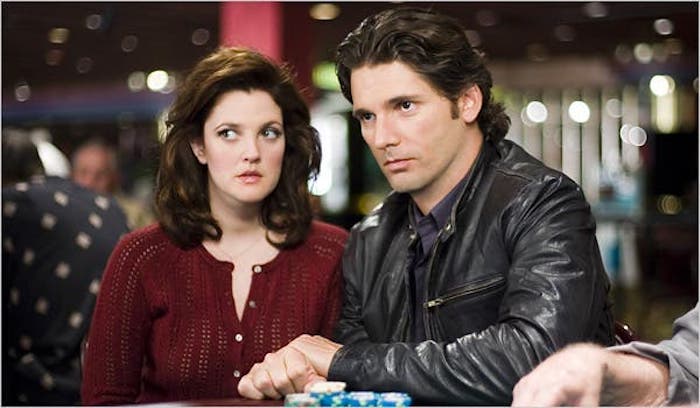 Curtis Hanson abruptly put an end to his fantastic L.A.-set film during the fervor of the now-mercifully-cooled World Series of Poker. It's a familiar story: Eric Bana, the world's best poker player, and his famous father, who has a difficult relationship. There have been a gazillion better sports movies that tell that subject, and this one even ends with a Big Game, yet Bana and Duvall still find some truth in their characters. That movie flopped at the box office, bringing an end to Hanson's hot streak.
Casino (1995)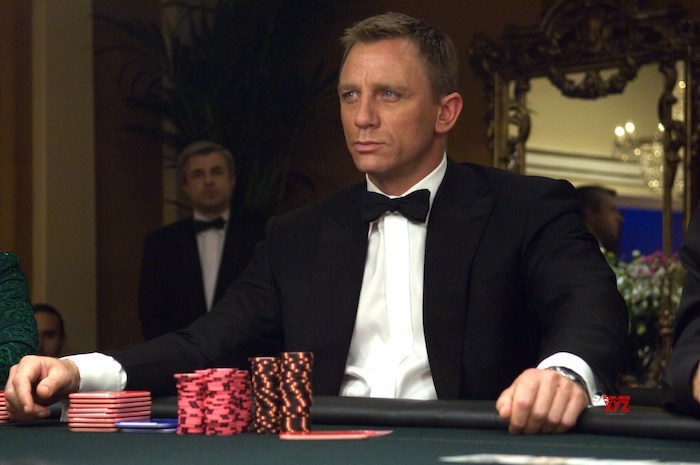 "In Vegas, everybody's gotta watch everybody else." When Robert De Niro and Harvey Keitel appeared in Mean Streets in 1973, De Niro was the dangerous, unpredictable hothead, while Keitel was the calculating mobster. When his hot-headed colleague (Joe Pesci) and an ambitious woman (Sharon Stone) undercut his efforts to manage a mobbed-up casino the "right way," he plays Ace, a gangster striving to do things "the right way." You're curious about Vegas gambling and want to learn more about it? Intricate drama by Martin Scorsese chronicles Sin City's transformation from dirty to sanitized over a period of time. Once again, Scorsese has a deep understanding of the criminal underground in the United States and how individuals are trampled on in the process.
Owning Mahowny (2003)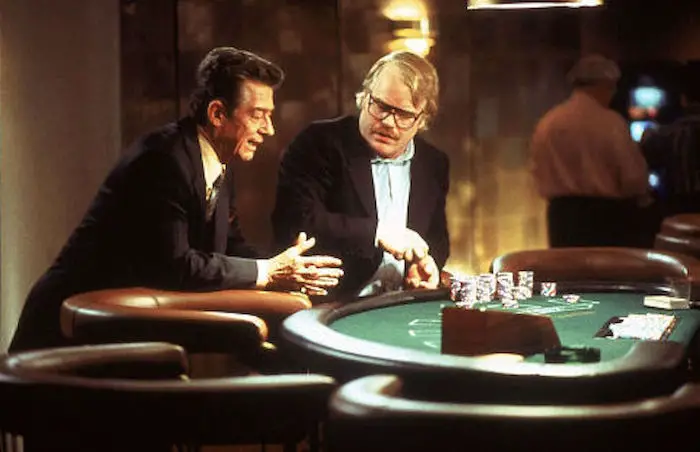 The true story of a Canadian bank manager (Philip Seymour Hoffman) who stole money from his bank and used it to make increasingly risky wagers in Atlantic City is told in Owning Mahowny, a film about the terrible, suffocating addiction that comes with gambling. You'd expect Hoffman to be terrific in the character, elusive and sadistic in equal measure, a man unable to control himself but attempting to hold on for as long as possible As a result, the movie feels almost too far away from the audience since Hoffman's Mahowny is so absorbed in his own thoughts. However, this is as close as a movie can come to capturing the dread of gambling addiction in real life.
Mississippi Grind (2015)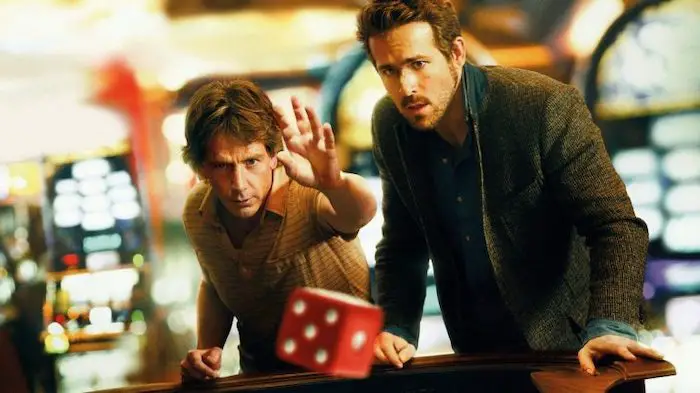 Anna Boden and Ryan Fleck's Half Nelson is a classic two-hander about a pair of chronic gamblers on their way to a New Orleans poker tournament with potentially enormous payoffs before they joined the Marvel bandwagon. Possibly Ryan Reynolds' finest hour: He's fantastic as Curtis, the backslapping friend who comforts Gerry when he's down (Ben Mendelsohn). When it comes to Mississippi Grind, it doesn't conceal its ties to 1970s Hollywood—specifically, the Robert Altman film that will appear later in these rankings—and it doesn't pretend to be anything other than that. It's true that the film references don't diminish the material's desperate, mournful appeal. In Mississippi Grind, nonstop gaming is depicted as one melancholy grind, complete with the stench of stale cigarettes and half-drunk beer cans.
Uncut Gems (2019)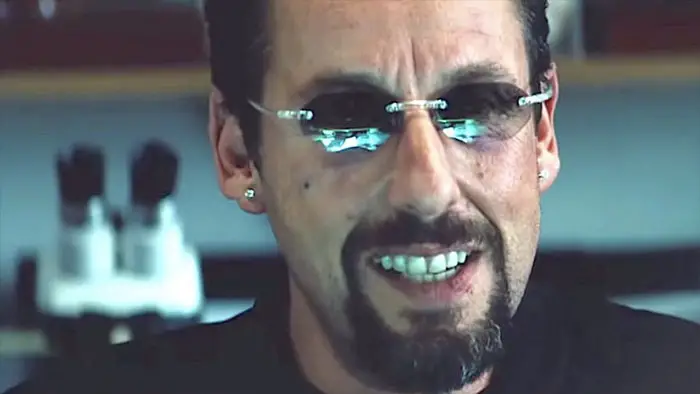 We can't help but think of that scene in Uncut Gems every time we see the "This is how I win" joke on social media. Josh and Benny Safdie's thriller is talked about all over the place, but what gets overlooked is exactly why it's so nerve-wracking. The reason for this is that Adam Sandler's Howard is a hopeless gambler who won't give up until he has destroyed himself completely. The genius of Uncut Gems is Howard's ability to make us believe, even for a brief minute, that he can pull off this mad prank he's concocted. They never moralize about their protagonist, but rather ride along with him on his frenzied rush, never once mentioning that he is doomed. However, after watching the film's devastating ending, you may be eager to get back on the journey. This is a type of analogy for addiction.