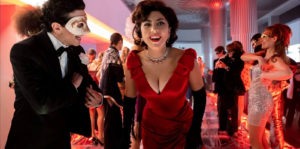 After music, there is perhaps no better display of a love affair between cinema and other art forms than the pairing of fashion and film. Except for the catwalks, films are the only way to display outfits worn by a living person or creature and see them moving from nearly every angle. Likewise, the importance of costumes (along with hair and makeup) in filmmaking cannot be understated, as costume design has been an integral part of cinema since its inception, even before sound! However, in recent years we had more movies actually exploring the lives of artists behind the designs. Thus we can now watch not only fashionable films but fashion films, and the latter is almost always one of the former! And the following moving pictures are perfect examples…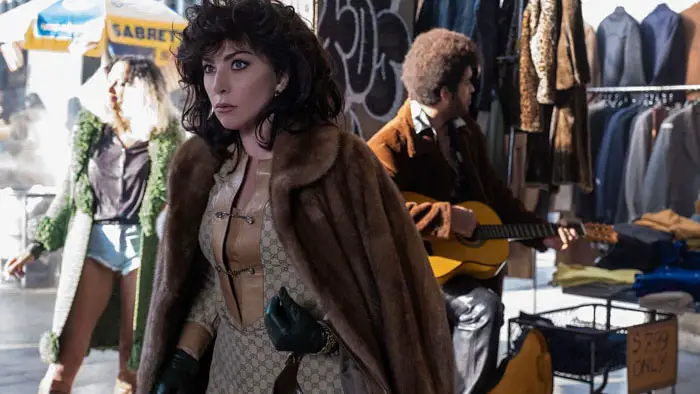 House of Gucci 
House of Gucci, one of the campiest films of 2021, is about Patrizia Reggiani's (Lady Gaga) journey from humble beginnings, to her love and marriage to Maurizio Gucci (Adam Driver), to her getting into the family business, and finally to her demise and imprisonment. Surprisingly this movie was made by Ridley Scott, who had a busy 2021 with House of Gucci and The Last Duel – that also starred Driver, who was even busier and can be seen in all his versatility in the aforementioned films as well as the bonkers Annette (another wildly stylish doomed love story where he sings and…Performs with a capital P!)
House of Gucci, based on the book The House of Gucci: A Sensational Story of Murder, Madness, Glamour, and Greed by Sara Gay Forden, is exactly as the book title suggests. By now, many have seen the movie or its trailer and can attest that if you have a problem with any of these attributes, or above all, "extreme accent acting," then this isn't for you! Because every character is sort of a villain with a thick Italian accent and is either/or a murderer, mad, glamourous, or greedy but always à la mode. Obviously, it is a film where everyone is American but pretending to be Italian by speaking like Mario… you really just have to roll with it. It can be a hilarious flick if one can get past the distracting accent fest! Despite its many flaws, mainly its uneven tone shifting from Ryan-Murphy-type-camp to more serious Scott-type-drama, the epic story and acting are pure entertainment, plus it is quite something to watch Pacino and Leto as supporting actors hamming it up to 100 in trendy colorful suits.
Bonus point for having the most memorable movie line of the year added by Gaga herself: "Father, Son, and House of Gucci."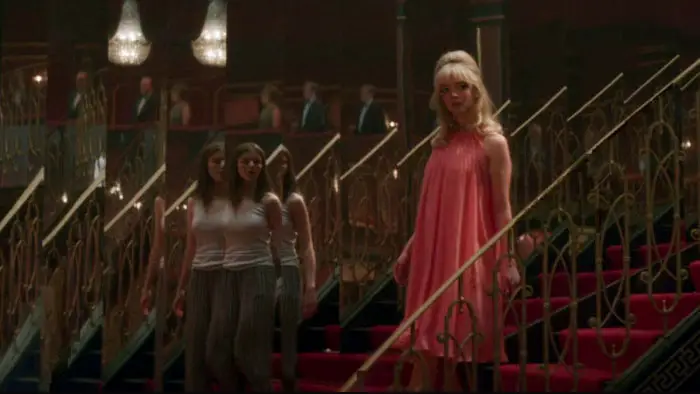 Last Night in Soho 
This 2021 instant cult classic by Edgar Wright stars rising actresses Thomasin McKenzie as an inspiring fashion designer and Anya Taylor-Joy as her muse of sorts. It is a film as slick and stylish as they come, may it be for its wonderfully bewitching cinematography coupled with all kinds of visual and practical FX, entrancing soundtrack, or its memorable costumes and 60's fashion moments. The movie follows the young fashion student as she is adjusting to her life alone in London and tries to make sense of the vivid dreams she has. Those dreams turn into nightmares haunting her realities, but through them, viewers will be dazzled by Anya's character, which is often dancing and singing while wearing bright and shiny outfits. Last Night in Soho garnered a lot of attention since it premiered at the Venice International Film Festival this summer and, by year-end, will surely end up on many "best films of 2021 list." One should not only watch it for its captivating fashion and sense of style but because it is a great horror-ish/thriller with a mysterious mystery at its center – plus a twist! It has awesome callbacks or brings to mind so many other fashionable "genre movies."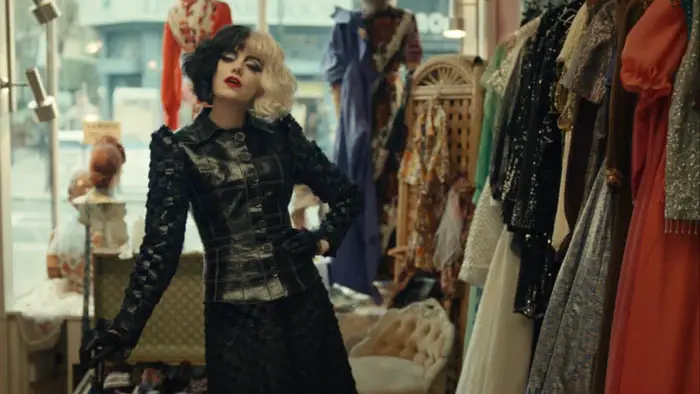 Cruella
2021 was a great year for characters wanting to make clothes and become fashion moguls, including princesses/heroines (as seen in the recent musicals Cinderella or In The Heights) and villainesses with Cruella de Vil. The latest Cruella with Emma Stone in the titular role functions more like a sequel, for what one can assume, the next Cruella movie (about the woman actually becoming villainous!) In this imagined origin story directed by Craig Gillespie, we follow Estella' Ella', a peculiar creative child who, after becoming an orphan at a young age, turns to a life of petty crime in 70's London. However, her dream is to be a fashion designer, and she tries her best to make it happen however she can until she receives the opportunity of a lifetime: an esteemed high-end designer and Dalmatians' owner (Emma Thompson channeling Meryl Streep in The Devil Wears Prada) decides to take Ella under her wing. But all is not as it seems, and things become dangerous when Estella's visionary punk-inspired outfits become the talk of the town. Cruella might be one of the more "adult-oriented" Disney live-action and, thanks to the I, Tonya's director touch, it has a very welcomed dark humor that Stone's distinct acting brand quaintly conveys. But the MVP here is truly the fashion or Ella's creations and how clever they are incorporated into the narrative, as illustrated in the film's highlight; a scene where Cruella makes a glorious entrance in a spectacular "trash dress." Guess Jenny Beavan has to be the 2022 winner for Costume Design, right?! As surely that garbage-truck-delivered-gown is one of the most awe-inspiring pieces made for the silver screen (or Disney+ !)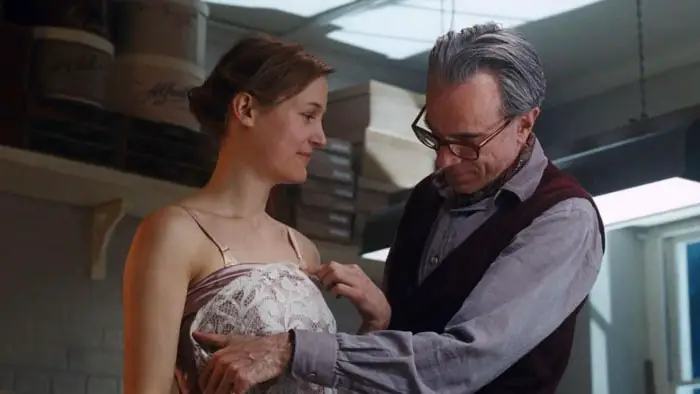 Phantom Thread 
Phantom Thread is a 2017 Paul Thomas Anderson masterpiece about a renowned high-end fashion designer played by the one and only Daniel Day-Lewis. At first, this role might seem a bit out of character for the illustrious thespian, but naturally, it ended up fitting the method-actor like a fine and refined glove! Taking place in 50's London, we observe how demanding and obsessive posh dressmaker Reynolds Woodcock's life is turned upside down when a "feisty" young model-like waitress (Vicky Krieps) enters his life, heart, and mind.
As expected, this performance earned Day-Lewis his 6th Oscars nomination as male lead! But his performance, and that of pretty much the whole cast, is just the cherry on top as Phantom Thread is a grandiose, immersive experience and is akin to a piece of art. It looks so dreamy with each scene, filled with classy outfits and delicate fabrics, composed like paintings that can transport you to another world.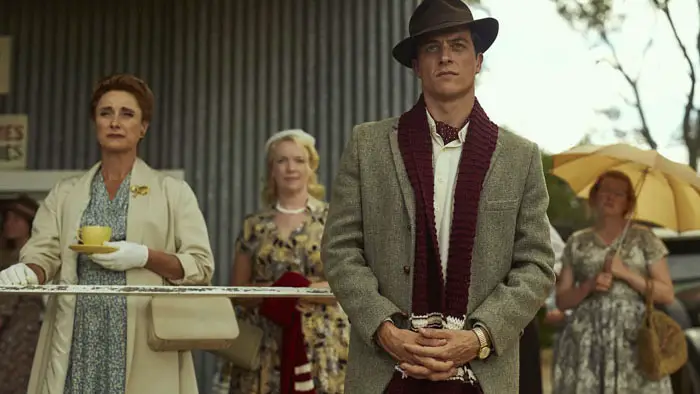 The Dressmaker 
This 2015 Australian movie by Jocelyn Moorhouse is one of those rare sunlit and colorful dark-comedies with an interesting blend of genres and subjects. Thus, although garment-making is at the center of the film, as the title suggests, it often takes the backseat. Based on a novel, The Dressmaker is set mostly in the 50s and follows Tilly (Kate Winslet), a stylish couturier from the big city returning to her hometown in the Australian outback where her sick mother still lived. Expectedly, things are not easy for her as townsfolk are backward. They don't understand her work and passion for fashion. More importantly, they resent her because of a tragedy that happened many years ago. This tragedy, what ensued, and how everybody eventually "comes to terms with it" is, in fact, what this film is truly about. Yet, throughout The Dressmaker, many flashy frocks (and accessories) are worn and made. It featured what is possibly Winslet's best or most underrated performance, as she gets to play the kind of "complicated" or ambiguous woman we rarely see on screen. Plus, she brings her whole range as the story demands that her character goes from 1 to 1000, looking fierce and fabulous!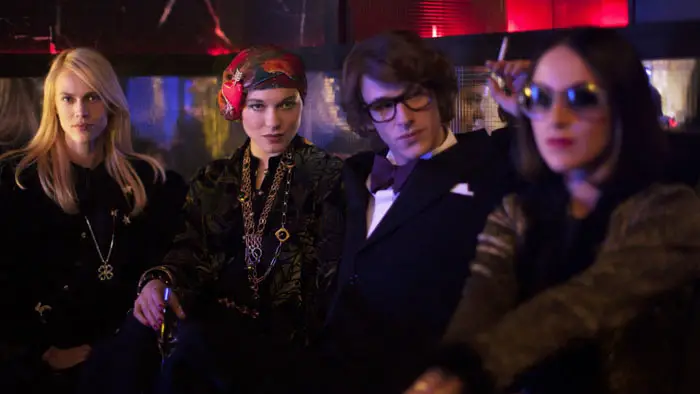 Saint laurent / Yves Saint Laurent 
Often, great men and artists have the privilege of being immortalized on film more than once, and sometimes it happens that two directors (or productions, or distribution companies) decide to make/release movies about the same person the same year! That was the case for Yves Saint Laurent, founder of the eponymous haute-couture company. In 2014 two equally aesthetically pleasing films blessed our screens about the life of the French designer. Both were in French, offered lead actors resembling and capturing the essence of the man quite well, and were visual feasts full of flamboyant decors and, of course, fashion baby! Thankfully they were not quite exactly telling the same tales (although they bear many similarities), Yves Saint Laurent, directed by Jalil Lespert with Pierre Niney in the title role, focuses on the personal and business relationship between Yves and his lifelong partner, Pierre Bergé. This was the authorized biopic version, unlike Saint Laurent, by French director known for his "stylish films," Bertrand Bonello. This one mainly recounts events that happened in Yves Saint Laurent's life in the '70s. The fashion genius, impersonated by aptly enigmatic Gaspard Ulliel, was then at the height of his fame and paying the price for it. At the time, he lived a tumultuous life and had to learn how to handle the pressure – and the people – all while finding inspiration for his creations…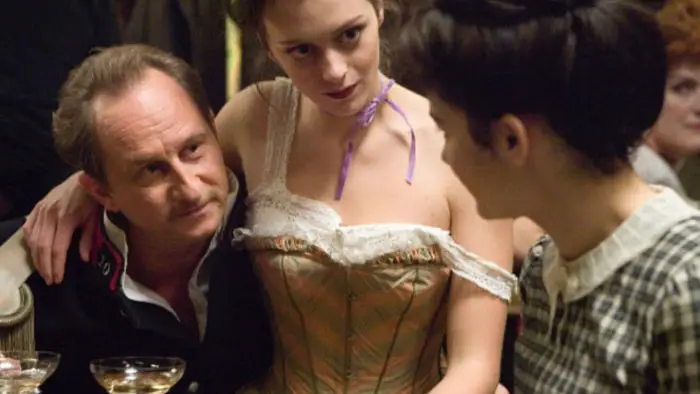 Coco Before Chanel
/
Coco Chanel and Igor Stravinsky
In the grand tradition of films about the same subject released the same year, like those YSL biopics above, in 2009, there were also two French movies about Coco Chanel. They are both evidence of the highbrow and arty variety, and about the woman's life behind the fashion house and the most famous perfume in the world.
While Coco Chanel and Igor Stravinsky by Jan Kounen is about the fictional – or not – a love story that happened in 1920's Paris between an already established Coco Chanel (Anna Mouglalis) and groundbreaking exiled Russian composer Igor Stravinsky (Mads Mikkelsen), Coco Before Chanel acts as a more straightforward cinematic biography about the couturier life before global fame. This Anne Fontaine project is about the incredible journey of how orphan Gabrielle Chanel became the icon of elegance. "Coco" has Amelie's Audrey Tautou was embodying the artist in all her sensibility to perfection. This Coco Chanel feature received many accolades, including an Oscar nomination for best achievement in costume design.