Gambling addiction, otherwise known as compulsive gambling, has been a subject of debate for many years. In its many forms, addiction is a harmful habit. For example, people who struggle with gambling addiction often need a support system to help them quit the behavior or control their exploits. In retrospect, the inability to control one's gambling urge has triggered the production of movies that educate viewers on the dangers of gambling addiction. The storyline of the Gambler, a film produced in 1980, extensively explores the intricate gambling world. The film was inspired by a song of the same title released by Kenny Rogers two years earlier (1978). While the gambler movie may not have attracted millions of viewers at the time based on online ratings, it reinforced a message of gambling addiction. 
When gambling becomes a problematic behavior, you should start by separating facts from myths. Even more importantly, watching a movie on the subject of gambling may help one identify with their addiction problem then devise ways of overcoming it. Thus, before you explore online gambling real money options in South Africa, this post guides you through the best movies about online gambling addiction. 
Uncut Gems
Uncut Gems, produced in 2019, explores gambling addiction in its snare. While most movie watchers may have known Adam Sandler as a comedy actor, his most recent role in the Uncut Gem deserves thunderous applause. Most people would argue that Sandler should get an Oscar for playing his role perfectly as a gambling addict in the Uncut Gems film. To everyone struggling with online gambling addiction, the movie brings out the real world of gamblers. Perhaps, it is the best movie about gambling addiction in the last decade. Also, check out the latest review on Keep an Eye Out, a dark comedy film that is both absurd and thrilling. 
Mississippi Grind
Mississippi Grind is a gambling-themed movie produced in 2015. The film is rated 91% on Rotten Tomatoes, 77% on Metacritic, and 6.4 on IMDb. While it may not have grossed much to cover for a $7.1 million budget, Mississippi Grind explores the frailties of gambling addicts who embark on a trip to New Orleans hoping for a big poker payoff. However, plans by poker players Ryan Fleck and Anna Boden get stifled. In the end, the movie depicts addiction to gambling as a leading cause of regret and depression. 
Maverick 
Maverick is one of the best movies ever produced on the subject of gambling. The film stars Jodie Foster, Mel Gibson, and James Garner. Released in 1994, Maverick grossed more than $100 million in the U.S. In the film, Bret Maverick is on a mission to raise money for a winner-takes-all poker tournament. While he dislikes playing most casino games, Bret's love for poker forces him to scam other contestants to raise funds for a poker tournament. However, the house of cards tumbles as Bret ends up beaten and left for dead. The movie is not only attention-grabbing but also one of the best movies ever produced on the subject of gambling addiction and crime. 
Ocean's Eleven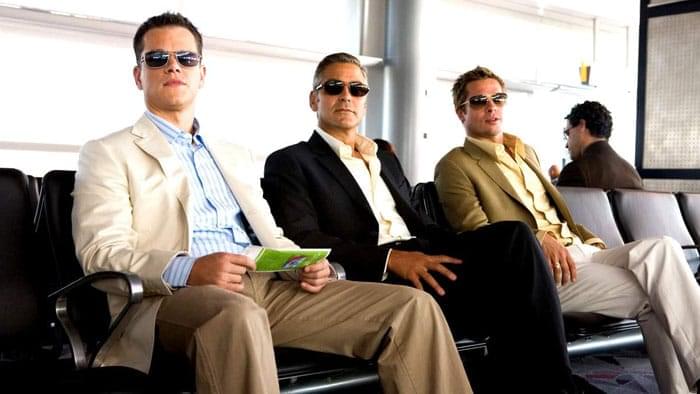 Ocean's Eleven is another gambling-themed film that every gambler should watch. In the U.S, the movie grossed more than $180 million and more than $450 million worldwide. Filmed in the U.S gambling capital of Las Vegas, Ocean Eleven epitomizes the ills that emerge from gambling addiction. While the movie does not show the outright winner in most of its gambling scenes, anyone who has watched it knows that George Clooney lost a record 25 blackjack hands. 
The movie perfectly illustrates that in a gambling situation, a casino house always has the upper hand. From prison straight into Las Vegas's streets, George Clooney puts together a team that embarks on a robbery spree. They aim to swindle as much as possible from the top three casinos in Las Vegas, namely MGM Grand, the Bellagio, and The Mirage. 
Casino Royale
Casino Royale was released in 2006. The movie stars Daniel Craig, Judi Dench, and Eva Green, whose roles perfectly espouse the gambling theme in Martin Campbell's production. James Bond, who stars as Daniel Craig, is depicted as a fearless gambler whose strength and intelligence earn him an assassination mission. As you would expect, most films that star James Bond are packed with action, and Casino Royale is no exception. Crime, assassinations, and gambling epitomize Bond's role in a movie where poker gambling dictates most of the plot's twist and turns.  
21
The movie 21' is another top gambling-themed Hollywood production. You will be forbidden from any casino if you try to count blackjack cards. While it is not illegal, the controversy in counting cards lies in one's mathematical wits, leading to a big swoop against a casino house. Jim Sturgess, who stars as Ben Campbell, learns how to count cards from his professor at MIT. Kevin Spacey, acting as an MIT professor (Prof. Micky Rosa) in the 21 film, forms a secret club of shrewd gamblers. 
At the center of their Las Vegas exploits is a system that counts blackjack cards. However, tables begin to turn against Kevin Spacey when his student, Ben Campbell, meets Cole Williams. The plot shifts to a grudge that Cole William has against the professor. Vengeance then becomes the end of the secret gambling club. The 21 film is a gambling-themed movie adapted from a novel titled, Bringing down the House. A script that births several twists and turns makes 21 an outstanding film, both from a modern and a classical perspective. 
Gambling-themed films are everywhere. If you don't find a good one on YouTube, check Netflix, or any other movie TV for the best movies about online gambling. And while poker seems to take the lion's share in such films, many other productions feature slot machines and table games. More blockbuster movies about online gambling addiction will premier soon, so never keep your hands off the tabs. Most importantly, note that every online gambling-related film has a lesson directed at a gambling addict.