Casino movies are a Hollywood favourite because they showcase a lifestyle of glamour coupled with danger. For some people in countries whose governments forbid gambling, these movies are the viewers only access to this glamourous life. Actual casinos have played a big role in these movies. With the right lighting, huge sums of money, and beautiful women, any casino can make it onto celluloid. New ideal casino movies add a bit of Hollywood magic in these films that will make you want to hit the road and visit them for yourself. Some of the actual casinos that have featured in movies include:
1. The Mirage and The Stardust in Vegas Vacation
This movie is one of the few casino movies with an actual casino. The Stardust Casino is shown as the less glamorous spot. 
The movie features Chevy Chase and his family spending their holiday in Las Vegas. One of the more memorable scenes in the movie (and also in real life) is when a person walks up to an ATM and sees that there is no money left in his account. Try that at your own bank or credit union and see where it gets you! The movie Leaving Las Vegas (1984) also features The Mirage. 
2. The Bellagio in Ocean's 11 (2001) and Oceans 13 (2007)
The Bellagio is one of the most popular casinos in Las Vegas. It is just the right mix of class and sophistication with a touch of glitz. Any of these movies are worth watching for their scene at the Bellagio, although they are not purely casino movies. 
3. The Riviera and The Landmark Hotel in Casino (1995)
The movie is based on the story of Frank Rosenthal (Robert DeNiro) who runs a casino from his room in the back until he gets caught up in events that lead to his arrest for loansharking. The Casinos seen in Casino were not as stylish as those today but they have improved!
4. Caesar's Palace is the Most Featured Casino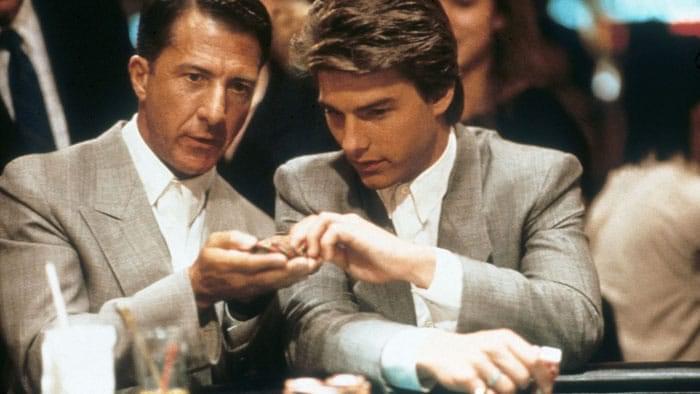 It is featured in Oh God, You Devil! (1984) Rainman (1988), Ironman (2008) and the Hangover (2008 & 2013) among others. This casino has just the right mix of class and flair to make it a great movie setting. The casino has a lot of history behind it and the movie does not disappoint the viewer by showing it off. The beautiful ceiling from the Forum Shops is something that is memorable for everyone who sees it.
5. The Hard Rock Hotel and Casino
The Hard Rock has been featured in Fear and Loathing in Las Vegas, Grand Prix, etc. The Hard Rock Casino and Hotel was coincidentally the official casino and hotel for the 2007 MTV Movie Awards and it is seen as a lot of fun.
6. The MGM Grand Casino:
This casino has featured in Golden Eye of 1995, Muppets Wizard Of Oz of 1998, Austin Powers: International Man Of Mystery of 1997, Now You See Me (2013) and Casino Royale of 2006 to name a few films that use this casino as setting.
7. Circus
Circus Las Vegas is another popular location. It has been featured in several movies including: Fear And Loathing (1998), Austin Powers and Diamonds are Forever (1971)
These are just a few of the actual casinos that have been featured in movies.