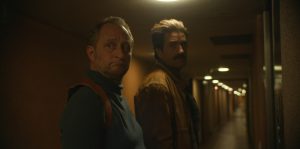 Quentin Dupieux's police farce Keep An Eye Out (or Au Poste! in its native French) certainly caught me by surprise. The plot synopsis you'll find online says, "Police officers at a station must solve a murder case." That's all you get going into this wonderfully weird comedy. In a way, the synopsis is correct, but it's really so much more than that.
Louis Fugain (Grégoire Ludig) is being interrogated. He's a suspect of a murder he insists he didn't commit. He has been sitting at the desk of Commissaire Buron (Benoît Poelvoorde, who I love so much in Man Bites Dog) for a ridiculous amount of time. We first meet them both while Buron is on the phone with a friend in the middle of this supposed interrogation.
It takes forever for the actual interrogation to begin. Commissaire Buron then decides he needs a coffee and tasks one of the officers in his division, a one-eyed idiot named Phillipe (Marc Fraize), to watch Fugain while he is gone. Phillipe watches Fugain like a hawk with his one good eye but keeps proving that he isn't the sharpest tool in the shed. Something completely random and unexpected happens that could get Fugain into even more trouble than he's already in, and that's when all the fun begins.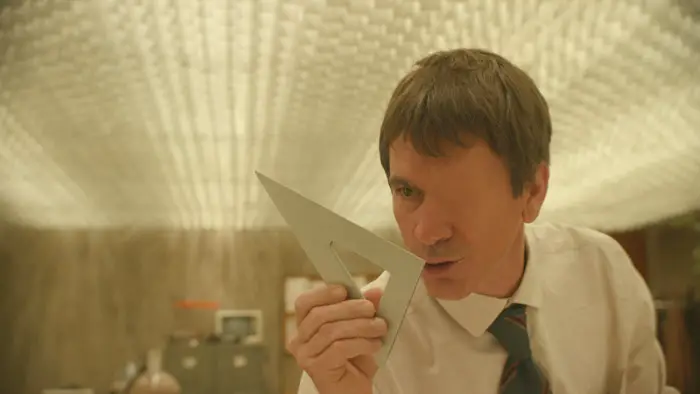 "He's a suspect of a murder he insists he didn't commit."
Dupieux has a firm grasp on the absurd, and Keep an Eye Out is littered with absurdities. I have seen many comparisons to Monty Python, and this film certainly owes a debt to the Flying Circus. I also see some similarities to other French directors such as Gondry and even Godard (when he is being funny). The movie is a silly farcical affair that breezes by at an hour and twelve minutes. It exists in a place where the police officers use typewriters, but people also have cell phones. No one ever knows what time it is. It's all a bit of a fever dream as if Dick Wolf went to France, took some acid, and presented us with the contents of his brain afterward.
Another thing that Keep An Eye Out does, and I'm not sure if it's intentional or not, is to shine a spotlight on the consistent foibles of police officers around the world. It shows how we entrust our safety to what amounts to a bunch of meatheads pouring out of a clown car, not knowing which end is up. And that idea is almost as funny as the film itself.
I think anyone who likes Monty Python & The Flying Circus, Weekend, or Michele Gondry should watch Keep An Eye Out. It's hilarious and different from most formulaic comedies out there. It's inventive, weird, and engaging. I think Quentin Dupieux certainly has a hit on his hands, and I can't wait to see more of his movies as soon as possible. People who are already fans of his work should certainly be pleased. I'm late for the party, but I'm glad I've arrived!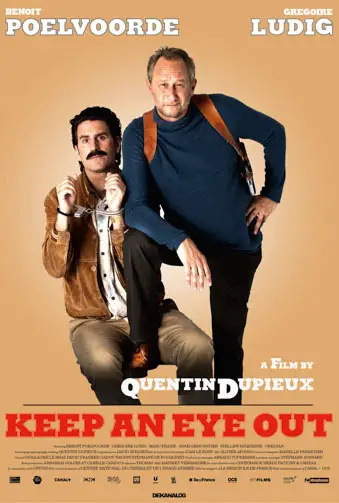 "…inventive, weird, and engaging."