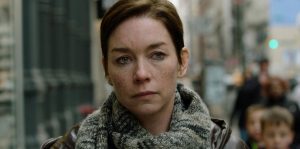 In Matthew Newton's drama film, Who We Are Now, we learn about the horrible circumstances in the life of Beth (Julianne Nicholson – I Tonya), who struggles with social reintegration after ten years spent in jail. Although rehabilitated from drug addiction, the weight of a tumultuous past marked by manslaughter impedes her to get the custody of her son. The legal battle is against her own sister, Gabby (Jess Weixler) and her husband, who became the legal guardians of the child. The latter doesn't even know that 'aunt' Beth, a complete stranger to him, is, in fact, his biological mother.
A dedicated public defender, Carl (Jimmy Smits), is sensitive to her cause, but can't do much to help, especially after Gabby's legal action to prevent her from having any contact with her son. Too many unannounced visits and a public scene were motives for the decision. However, Carl's ambitious protégé, junior litigator Jess (Emma Roberts), undertakes Beth's litigation on her own. There is more than one reason to explain this rare act. One has to do with the sudden frustration that escalated in Jess after a juvenile inmate has committed suicide. Also, to avoid the daily torment of dealing with and listening to her manipulative, arrogant mother (Lea Thompson). Hence, on the one hand, we have a mother anxiously waiting to get her son back, and on the other, we have a daughter underestimated by her mother.
"…from drug addiction, the weight of a tumultuous past marked by manslaughter impedes her to get the custody of her son."
Beth is working in a nail salon, which doesn't provide her enough income to live appropriately. So, there wasn't a hesitation when she offered sexual favors to get a decent job. It didn't work though. The only thing that seems favorable in her life is a new romance with Pete (Zachary Quinto), a lonely soldier who went to Afghanistan for several missions and now suffers from PTSD.
There is nothing fanciful or odd in Newton's story. The self-acceptance and courage of the two main characters make them admirable women. True fighters with opposite personalities and particular family backgrounds are united by an inexplicable bond that gets stronger as they open up more about their lives. If Roberts does an acceptable job by giving shape to a more rigid, conventional character, then Nicholson is fabulous as she transpires veracity in every scene she appears.
Even melodramatic in mood and driven by a chic filmmaking style, the film has Newton crafting terrific moments as well as a surprising finale centered in a tremendously unselfish act of love that will make you think for a long moment.
Who We Are Now (2018) Directed by Matthew Newton. Written by Matthew Newton. Starring Julianne Nicholson, Emma Roberts, Jimmy Smits, Zachary Quinto, Lea Thompson.
7 out of 10 stars