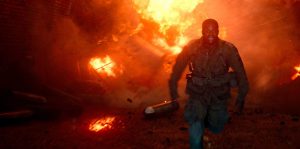 With only hours until D-Day, a team of American paratroopers drops into Nazi-occupied France to carry out a mission that's crucial to the invasion's success. Tasked with destroying a radio transmitter atop a fortified church, the desperate soldiers join forces with a young French villager to penetrate the walls and take down the tower. But, in a mysterious Nazi lab beneath the church, the outnumbered G.I.s come face-to-face with enemies unlike any the world has ever seen.
We've all heard the stories. No, not of JJ Abrams love of the lens flare, but that of the Nazi medical experiments during WWII. Scarier still is that not only are both true, one of them is the basis for a new horror action thriller. Overlord is the impeccably titled, occasionally rollicking action horror thriller of a band of soldiers taking out a German radio tower. The twist is that deep inside the base of said tower lies a hive of medical experiments aiming to develop the invincible soldier. Let's be clear; this is a phenomenal idea for a movie. Universally hated bad guys, universally feared things like the undead, needles, and medical experiments, and universally admired heroes like the American soldier. So what went wrong?
"…locals have been systematically killed or kidnapped…for experimentation…"
Let's start with the gripping opening. United States forces are closing in on Normandy. Air and sea advance on the German-occupied French coast. Very quickly the character dynamics are established. We have our hero, Boyce (Jovan Adepo); snarky Bronx Italian, Tibbet (John Magaro); and the silent bad-a*s Ford (Wyatt Russell). The mission to knock out a German radio tower, then BOOM! Enemy fire begins piercing the aircraft. Bombs explode in the air, bullets ricochet in the cargo hold, and the camera unflinchingly depicts a messy air invasion from our hero's personal point of view. It is a sequence that gives Saving Private Ryan a run for the money.
The survivors of the squadron, five total, make their way on foot to the small village that is home to the enemy radio tower. Upon arrival, the band meets local, Chloe (Mathilde Ollivier) who takes the bedraggled American soldiers into her humble home near the base of the target radio tower. That's when things get complicated.
Quicker than you can say 'Inglorious Zombies' the movie pitches the gimmick.  The soldiers learn that the locals have been, systematically killed or kidnapped and taken deep into the church basement for experimentation. After the phenomenal opening, we are led to believe the stage is set for some intense WWII Nazi, Zombie, Action, body horror, mayhem. That would have been a great movie. Gelatinous pacing and mercurial motivations get in the way of what is a brilliant idea. Once we know what is at the gooey center of this insidious creation, we want into that church basement and fast; but we are held back.
"The body horror and effects are all a lot of fun, including a cringe-inducing moment…Fun stuff. More, please!"
Giving credit where it is due, I have to honor medals to the story. As was stated before this is a fun idea, we just don't get enough time with it. The body horror and effects are all a lot of fun, including a cringe-inducing moment when one of the soldiers comes in contact with the experimental serum. Fun stuff. More, please! Too, Adepo proves to be a great leading man in a role that could have easily gone south in so many ways.
As the mission comes to a close, it saddens me to report that I wanted to like this movie far more than I actually did. There are some noteworthy things in it, some hair-raising scenes, but they are weighed down by clunky stretches of exposition, painful moments of dialogue, and inconsistent of scene structure. Overlord is overlong, inconsistent, and hammy at its worst, and mildly entertaining at best.
Overlord (2018) Directed by Julius Avery. Written By Billy Ray, Mark L. Smith. Starring Jovan Adepo, Wyatt Russell, Pilou Asbæk, Mathilde Ollivier, John Magaro, Iain de Caestecker.
5 out of 10 stars