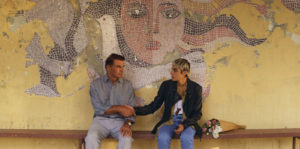 SFFILM FESTIVAL 2022 REVIEW! Secrets always manage to reveal themselves in the worst ways. In cinema, that's a good thing. From Georgia (the country), director Elene Naveriani's Wet Sand takes place in a small village along the Black Sea. One of its residents, Eliko, committed suicide, so now the townsfolk gather at a popular café owned by the easy-going Amnon (Gia Agumava). Not only do they gossip about the night's events, but they surmise that Eliko may have been a bit "off." His body isn't even cold, and this toxic conversation enrages Amnon and his spirited server Fleshka (Megi Kobaladze).
Arriving in town is Eliko's granddaughter, Moe (Bebe Sesitashvili), who reluctantly must take responsibility for his remains and belongings. Moe has bitter memories of the village, so she just wants to get the funeral over with and leave. Unfortunately, except for Amnon and Fleshka, no one is willing to help, especially as Eliko's lifestyle becomes transparent. Moe's efforts to bury her grandfather become more and more difficult. Her only "help" with the townsfolks comes from Alex, the local police officer, who longs for a better assignment than this town and maybe a date with Moe.
Moe discovers that Amnon was Eliko's boyfriend/lover. She vows to keep their secret, but like any good rumor, the exposed secret spreads like wildfire putting Amnon, Moe, and Fleshka in danger from the other villagers. Of course, this leads to the eventual confrontation with the very homophobic mob… emphasis on the word "mob."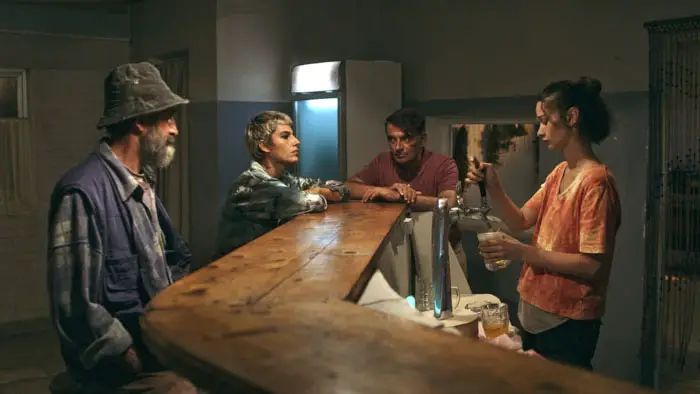 "…no one is willing to help, especially as Eliko's lifestyle becomes transparent."
Wet Sand is a reminder that the level of homophobia we experienced in the U.S. back in the 1980s and 90s is still very much alive and well in many regions of the world. Co-writers Elene Naveriani and Sandro Naveriani masterfully capture the disdain and violence perpetrated against the LGBT community in Georgia and the surrounding Bakan countries. These people are driven to maintain and defend their culture's norms and traditions while maintaining the divine right to exact judgment on those who are different. But, they never stop to consider the "other" as human.
Naveriani's masterful storytelling comes into play through her lead actors' performances. Amnon is a man in love who kept it in the shadows for a very long time while fooling his friends, customers, and locals. Agumava subtly brings this longing to life. Sesitashvili makes Moe, the outsider whose presence exposes the dark rage of the village, captivating and never goes too broad. Fleshka is the marginalized outcast whose singleness is interpreted as lesbianism. Kobaladze's portrays her character's disdain for the town, which puts her perpetually at odds with its citizens in a way that garners empathy and frustration on her behalf. Lastly, the actor playing Alex makes him a very complicated and somewhat conflicted officer. He believes in justice but, at the same time, often takes the easy route to ease tension and uses his authority to make advances toward Moe.
Though stories like Wet Sand are not new to LGBTQIA+ cinema in the U.S., where we were at decades ago is a still very present sentiment overseas. Naveriani's drama serves to remind us of our past and serves as a cautionary tale about how easy it would be to take a few steps back. Its haunting vision of passing homophobia to the next generation will stick with you until the end.
Wet Sand screened at the 2022 SFFILM Festival.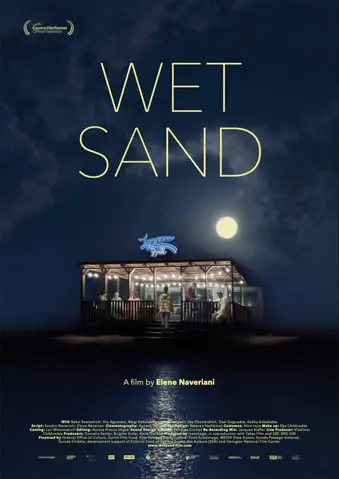 "…masterful storytelling comes into play through her lead actors' performances."