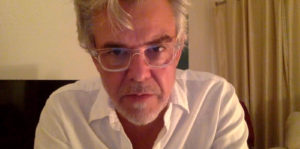 Paul Boyd's COVID drama We Are Gathered Here Today tackles a grim subject with grace and sensitivity. The film wears its heart on its sleeve, and that earnestness overshadows its flaws. Most importantly, it functions as a stark reminder of the lives we lost during the pandemic, zeroing in on the moment wherein loved ones had to bid farewell to their dying family members via video conferencing platforms.
"When the sick are taken to a hospital, new protocols strictly forbid anyone that is not a patient from entering," a title card informs. These sick patients consequently suffered alone, with pixelated images of familiar faces in front of them; as another title card eloquently depicts it, "death at a distance." Boyd expresses outrage at the inhumanity of this practice but doesn't let it overpower the driving force of his story – that is, the humanity that does come through, despite the distance and the pixels.
We Are Gathered Here Today begins with Peter Stone (Danny Huston) receiving bad news from Dr. Hamilton (DaJuan Johnson). His father, Henry (Peter Jason), is not going to make it. In short, "the COVID has clotted his blood," and Henry's organs are shutting down. Peter calls his mom, Faye (Jenny O'Hara), and does his best to soften the blow. The family then proceeds to call each other. Among them is Peter's ex, Nancy (Nicole Ari Parker), Henry's ex, Jean (Lin Shaye), and Henry himself, who may or may not hear them.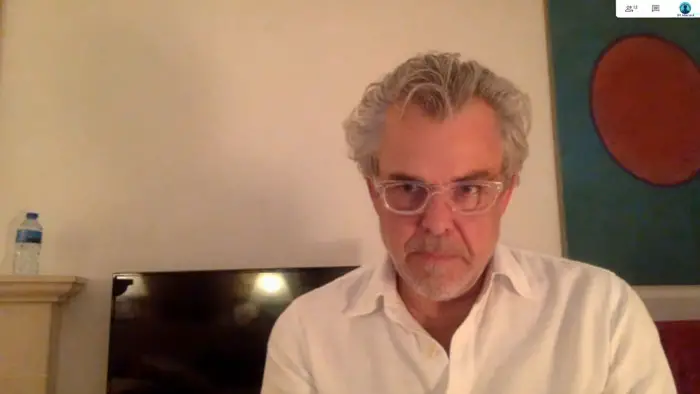 "…a truthful portrait of family supporting each other in a time of crisis…"
Well over a dozen people tune in to say their goodbyes. Brenda (Phoebe Tonkin) tries to convert everyone to the Church of Jesus Christ. Peter gets upset when everyone is smiling and laughing while remembering the good parts of the patriarch's life. "This is not disrespect. This is love," Faye tells him. From intimate moments like this to the more outwardly emotional ones, Boyd handles it all with aplomb – to say nothing of him directing a plethora of actors who are all on the screen at once.
Speaking of which, the "Zoom technique" grew old pretty much instantly but works in favor of the story here. It is the story, in a way, this inability to touch, to be in the same room with a dying family member, digital communication enforced upon people. "I just want to hold his face in my hands," Faye says. "It's not right that we're not allowed to," Pete agrees.
We Are Gathered Here Today is openly, proudly sentimental, which would be fine if Roy Hay's music weren't so intrusive. Where is it coming from in this movie's reality? The inclusion of a soundtrack is an off-putting touch in an otherwise-realistic narrative (although that Boy George appearance warrants a watch by itself). Regardless, the film amounts to a truthful portrait of family supporting each other in a time of crisis and a painfully real depiction of the hell that was the pandemic.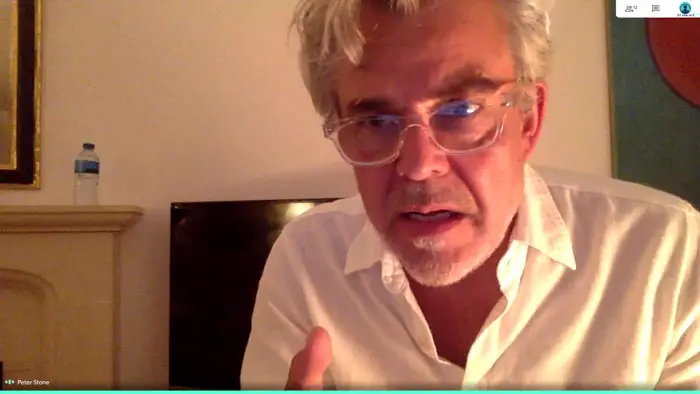 "…a stark reminder of the lives we lost during the pandemic..."