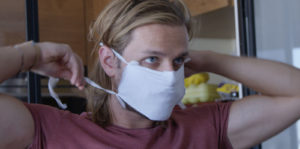 DANCES WITH FILMS 2022 REVIEW! So many films have come out amid the COVID-19 pandemic, most of them being warped and inflated manifestations of our frightening reality. This recent trend isn't necessarily a bad thing as there have been numerous successes, including Stephen Daldry's Together and Rob Savage's Host. However, with COVID-19 Ground Zero, writer/director Mustafa Ozgun takes a more candid and sober approach. Based on true stories from frontline hospital workers in New York City, the drama ends up exposing how mishandled the whole pandemic was by individuals who exercise authority and influence.
Together, young couple Jessie (Laura Weissbecker) and Andy (Cyril Durel) weather the pandemic. Jessie is a dedicated nurse who speaks her mind and finds herself working long hours because of the coronavirus. Andy is a Broadway performer and finds himself unemployed. Since she works at a hospital, Jessie becomes absolutely terrified that she'll infect her partner. Andy is stuck at home and is forced to contemplate other ways to make a living.
As Jessie is called into the hospital more and more to help with patient overflow, she spirals into a state of paranoia. But she has good reason to be so, as she's constantly confronting the unpleasant reality that there are not nearly enough beds and staff to accommodate every sick patient. In addition, bad leadership and misinformation are influencing a substantial part of the general public, creating unsafe or difficult situations for frontline workers such as herself. Observing Jessie wrestle with one uncertainty after the next is very distressing yet completely earnest and conceivable.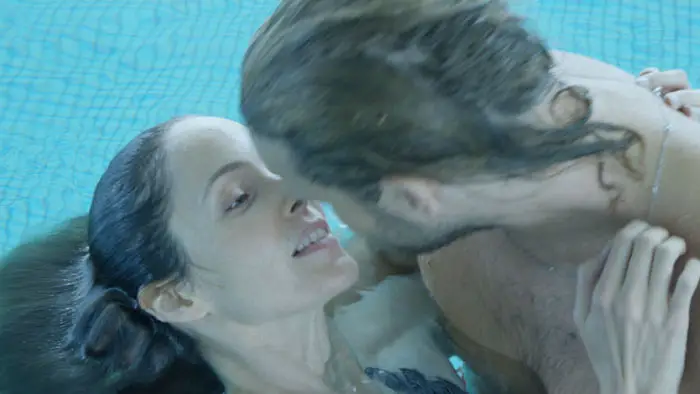 "…Jessie is called into the hospital more and more to help with patient overflow…"
COVID-19 Ground Zero shows that there's no easy way to escape the fear and paranoia of living through a pandemic. This realization comes through a scene where Andy covers a door with plastic wrap so he can talk to Jessie, who's isolating herself in the bedroom. Co-writer Weissbecker gives an affecting performance that will resonate with any frontline worker. The job's stress consumes Jessie, yet she refuses to give up. However, stilted dialogue and rushed plotting take away from the authenticity, especially when it comes to a later divulgence. Nonetheless, it is impossible not to find and appreciate any parallels and associations to real life.
Ozgun employs smooth transitions to show what Jessie's home and work life look like. At home, she traps herself in a room away from the one person who brings her joy. She navigates a crowded hospital at work, and frenetic camerawork amps up the claustrophobia and disorder.
While Andy's struggles as a performer are somewhat explored, he is far too busy worrying about Jessie and her physical and mental health, which is understandable. But as a result, his character is underwritten. Nevertheless, Durel makes for a calming presence, and his devotion to Jessie proves to be heartening.
COVID-19 Ground Zero is a melancholic and brutally honest movie that reflects the Covid-19 experiences of a frontline hospital worker and her performer boyfriend. While it could've benefited from a more tightly written screenplay that showed more subtlety, this is an emotionally challenging indie drama that says a lot about our world.
COVID-19 Ground Zero screens at the 2022 Dances With Films.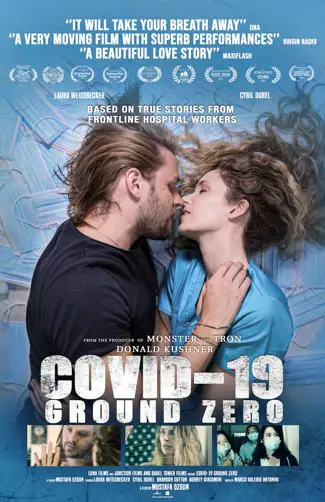 "…melancholic and brutally honest..."