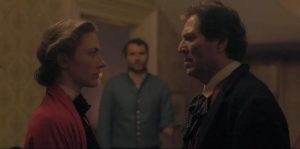 SLAMDANCE FILM FESTIVAL 2021 REVIEW! Julia Neill's short film, Union, convincingly depicts the American Civil War while showing us that historical dramas can still have room to breathe despite all the musty clothing.
During a snowstorm, a veteran, William (Zachary James Rukavina), and a Union Army nurse, Sophie (Amanda Forstorm), visit her family in order to ask the father's, Alvah (Scott Barton), consent to get married. What develops is an awkward Meet the Parents-esque comedy of manners due to William's missing arm, which Sophie amputated. The humour takes a somber turn, as it must when real issues arise, and the creativity of this film lies in its use of nuanced characters with multiple interests and goals.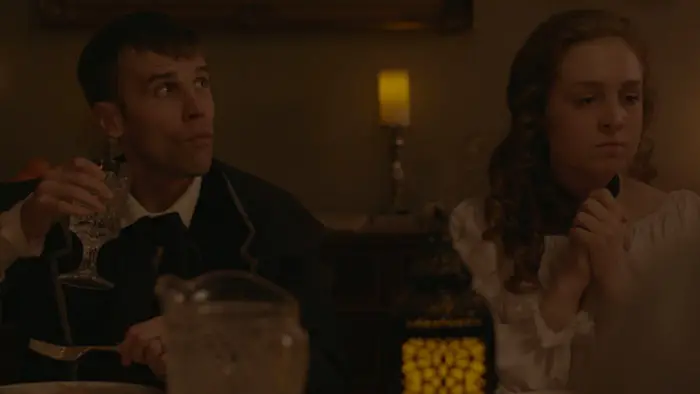 "…visit her family in order to ask the father's…consent to get married."
The open-mindedness on display by some characters and the tongue-in-cheek humour hints at more progressive attitudes than probably existed during those antiquated times. But the disability lens placed on this period drama is innovative and much-needed for the genre. This is spurred on by a game cast who are all terrific.
For a short on a budget, Neill makes the most of the resources available to her as the production values and costumes are quite good. The film appears to be period accurate, which only accentuates the humour, adding to the overall sense of fun.
My critique is that Union should have ended a bit sooner than it actually does. I feel that the remarkable point is made approximately a minute before the ending and the rest is filler. However, able execution and nimble characters are more than enough to warrant a watch.
Union screened at the 2021 Slamdance Film Festival.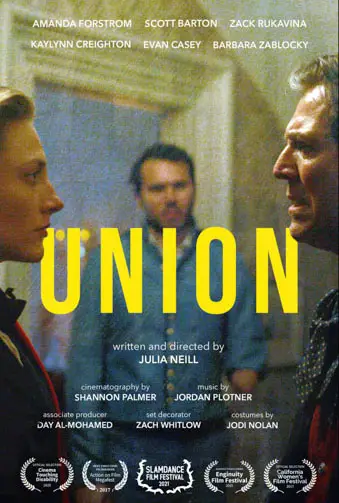 "…a game cast who are all terrific."