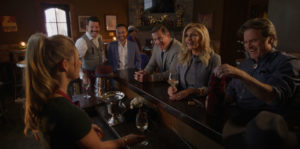 Twisted Vines marks the debut of director Jihane Mrad Balaa, as well as co-writers Corinne Sbeih and Tom Stohlgren. These newbie filmmakers have assembled quite the cast for their first film, including Michael Paré, Vivica A. Fox, and Jon Briddell. Does lightning strike for Balaa, Sbeih, and Stohlgren, or are they in over their heads?
Branson (Paré) and his iconic actress wife, Sheryl (Fox), arrive at a privately-owned Californian winery for an intimate wedding. Their son, Evan (Tyler Parks), is set to marry Mandy (Makenna Timm), the winery owner's daughter. Said owner is Jerry (Briddell), who can talk as smooth as his wine. His wife, Summer (Brande Roderick), is ecstatic about the nuptials, though she's less enamored with her spouse. Also on the property is Nico (Torrey B. Lawrence), who seems to be the groundskeeper or some such, sommelier Tina (Nikki Leigh), therapist-turned-guest Dr. Millie (Jessica Jade Anders), Pastor Rachel (Julia Urbankovics), as well as the caterers.
The ceremony itself goes fine, but afterward, everything immediately goes pear-shaped. A wildfire is encroaching ever closer to the winery, shutting down all roads. Sheriff Windsome (Brian Borello) arrives to warn everyone of the danger. While there are worse places to be trapped, things go from bad to worse when the new bride's found dead in her room. Now the sheriff must use everything at his disposal, including the mighty nose of Tina, to uncover if the death was accidental or murder.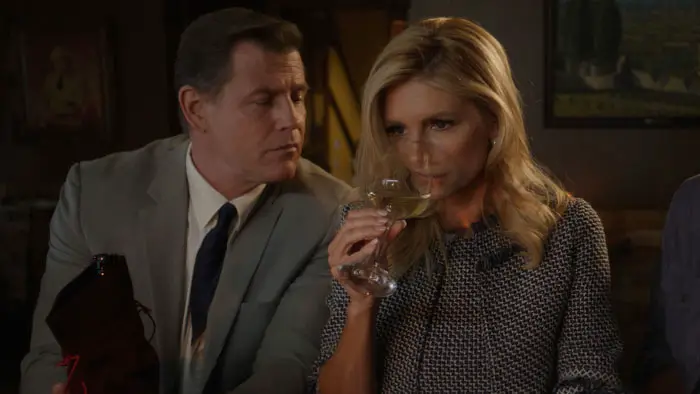 "…things go from bad to worse when the new bride's found dead…"
Twisted Vines achieves a near-impossible feat: it's one of a few titles that actually demands to become a franchise. A small-town sheriff and a sommelier wind up embroiled in death and murder wherever they go, a la Murder She Wrote. It could be tons of fun, especially if this first installment is anything to go by. Firstly, the cast is terrific. Fox is poised as ever while still keeping some solid comedic timing. Parks is appropriately oily, while Roderick's flight nature makes sense. But it is Leigh and Borello who really owns the show. Their chemistry is instant and undeniable. When describing the various notes of the wine, and an odd element that shouldn't be there, Leigh is utterly convincing.
There's always innate fun in piecing together the clues to a mystery, even a bad one. Luckily, Sbeih and Stohlberg wrote a clever screenplay. Admittedly, the wrap-up leaves a few questions in the air, though the very end is pretty funny. The characters behave in (mostly) rational ways, and the various dramatic reveals are well-handled and keep tensions high.
Twisted Vines is a lot of fun. The writing is clever, the directing keeps the pace nicely, and the cast all deliver in a big way. Yes, there are some tropes associated with mysteries present, but they only make things more fun to figure out as the clues are laid bare.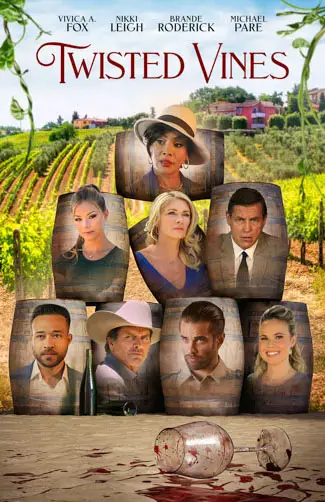 "…a lot of fun. The writing is clever..."