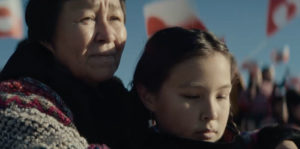 When I review a film, I highlight its creative aspects and thematic interpretations before I dig into other technicalities. For writer-director Anders Walter's Ivalu, I can rest assured and begin by saying that his short film is astonishing. This sixteen-minute short film, based on Morten Dürr's graphic novel, will engage and captivate you with its story and beautiful cinematography to the extent that you will come out of it teary-eyed.
The Greenlandic-language film follows a search for Ivalu (Nivi Larsen), who is seemingly lost. Her indifferent father (Angunnguaq Larsen) has accepted that his eldest daughter has run away. However, Ivalu's sister, Pipaluk (Mila Heilmann Kreutzmann), can't stay without her best friend, so she leaves the house frantically searching for Ivalu in areas the sisters frequently visit.
Walter has made Ivalu a perfect combination of a mystery thriller and a heart-aching emotional drama. While Pipaluk is searching for her sister, we see flashbacks featuring both sisters sharing their happy moments and conversations in several places. However, those locations in the present carry the sadness of Ivalu's absence. As the film captures Pipaluk's journey, the slow unraveling of the story through flashbacks keeps the viewer on edge, pushing them to join the young sibling in her search.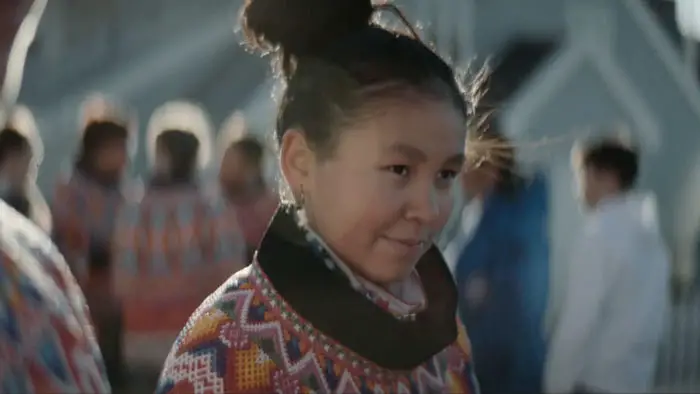 "…she leaves the house frantically searching for Ivalu…"
These overlapping sequences, which Greenland's beautiful scenery adorns, create a contrast of different emotions. On the one hand, Pipaluk revisits fond memories of her sister. On the other, she is devastated about being alone without Ivalu. Rasmus Heise's cinematography further deepens this contrast as he differentiates the two perforating emotions with bright and dark shades of color, perfectly capturing the plot's essence. Greenland's icy hills, fjords, and caves play a special role in the story and are majestically filmed.
While watching Ivalu, my mind immediately went to Song of the Sea, an emotionally driven magical story that profoundly uses Gaelic songs and references to the Celtic culture. These inclusions magnify the essence of Irish folklore, which inspires that film. The same could be said here, where the places Pipaluk searches for her sister have significance in the characters' lives.
While the efforts of Walter and Heise make the film visually enchanting, it wouldn't have been so vivaciously expressed without Rasmus Walter Hansen's music. The score completes Pipaluk's narration, fills it with heartache and pain, and resonates with the suffering she experiences from losing her sister. Kreutzmann is splendid in every single scene. Be it her charming innocence in the presence of Ivalu or her painful agony upon being unable to find her sister, the actor delivers a praiseworthy performance.
Ivalu is mesmerizing. The film holds you tightly to its mysterious essence. It delivers a climactic and surreal interpretation at the end, leaving you spellbound. There isn't a moment in this film that will make you look away, even for a second. Instead, Walter will leave you with tears and a lot to think about, further pushing for another viewing. There isn't an award that can measure what the film offers, but this short is already a strong contender for the big ceremonies.
"…will engage and captivate you..."