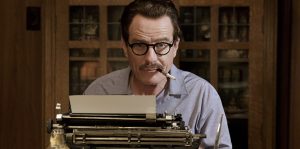 At the beginning of the Cold War, the U.S. Government began blacklisting Hollywood actors, writers, and directors, who were members of the Communist Party. To save their careers, some in the entertainment business named names, though that did not mean what they said was true. Of nearly 80 people subpeaoned by the House Un-American Activities Committee, 10 of them took a defiant stand. Trumbo is the story of famed screenwriter Dalton Trumbo (Bryan Cranston) and his fight to provide for his family, work as a writer, and remain true to his beliefs amid the Cold War and communist hysteria.
During World War II, the United States and the Soviet Union were unlikely allies in the fight against Hitler. As Allies, many Americans took up the cause of communism, believing that it was the government's obligation to help the poor and even the financial playing field amongst all Americans (see Mr. Jones). This was especially true in Hollywood, where studio heads became rich on the backs of writers, actors, and a laundry list of unnamed camera operators, grips, and lighting assistants.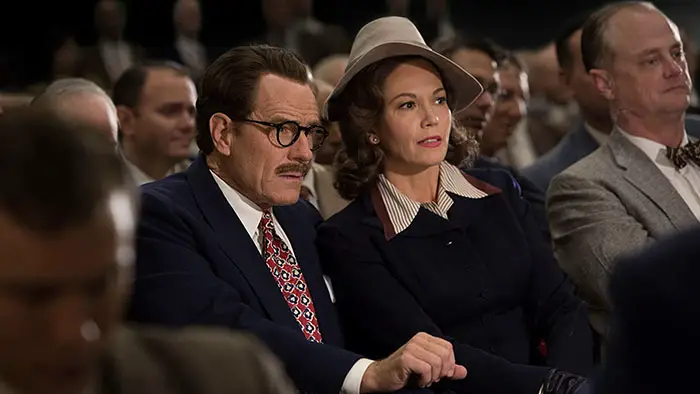 "…a thoughtful, eloquent, and driven man…Trumbo knows only how to do one thing – write."
When called to appear before a Congressional Hearing, Trumbo and the Hollywood Ten were sent to prison for contempt of Congress, because they would not answer questions about their affiliations. A witchhunt was spreading throughout Hollywood Media with the help of gossip columnist Hedda Hopper (Helen Mirren).
Then there is the story of his family who endured Trumbo's trials and tribulations as unintended victims. His wife, Cleo (Diane Lane), always stands by her husband, no matter what, even after he was imprisoned for contempt of Congress. Niki (Elle Fanning), his daughter, has a love/hate relationship with her father. This stems from the fact that he would sometimes place the cause over his family. Trumbo was once too busy to eat a piece of birthday cake with her.
After prison, and unable to find work, Trumbo relies on deception to make a living. This includes writing the screenplay Roman Holiday and have his friend credited as the writer. When Roman Holiday won the Oscar for best story, no one receives the prize. Then a desperate Trumbo begins writing for a low budget production company providing scripts weekly for very little money. Soon the need for scripts becomes overwhelming, and Trumbo enlists the help of the Hollywood Ten.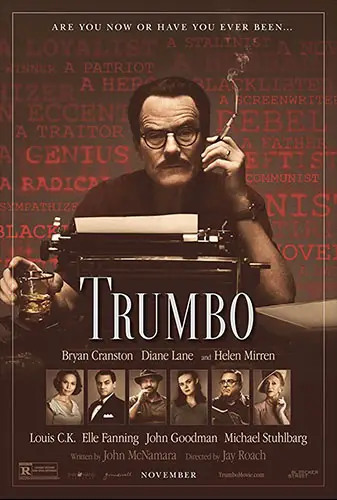 "…serve as a warning that history can repeat itself, and our freedom of speech is always in jeopardy."