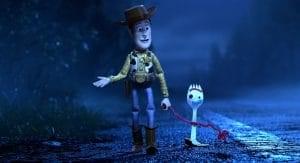 Do yourself a favor and watch a little of the first Toy Story movie. Look how far computer animation has come and Toy Story 4 continues to push the boundaries of technology. Most of it takes place in this mountain village and it's absolutely gorgeous. Beauty aside, Toy Story 4 captures the heart of the entire saga in its own way.
As you remember, the only toy missing from Toy Story 3 was Bo Peep (Annie Potts). Toy Story 4 opens with the "demise" of Bo Peep. Bo was a table lamp for the toddler Molly, and she was quick to be given away by Molly herself. In a last-ditch attempt to save Bo, Woody (Tom Hanks) makes his way to the "donate" box before being loaded in the car, but Bo knows she's unwanted and chooses to stay in the box. At the last moment, Bo invites Woody to become a "lost toy" with her. But Andy's not done with Woody yet.
Jump to today, Bonnie is the child for our gang of toys, but Woody has fallen out of favor with her. Woody just sits in the closet while Buzz (Tim Allen), Jessie (Joan Cusack), and the rest go on a little bedroom adventure. The unappreciated Woody still maintains his steadfast purpose to be there for Bonnie, whether she plays with him or not.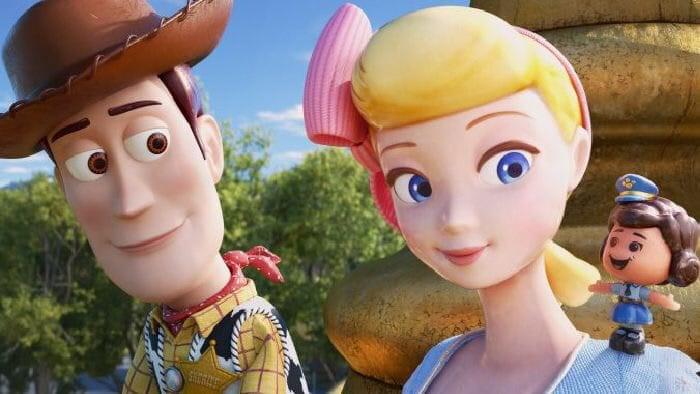 "Bo invites Woody to become a 'lost toy' with her."
It's now the first day of Kindergarten and Bonnie is afraid. Her parents won't let her take any of her toys to school, but the stalwart Woody sneaks into her backpack and off to school. Bonnie is not making any friends and feels lonely. Woody sneaks her a few art supplies and bits of trash, and Bonnie creates a new toy called Forky (Tony Hale). Bonnie loves Forky, and loyal Woody introduces Forky to everyone. Forky doesn't understand he's a toy and believes he's trash (which he is). As he continually throws himself into the trashcan, Woody is there to dig him out because Bonnie loves him the most.
As the weekend approaches, Bonnie and her parents embark on an RV trip. Forky and the rest of the toys are gathered up for the trip, but Forky is still persistent in going out with the trash and Woody still won't allow it. While Woody's back is turned Forky jumps out the RV window. Knowing Bonnie will be heartbroken, Woody jumps out as well to retrieve Forky. Finding Forky, Woody manages to convince him that he's a loved toy and needs to return.
On the way back to the next RV stop, Woody and Forky walk by an antique store and sees Bo Peep's lamp base in the window. Hoping to find Bo, Woody is met by an old porcelain doll named Gabby Gabby (Christina Hendricks) and a small menacing army of Charlie McCarthy-type puppets, who wants something from Woody and kidnaps Forky to get it.
"…this is primarily Woody's adventure of self-discovery…"
It's here that we soon understand the underlying theme of Toy Story 4. As you imagine, Woody eventually meets up with Bo Peep. She was a devoted toy to Molly but rejected. Rather than spend her life sitting in a toy window, Bo forges out (with a few new friends) living the rest of her life as free, renegade toys, traveling anywhere in a remote control skunk. Woody, on the other hand, is faced with an existential crisis. The purpose of a toy is to bring joy and comfort to their child, and Woody took his mission a step further, ensuring the happiness of his child at all times. Toy Story 4 puts Woody's destiny and dedication to the test.
As far as a sequel goes, Toy Story 4 is very much a part of the Toy Story legacy. The jokes are hilarious and are consistent with its predecessors. Many of the characters we love from the first three films are back, but this is decidedly Woody's movie. Buzz and gang take a back seat to Bo Peep and a cast of new characters including my personal favorite Keanu Reeves as Duke Caboom and Ally Maki as Giggles McDimples. Keegan-Michael Key and Jordan Peele make this really odd pair as Bunny and Ducky and brings a large part of the film's silliness.
I loved Toy Story 4. I loved its message, which is the natural progression from the first three films. I laughed, I almost cried at its Avengers: End Game. As much as this is a Toy Story movie about Woody and Buzz, this is primarily Woody's adventure of self-discovery. And as much as I loved it, I had my eleven-year-old sitting next to me mildly amused. It's a pretty deep dive for Woody and the world of toys, and I walked away feeling that Toy Story 4 is a movie for adults, that has enough moments for kids to keep them entertained.
Toy Story 4 (2019) Directed by Josh Cooley. Written by Andrew Stanton, Stephany Folsom. Starring Tom Hanks, Tim Allen, Annie Potts, Tony Hale, Keegan-Michael Key, Madeleine McGraw, Christina Hendricks, Jordan Peele, Keanu Reeves, Ally Maki, Joan Cusack, Bonnie Hunt, Kristen Schaal, John Ratzenberger.
8 out of 10 stars