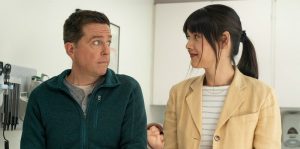 NEW TO THEATERS! Whenever I hear my peers comment about the sweetness of a film, I've always had problems nailing down what that means; beyond children, puppies, and kittens, of course. Well, I found a very sweet film in Nikole Beckwith's Together Together, and I'll tell you why.
The film opens with Anna (Patti Harrison) being interviewed as a surrogate for the middle-aged Matt (Ed Helms), who is a perpetual loner. Believe it or not, but there is a version of the "biological clock" with men that's very real with older single men. Anna was once pregnant as a teen and gave her child up for adoption, so she thinks she'd be perfect for the job.
As you'd expect, the storyline takes us down the road from embryo implantation to birth. What the comedy does so well is fit us into the shoes of Anna and Matt as we experience their journey together. The story is about understanding and less about drama. Not to spoil anything, but there's no lawsuit or court case because Anna wants to keep the baby. It's the idea of parenting and friendship.
One of the many themes in Together Together is that the two main characters are loners in life, which for Matt, leads to wanting a child. Matt is around twenty-years older than Anna, and they navigate high levels of intimacy through their platonic love. Matt becomes anxious about Anna's lifestyle during the pregnancy—what she eats and who she dates. Anna struggles to define the level of attachment she has with the process and the baby insider her.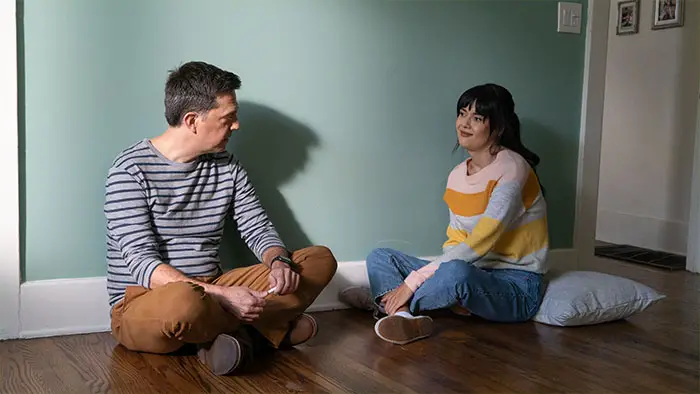 "…Anna's being interviewed as a surrogate for the middle-aged Matt…"
The two attend couples counseling with Madeline (Tig Notaro) and various parenting groups, which allows both characters to express their true feelings in plausible situations without feeling forced. Expressing one's feelings happens a lot in the film.
I do want to spotlight the theme of platonic love between the two. No, they don't get it on, but it's this friendship and love between two people of the opposite sex that we see grow over the next nine months that so refreshing to see in film. Yes, there's conflict, and the two get real with their emotions. What's sweet about this relationship is the fact that it's normal. So ordinary, in fact, that we all have friends or know people, like them, in our own lives. People we call friends and love without needing sex to screw it up.
Along with Helms and Harrison being excellent, Together Together boasts some equally solid cameos in Nora Dunn as Matt's overbearing mother, Fred Melamed as his sympathetic father, Rosalind Chao as the pediatrician, and a funny performance by Julio Torres as Anna's gay co-worker.
I love Together Together because it's a sweet and straightforward story surrounding surrogacy. It's void of Hollywood dramatics and firmly places Ed Helms into that older best friend category on screen.
Together Together screened at the 2021 Sundance Film Festival.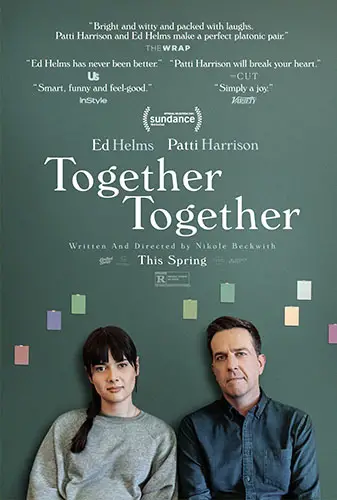 "…a sweet and straightforward story surrounding surrogacy...void of Hollywood dramatics..."