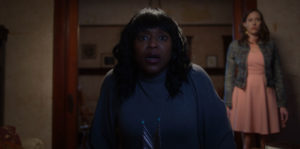 At its best, art can illuminate the culture in which it is made. In this time of worldwide upheaval, political polarization, and frequent violence, society is forging a difficult road. These are not revelations in and of themselves. When these and other thoughts enter horror/ thriller territory for many to see, they become illuminated in a new and ghastly light. This Land, directed by Richard Greenwood, Jr. and written by Leon Langford and Collin Watts, is a thriller of rare vintage that brings a message of redemption and loss. The film crafts these elements of a terrible cycle into a stylish package.
The film opens during a Fourth of July celebration in an upper-middle-class neighborhood to the strains of a plaintive, acapella version of America the Beautiful. Nurse Ava Owens (Natalie Whittle) arrives home after work and struggles with her packages while talking on her phone. Exploding firecrackers tossed by two youths running by frighten the pregnant lady. Upon entering her house, she's attacked by an invader. The intruder stabs her in the stomach. She loses her unborn child as a result.
July 4th arrives again a year later, and Ava, her husband Neil (Adam Birch), and her older, mouthy son Dakota (Jarod Powers) are driving to a remote cabin to try and heal. On the way, their vehicle strikes a deer crossing the road, much to the shock and delight of Dakota. The deer was fleeing from a family of hunters, who step out of the bush in the persons of Grady Moss (John J Pistone), his wife Barbara (Mindy Montavon), and daughter Regan (Taylor Joree Scorse). Grady immediately kills the deer. The two groups part, only to find themselves meeting again in a cabin that has been double booked. Two opposite families trying to make the best of a situation is a recipe for an explosion waiting to happen.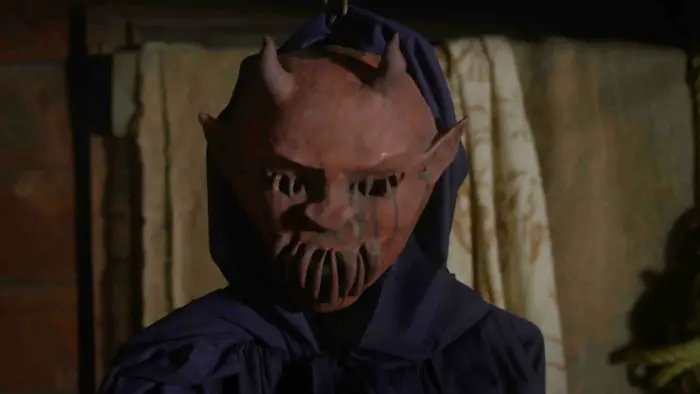 "…when deadly masked intruders arrive, they must put their differences aside to survive."
Many moments of This Land show how diametrically opposed the two families are: politically, occupationally, and philosophically. However, when deadly masked intruders arrive, they must put their differences aside to survive. The "red ants" mixed with "black ants" make for good television and drama, and this is no exception. The shock of the attacks causes each family member to reveal personal secrets long hidden.
Greenwood Jr. pays homage to George Romero's Night of the Living Dead, as you have two groups of people trapped in a house by an outside force of murderous intent. When Ava, Neil, and others are boarding up the windows of the cabin look like that classic horror offering. Montavon has a passing resemblance to another Barbara, that being Judith O'Dea. Whittle is a person of color and takes command from an incapacitated Grady in much the same way as Ben did. Dakota pays a horrible price to take on leadership at the conclusion.
Like the landmark original Romero film, this gives way to sacrifice, murder, and bloody executions. An allegory of actually "losing face" provides a surprising denouement. The clever, well-written script is shot to show tension. Neil trying to fix Grady's broken truck that is being held aloft by a suspect vehicle jack is fraught with fear. As with most adult conflicts, it's the younger ones that see past their differences first, and This Land is no exception. The difference is the ancient evil that triggers the events exacts a price, just as the ending of Night of the Living Dead.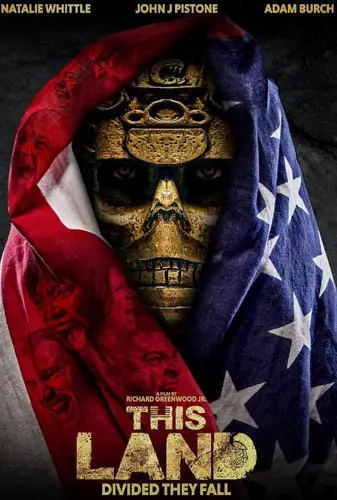 "…clever, well-written..."