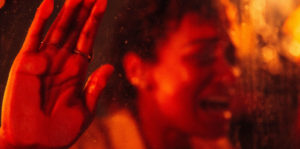 NOW IN THEATERS! What if the Ouija board was updated for the augmented reality age? That is essentially the premise of Talk to Me, an electrifying debut from the Brothers Philippou, who has amassed a fervent following under the nom de plume RackaRacka on Youtube. Wait. Come back here, Don't let that deter you from what very may well be one of the most electrifying debuts on the horror scene since a young Kevin Williamson unleashed Ghostface to the masses. Despite their enfante terrible reputation online, twins Danny and Michael Philippou's first feature as directors is a measured, thoughtful, and nuanced approach to loss and coping, punctuated by authentically creepy images that are sure to linger once the lights come up.
Written by Bill Hinzman and Danny Philippou, the movie focuses on Mia (the outstanding Sophie Wilde), a high-schooler who recently lost her mother. Still reeling, Mia spends time hanging with her BFF Jade (Alexandra Jensen) and Jade's younger brother Riley (Joe Bird). They hear of a fellow student in possession of a ceramic embalmed hand that can apparently serve as a bridge to the afterlife if they follow a series of specific instructions. Initially reluctant to try it, the friends begin to feel the rush of momentarily dancing with the dead.
That is until Mia begins to communicate with a spirit resembling her dead mother. Said entity begins to plant seeds of doubt in the young girl's mind. Mia becomes somewhat addicted to the thrill and increasingly determined to connect with her mother, but at what cost? Riley, anxious to get in with the cool kids, gives it a whirl, but his visit with the dead potentially widens the portal and invites unintended chaos.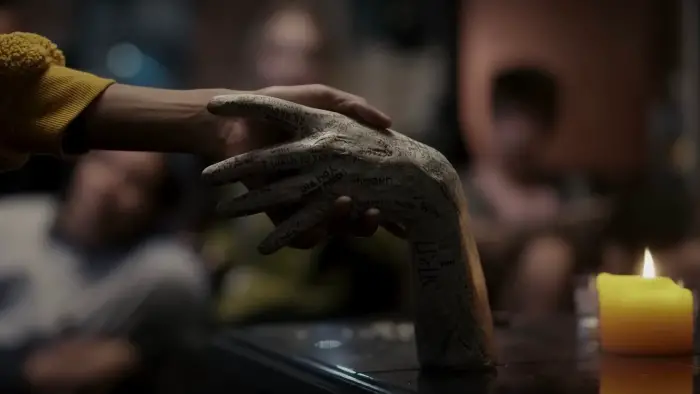 "…Mia begins to communicate with a spirit resembling her dead mother."
Talk to Me remains visually arresting throughout its 95-minute runtime. The horror-thriller has nods to such seminal horror titles as Psycho, Evil Dead, Hereditary, and Get Out. Still, the brothers resist overindulging in-camera trickery and let the narrative, and a stellar cast, take the wheel. Additionally, this signals a strong new voice in the genre with the Philippous that is equally confident, commanding, and committed to slinking under your skin.
As the lead, Wilde is captivating, capable of instantaneously switching from fragile to fierce. The rest of the cast deserves accolades for their lived-in performances. Each of them feels as authentic as any group of teens who find themselves in over their heads after realizing they may have stepped far out of their comfort zone. Even Miranda Otto as Jade and Riley's hard-nosed mother is a rarity in films such as this: an adult who is more than an order-barking, child-doubting reactionary. She's caustically suspicious but aware of her shortcomings and devoted to her family.
Last year, Bodies Bodies Bodies unfairly received early buzz that it was perhaps a successor to the throne of teen horror. Whether it was the marketing department or word-of-mouth, that was a misclassification of the clever little whodunnit. But Talk to Me feels like an organic heir, one that is destined to make waves on whichever platform it lands stateside.
Talk to Me screened at the 2023 Sundance Film Festival.