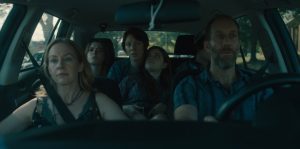 DANCES WITH FILM 2021 REVIEW! Image if you made a 2021 version of Yours, Mine, & Ours but, the parents were living out their best 50 Shades of Grey fantasy; They/Them/Us explores this concept and so much more in this quirky, strange, and heartfelt comedy. The film blurs the lines between off-beat blended family comedy and raunchy sex comedy with more S&M than one would expect in either genre. Director and co-writer Joe Sherman delivers an awkward, hyper-sexual, and somehow sweet story, with tons of panache.
Charlie (Joey Slotnick) is a neurotic film professor looking for romance and trying to navigate being a divorced single dad. Juggling his lack of love life, parenting-ish his two children, and his job at a Christian University while being an atheist has proven to be as strenuous as it sounds. But after a blind date with a single mother of two, semi-famous artist and low-key dominatrix, Lisa (Amy Hargreaves), Charlie thinks he might be able to find balance in this crazy world. At break-neck speeds, the two are moving in together and combining their semi-dysfunctional families. What could go wrong?
With two families now living under one chaotic roof, Charlie and Lisa try to make the best of managing this new situation. Charlie and Lisa's situation is not exactly The Brady Bunch but, they have personality and heart to spare. We have Lisa's children Courtney (Sarah Eddy), the rebellious pre-teen, and Maddy (Lexie Bean), her non-binary teenager trying to find acceptance and, Charlie's kids; Anna (Shanna Strong), the self-proclaimed "good child" and Danny (Jack Steiner) the pot-smoking smart-mouth. Laughs, hijinks, and some beyond awkward moments ensue as these almost strangers discover what it means to be a family, all while Charlie discovers what it means to be "the D-type."
"…the two are moving in together and combining their semi-dysfunctional families."
Watching They/Them/Us, I could not decide if it was a heart-warming indie flick disguised as a sex-comedy or vice versa. The film pairs sweet moments of empathy with cringe-comedy sex scenes in ways that challenge both genres. Some of the setpieces should not work as well as they do, but the performances and writing give these sequences a charm that makes you root for the characters. The moment between Charlie and Maddy at the donut shop is heart-warming and, the growth between Charlie and Danny is hilarious and hopeful.
They/Them/Us is not a perfect film; it has some characters that could be more fleshed out, some sub-plots that do not pan out, and feels a bit rushed at the end. But, the screenplay by Sherman and Melissa Vogley Woods has so much heart, way more than a film with this premise should. Slotnick's performance as Charlie is dynamic, the laughs are there even on a rewatch, and there are some genuinely heartfelt moments.
The cast and director have concocted a funny, sweet, strange, and progressive cocktail of tones. Sherman has expressed on the film's website he hopes They/Them/Us will put the Columbus film scene on the map. After watching and loving this, I cannot wait to see what comes out of Columbus next.
They/Them/Us screened at the 2021 Dances With Films.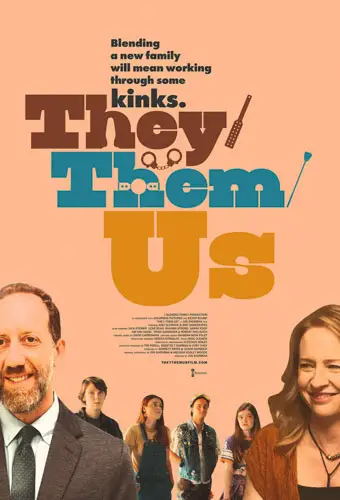 "…a funny, sweet, strange, and progressive cocktail of tones."