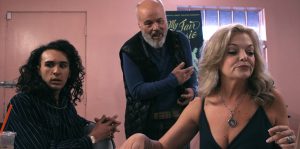 DANCES WITH FILMS 2021 REVIEW! Stage Managed, written and directed by Guy Noland, is a hilarious television pilot. It has that tango of humor and character involvement that makes for a great show. Unfortunately, after finishing it, I got that binge quiver but had nothing further than this brilliant setup for the next adventures of the Tarzana Family Theatre. Very tasty, want more.
Sterling (Carter Thomas) and his sister Brittany (Rebecca Thomas) run a community playhouse in Los Angeles owned by their mother, Victoria (Kara Gibson). It is the lowest rung of the show business ladder, putting on knock-offs of real musicals to avoid paying royalties. Kate (Kate Ponzio) arrives in town after conquering Ohio and auditions for the lead in My Fair Lassie. Former soap opera star David (Derrel Maury) can't get his accent right, and house tech Jack (Guy Noland) can't stop the lights from flickering. In the midst of all the zaniness, we get a visit from Hollywood legend Clint Howard, who bestows helpful advice to the aspiring Kate. Will one more bad review shut down the theater?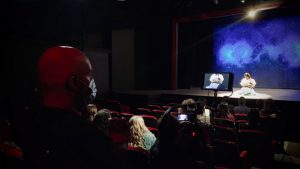 "…putting on knock-offs of real musicals to avoid paying royalties."
Stage Managed grabbed me right at the start when it introduced the counterfeit musicals. The altered lyrics and titles are amusing, to say the least. The level of hilarity is kept up throughout. Guy Noland's handyman Jack is funny enough alone for a spin-off. Ponzio nails the midwestern girl running away to the big smoke perfectly. The Ponz rocks the right balance of sympathy and comic flare.
The real hook is the family that runs the theatre, particularly Sterling and Victoria. Between them is a whirling cyclone of bitchiness that is hypnotic. The secret sauce for instant series addiction is bitchiness. Just ask Dynasty and Desperate Housewives. It is also multi-generationally bitchy, as Gibson is deliciously old school in her attitude, while Thomas has that new-fangled millennial swag going on. Put some bitchy in your tank, and it will run for years. And don't forget Bey (Chris Bey) and Bona (Chris Bona). They are a hilarious pair who flame on the periphery and are infectious.
Stage Managed gets the laughs and has a level of character engagement that makes you want to spend more time with these people. It brings up the same TV comfort zone one would get back in the day from late-night Are You Being Served re-runs. If this is the beginning of the Tarzana Family Theatre story, then set me up with season tickets.
Stage Managed screened at the 2021 Dances With Films.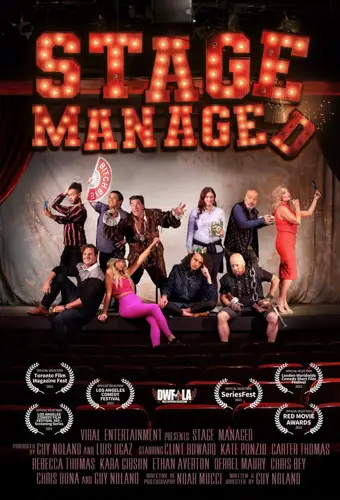 "…set me up with season tickets."