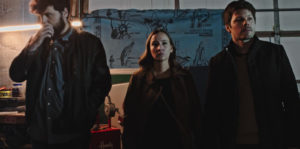 An engaging story is all I need in a movie, simple as that. Director Connor Rickman's The Whole Lot is not only engaging but goes down a rabbit hole that I, quite frankly, found incredibly uncomfortable at times.
The narrative begins with siblings Della (Sarah McLoney) and Jamie (Aaron Kramer) showing up at their recently deceased father's place. Della was left as the sole heir and executor of their father's estate, including his massive car collection. Arriving first is Della and her husband, Eli (Blake Webb), who await Jamie's arrival. Eli is eager to sell the car collection, so the two can start living their dream, which includes an investment in an environmental business venture.
Della is anxious as this is her and Jamie's first meeting in years. Jamie has been living off the grid, avoiding the family's disappointment due to his long-time drug addiction. Once he shows up, Jamie quickly begins to assert himself, demanding he takes several of their father's cars. Specifically, he's aiming to gain possession of his father's Porsche 911, which he claims has sentimental value. However, Eli is worried Jamie will squander the sale on drugs, plus that Porsche is essential for selling the entire collection.
Cinema, in general, is not short on stories of family dysfunction. What makes The Whole Lot so engaging is the performances from its cast and a clever story from screenwriter Matthew Ivan Bennett. This is a brutal story to tell, and the right actors are essential to ground it in a realistic way, particularly when a significant twist arrives to start the third act.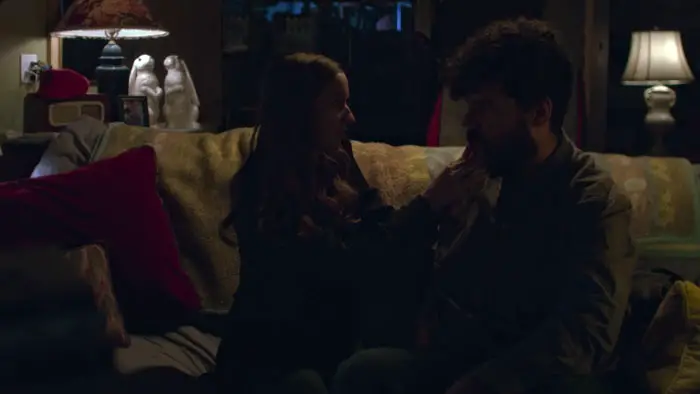 "…Jamie quickly begins to assert himself, demanding he takes several of his father's cars."
Kramer is almost too perfect as Jamie. I almost shut the drama off because I've met (and worked with) bullies like him in his terse attitude and aggressive threats. His ability to push the mild Eli to the point of violence is eerie. But we eventually see his vulnerable side in the quiet moments as a way to connect with him… then the twist arrives.
Eli is another interesting character. His obsession with selling the car collection already raises red flags, but he constantly makes several decisions and declarations that shift our allegiance to him. However, I'm still not sure whether he was right or wrong. McLoney makes it very easy for us to sympathize with her character's situation, placing ourselves in her shoes. This is particularly so due to some of the decisions she must make regarding Jamie. The actor allows us to feel sorry for her when we see she's being clearly manipulated… then the twist.
Yes, I'm harping on the twist of The Whole Lot. I can't say anything about it other than you have to experience it. It will leave you stunned, questioning everyone and everything. Quite frankly, it will put people off, but I liked being thrown for a loop. It's revealed in a slow, deliberate manner, and I had to process just how wrong it is and give myself permission to see the rest of the film to the end. I use the word "engaging" because I'm still thinking about this story.
Right or wrong, there's something grand about movies that have you thinking about them long after the credits have run. Though I am not entirely sure how I feel about the ending, I must admire the sheer balls it takes to craft this kind of story. Kudos to The Whole Lot for being willing to go to a very dark place and still tell a family story.
The Whole Lot premiered at the 2022 Philadelphia Independent Film Festival.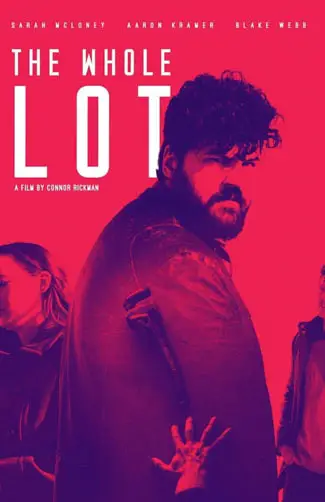 "…will leave you stunned..."