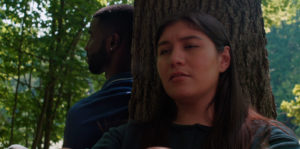 Life is filled with moments of tranquility and disorder. Yet, when our lives are in shambles, there are moments where we can succumb to the beauty of our surroundings, relish the company of the right person, and momentarily find the courage to reveal what we're feeling inside. We can do this even if what we're feeling doesn't seem to make complete sense. In Sunspot, the feature-length debut of writer/director Brian Mihok, the unremarkable life of River (Joelle Montoya) takes center stage in a minimalist, existential drama of modest impact.
River is a young woman trying to keep her head above water. She frequently hangs out with friends but finds herself going through life without much direction. Taking place in a working-class community in New Jersey, the narrative is essentially a string of unconnected occurrences involving River and her interactions with people and places. The only apparent connective tissue between events is a mellifluous electric guitar score that harmonizes nicely with the beautiful wide shots of the homely locations and leafy outdoors.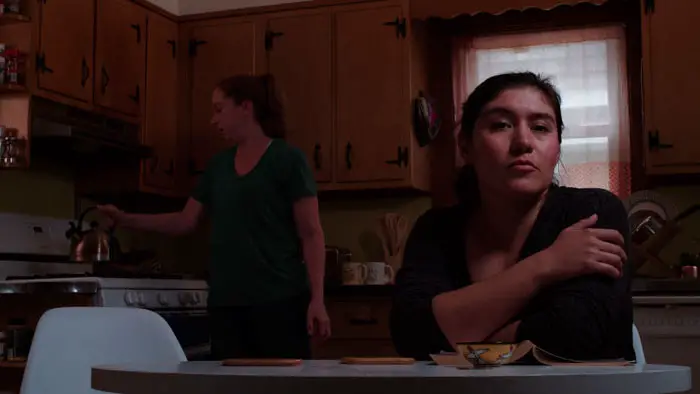 "…River has an encounter with Obie…"
The plot of Sunspot is extremely thin, not because of budgetary constraints per se, but because of Mihok's naturalistic approach, which exquisitely captures a moment in time. Possessing a short 53-minute runtime, there isn't enough time to develop the characters fully. While River doesn't undergo a significant character arc, she is focused upon and clearly defined. River is withdrawn, carrying herself stiffly and maintaining a glazed expression. Montoya delivers a notably restrained performance, ensuring that the inscrutability of her character shows intention and nuance. A few snippets of dialogue here and there expand on River's turbulent past organically, ultimately giving the actor more to work with in terms of communicating stifled emotion.
In one of the more effectively subdued scenes, River has an encounter with Obie (Marcus R Smith), a stranger who offers to drive her to her place of solitude. They share personal musings and discuss their names of all things. Yet, while seemingly inconsequential and digressive, their conversation is strangely moving. An overhead shot of them laying on a blanket with their heads slightly touching flawlessly conveys the feeling of being close to someone, even if only for a little while. Unfortunately, not all elements of the script are as well-written as they are in these moments. Some scenes fall short, particularly the ones revolving around the retrieval of valuable jewelry, which is a rather underwritten plot point that never gains emotional momentum.
Sunspot is a splendidly shot and artfully structured indie drama with an admirable emphasis on smaller details. Mihok spots the beauty and monotony of one's surroundings in a boldly naturalistic manner while working with a limited budget. This visually arresting and exceptionally well-acted minimalistic experience doesn't really leave a major impact, but it doesn't need to in this case. Life is anything but completely planned out.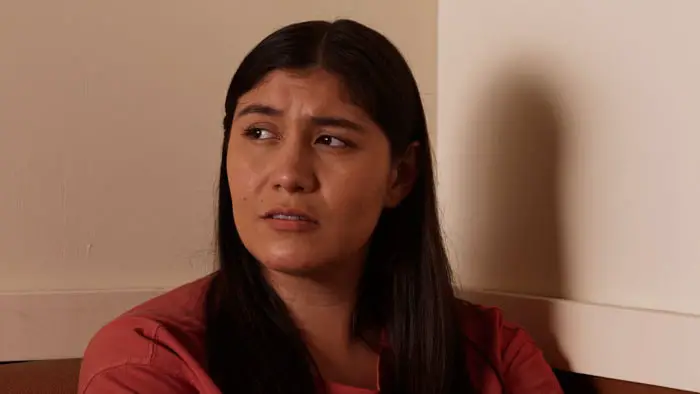 "…visually arresting and exceptionally well-acted..."