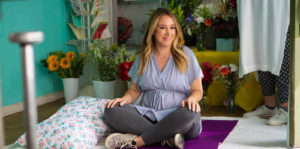 Prepare to catch pact man fever with writer/director Matt Berman's long-awaited sequel, The Wedding Pact 2: The Baby Pact. Elizabeth (Haylie Duff) returns from the first movie. Back in college, she made a pact with her best male friend that if neither had gotten married in the next ten years, they would marry each other. That friend, Mitch, sought her out once the ten years had passed, and they ended up marrying.
Unfortunately, two weeks after Elizabeth becomes pregnant, Mitch passes away, leaving her alone to bring their child into the world. She flees home to Fort Wayne, Indiana, to stay with her sister Rachel (Heather McComb). To help get back on her feet, Elizabeth gets a job at a flower shop run by her old pal Joe Jr. (Quinton Aaron) and his dad, Joe Sr. (P.L. Brown).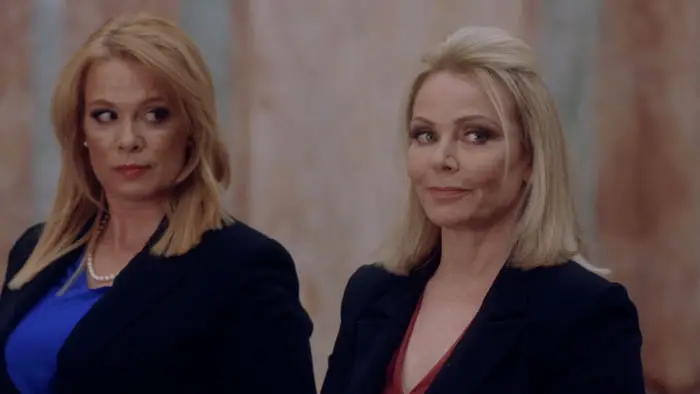 "…she plans to sue Elizabeth for full custody of her unborn grandchild."
Whilst selling floral arrangements accented by tiny teddy bears, Mitch's mother, Jennifer (Chase Masterson), waltzes into the store, announcing that she plans to sue Elizabeth for full custody of her unborn grandchild. Shortly after his death, Jennifer received a letter showing Mitch had doubts about Elizabeth being competent enough to raise a child. Elizabeth agonizes about her mother-in-law's baby-snatching to Rachel in a coffee shop. Coffee-sipping attorney Kevin Pyle (Connor Trinneer) overhears and takes up her case for pennies, as he would love to show up Jennifer's lawyer Robin Pyle (Gail O'Grady), who happens to be his sister.
Then The Wedding Pact 2: The Baby Pact introduces us to Elizabeth and Mitch's old college buddy Dave (Kelly Perine). He, too, is willing to help, as he knew Mitch had loved Elizabeth since school and would never doubt her mothering potential. However, the trial is overseen by the honorable Judge Anthony Steel (Kevin P. Farley), who wears a hand puppet of a dog while in court. The puppet's name is Murphy, and Steel consults with it while on the bench, so who knows which way this case will go. However, just like in Hamlet, the ghost of Elizabeth's dad, Henry (Richard Riehle), will give her further direction during a visitation.
With an eight-year gap between the original and the sequel, many viewers will likely be watching The Wedding Pact 2: The Baby Pact without seeing the original. It works completely, with Berman crafting a sequel that works as a franchise entry point in the way of Road Warrior, Star Trek 2, and Rocky 3. The filmmaker drops enough details along the way to catch new viewers up on this universe and these characters but makes sure to develop fresh sympathies for Elizabeth and her pals. He also makes sure to create a sequel that is by no means a retread of the actions of the original.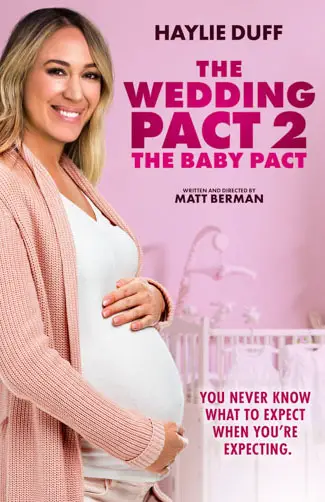 "…an afternoon's entertainment with some emotional muscle..."