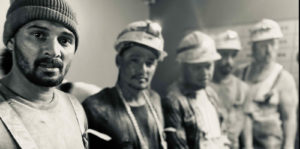 TORONTO INTERNATIONAL FILM FESTIVAL 2023 REVIEW! What do you do when your friends are unfairly jailed on an island surrounded by shark-infested waters? You break them out, of course! At least, that's the plan for Keisha (Shamilla Miller) and company in director/co-writer John Barker's The Umbrella Men: Escape from Robben Island, the sequel to the underseen South African heist flick Umbrella Men. Like the previous movie, it's an energetic and lighthearted movie containing vibrant visuals and personality in spades. Barker brings the energy of Cape Town culture to bear — this time with a jailbreak instead of a heist.
For those who haven't seen the first one (not entirely necessary to enjoy the latter), The Umbrella Men tracks a motley crew of South African musicians as they rob a bank during a popular music festival to save their favorite club from bankruptcy. It's honestly extremely difficult to add anything novel to the heist genre. Still, the film was notable for representing the Bo Kaap, a Cape Town neighborhood known for its lively culture and diverse population. The narratives of both features are bolstered by infectious regional music, and the flicks collectively break from stale locales like New York and London.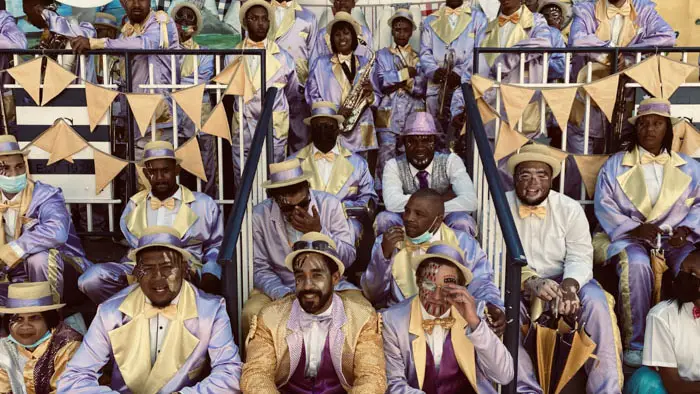 "…friends are unfairly jailed on an island surrounded by shark-infested waters…"
The returning cast to The Umbrella Men: Escape from Robben Island includes Tarieq (Abduragman Adams), Uncle Percy (Omar Adams), The General (Irshaad Ally), and Mortimer (Keenan Arrison). There are too many characters to list, which is a sure sign Barker and co-writer Phillip Roberts are juggling too much. Still, some, like the pot-smoking Aunty Val (June van Merch), are hard to forget as they plot a scuba rescue of the prisoners on Robben Island. Not so coincidentally, this is the same prison Nelson Mandela was locked away in for almost 20 years. Concurrently, there's a hunt for an explanation behind the delivery of counterfeit banknotes used to pay off a previous debt. Any success hinges upon the chemistry between the core group of characters, and thankfully, in this regard, the movie delivers.
This thriller would have been more efficient had the scope and some characters been pared down a bit. As fun as the central jailbreak setup manages to be, the 20 or so minutes after its completion feels tacked on as Barker introduces a narrative subthread involving local government and foreign Chinese investors. There's a lot to mine from subjects like that, but it's out of place in an otherwise entertaining jailbreak actioner. Still, though, this manages to stay light throughout.
The best part of films like this is the inspiration they provide to learn more about the world. I doubt many in the U.S. are familiar with the Bo Kaap locale, and its location amidst the Table Mountain makes it a more than compelling setting for this story. Combine that with a vivid cast of characters, and The Umbrella Men: Escape from Robben Island makes for an exciting genre picture, the kind there's always an appetite for.
The Umbrella Men: Escape from Robben Island screened at the 2023 Toronto International Film Festival.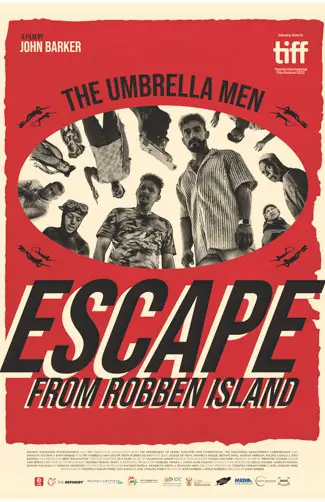 "…an exciting genre picture..."