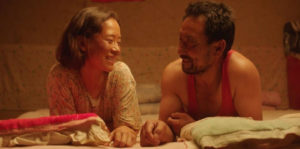 The elephant in the room with writer-director Li Ruijun's drama, Return to Dust, is that it was promptly banned in China under suspicious circumstances after a relatively successful release. When a film like this is banned in its home country, perhaps that's as good a sign as any that it has an impact — even if the message isn't what the powers at be might necessarily prefer. This is a tragic romance of the highest order, and if foreign censors are less than pleased with its grounded depiction of economic realities in rural China, then the loss is theirs alone. Imagine if classics like Bicycle Thieves weren't available because of some ruffled feathers.
Ma Youtie (Wu Renlin), AKA "Fourth Brother," is a humble farmer in the arid countryside of China. As his nickname would indicate, he is low on the family's totem pole, but he is nevertheless assigned a wife to marry, Cao Guiying (Hai Qing). She's an incontinent woman suffering from a debilitating and undiagnosed illness. There's no chemistry to speak of as they begin their lives together, but their efforts to improve their existence through manual labor start to kindle a flame neither has experienced before.
Local politics quickly complicate their lives. Youtie, who carries an extremely rare blood type (called panda blood in China), is literally forced to give his blood for his country so a sick local Party official can receive necessary transfusions. To make matters worse, a new policy of beautifying the countryside forces the pair to leave their home so older buildings can be razed.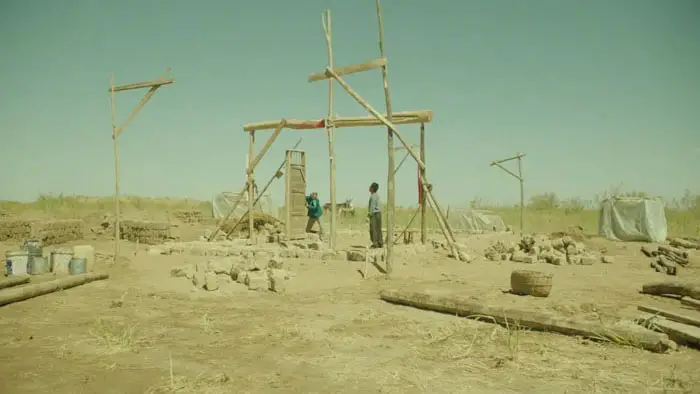 "…forced to give his blood for his country…"
The heart of Return to Dust is centered on the married couple's efforts to construct a new home by hand. It's grueling work, but through Li's stunning visuals and mastery of pacing, we become engrossed by the details not only of the labor but by their burgeoning love. Seemingly small gestures of love like Cao bringing Youtie a jar of hot water or him helping her wash in a local stream speak volumes, much more than the exposition dumps we're used to seeing in lesser movies.
The two leads play in stark contrast to what we expect from romances. One wets the bed, the other toils in the mud to make bricks. This is the furthest imaginable point from a Netflix original we can get, and that's a win in my book. The seasons slowly pass, and the house grows exponentially in pace with their love for each other. Viewers will be shocked at how much they end up caring for these two pure-hearted individuals (and their lovable donkey, whose bell quickly becomes a sound one won't forget anytime soon).
I'm blown away by Ruijun's drama and am confused that it didn't take off after its Berlinale premiere. It's a crying shame the future of Return to Dust is in doubt. The less-than-flattering representation of a destitute pair of rural laborers refusing to succumb to the pressures of urbanization was bound to stir up some controversy. The feature was a surprise success with the Chinese public, and that is evidence that it resonated with wide swaths of audiences. Art always wins, though, and I caution readers not to miss this new Chinese classic.