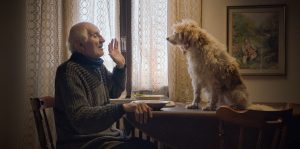 NEW TO VOD! People either love or hate truffles. There's no middle ground. You don't just shrug off truffles like, say, brussel sprouts or granola bars. Even haters begrudgingly admit that there's a certain enigmatic allure surrounding the umami-flavored fungi. They're nearly impossible to find, pick, grow, and store. Depending on their rarity, truffles can range well into thousands of dollars per pound. Michael Dweck and Gregory Kershaw's documentary The Truffle Hunters examines said allure through the eyes of several Italian septua- and octogenarians, who search for a much-coveted truffle. The lovely film is just as enchanting as its subject and much less likely to be divisive. Even haters will admit that there's something wonderful about The Truffle Hunters.
The fleshy, golden Alba truffle can be found, with much effort and perseverance, deep in the Piedmont forest of Northern Italy. Unlike some other species – of which there are over 40 – the Alba truffle simply cannot be cultivated; it grows as it pleases underground, next to the roots of hardwood trees. Its elusive nature makes it the most high-valued truffle in the world.
Our aging heroes climb steep, slippery hills and dig with their hands. They go out at night, risking their lives, and engage in territorial disputes with their peers. They don't look for the truffles for profit but do it for the thrill of the hunt, to have fun with their beloved dogs ("If my dog dies, so will I," one of the gentlemen proclaims), and to bask in nature's tranquility. They do it because they love it and because their families have been doing so for generations.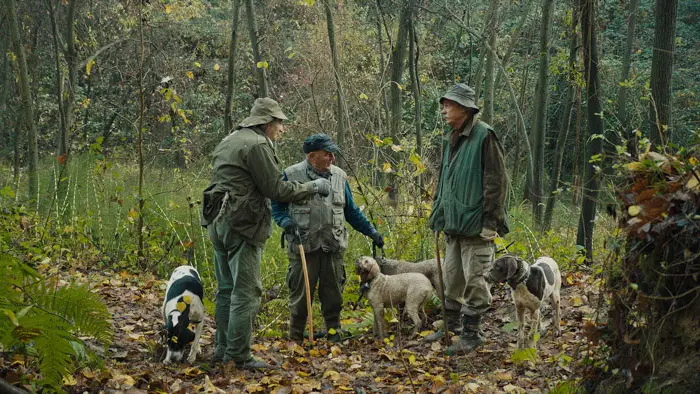 "…focus on the world of the hunters…brief glimpses at the consequent sale and consumption of the truffles in the most exquisite of restaurants…"
The filmmakers focus on the world of the hunters, with just a few brief glimpses at the consequent sale and consumption of the truffles in the most exquisite of restaurants, to emphasize the disparity between age-old tradition and implacable commerce. In a crucial scene, a man quits truffle hunting due to all the encroaching greed and capitalism. An 84-year-old man refuses to disclose his treasure locations, even though his secrets would be lost forever if something were to happen to him. Single, childless, he chats (and eats birthday cake) with his dog, seemingly possessing no regrets. Another 87-year-old stalwart insists on going truffle hunting at night, despite his wife's pleas to stop. "You're nearing the end," she tells him. "What if it's just the beginning?" he insists.
The small moments stand out as well. The Italian president wants 500 grams of hand-selected Alba delivered to him. The hunters' love for their canine companions is never more evident than in the scene depicting man and dog taking a gleeful bath together. I loved the "truffle tasting" (smelling?) in wine glasses ("Moist soil… Spices… Intense…"). The highlight of The Truffle Hunters may be the dog POV, with cameras mounted on top of the animals as they frantically search the forest.
Dweck and Kershaw, both of whom shot the movie, have a keen collective eye, capturing pastel shots of a forest so damp you can smell the decaying leaves. A disappearing hunter is seen through a foggy window from the inside of a car. They celebrate the art of flavor, as is evident in the prolonged shot of a man enjoying the exquisite taste of the Alba truffle on a perfectly cooked egg. They also celebrate symmetry, as is evident in every luscious frame.
The Truffle Hunters is about sustaining tradition in a world that seems to (d)evolve too fast. It's about mortality, but it's never morbid. It's about fungi, but it's never dull. It takes you away from the hustle and bustle of the contemporary, social-media-driven society and plunges you into the woodsy stillness of Northern Italy. You don't have to love truffles to crave a little bit of that beautiful solitude.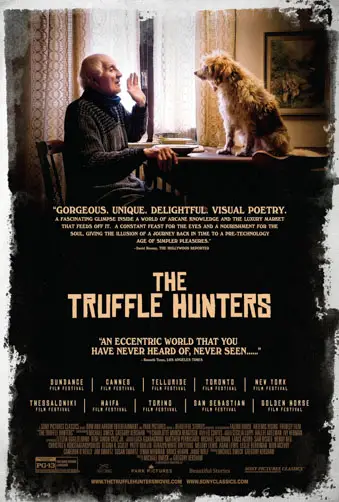 "…as enchanting as its subject, and much less likely to be divisive..."