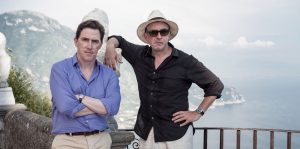 NEW TO HULU! When you think of comics taking their act on the road, you don't typically think of comics, you know, actually renting a Mini and hitting the road. Unless, of course, you happen to be director Michael Winterbottom (The Trip). In which case, it turns out to be a thoroughly inspired idea.
The Trip to Italy is his follow up to the surprise 2010 hit in which British humorists Steve Coogan and Rob Brydon played slightly fictionalized versions of themselves taking a culinary tour through the north of England to research a series of articles for London's Observer Magazine. The new film is every bit as loosely structured, dialogue-centered, and fall down funny.
It begins with a deliciously meta exchange between the friends. Informed by Brydon that the publication has asked for another series of reviews—this time of restaurants in six different cities along the Italian coast—Coogan initially hesitates. His qualm? Most sequels don't live up to the original. When reminded of Godfather 2, he scoffs, laughing it off as the exception to the rule everyone always cites and, the next thing you know, the two are doing impressions of Brando and Pacino and riffing on Godfather 3, a sequel to prove the rule if ever there was one.
Thankfully Coogan allows himself to be pulled back in. Their itinerary has them starting their high carb tour of the Mediterranean shoreline in Liguria and working their way down the boot to Sicily and a prospective Pacinothon. The cinematography could not be more gorgeous, as you might imagine, and the shots of haute cuisine are beyond mouth-watering. It occurred to me the summer was bookended by food-centric comedies with the equally delectable Chef still playing across much of the country.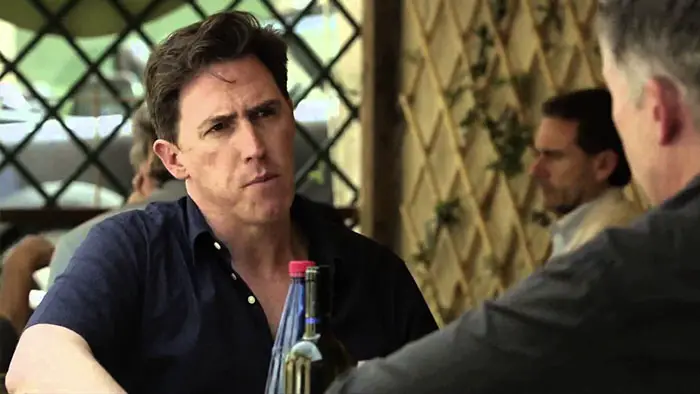 "…starting their high carb tour of the Mediterranean shoreline in Liguria…"
Not a single screenwriter is credited at the end of the movie. That's because virtually everything which comes before the closing credits was improvised. As they Mini from one heartbreakingly beautiful location to the next, the friends chew some of the funniest fat in the history of fat-chewing film. Think My Dinner with Monty Python.
Digression follows digression, each more inventive and gut-busting than the last. Their back and forth on The Dark Knight Rises is an instant classic, as unimprovable a bit as "Who's on First" or any you might name. I swear it's all you can do not to slide from your seat to the floor as what begins with an impression of Michael Caine at Batman's burial morphs into a business about a terrified assistant director pleading with Tom Hardy's muzzled Bane to enunciate more clearly. Both men are masterful impressionists.
Imagine an American movie the plot of which consists entirely of two loquacious buddies driving, dining, and digressing ingeniously (the closest we have to that, I suppose, is Jerry Seinfeld's web series Comedians in Cars Getting Coffee). Good luck getting that pitch green-lighted. The pair never leave Italy but are all over the place, their rapid-fire ruminations touching on everything from marriage, children, and mortality to Alanis Morisette and their route roughly mirroring a pilgrimage once made by another pair of celebrity pals named Byron and Shelley.
There isn't a comic book superhero or CGI in the picture's 108 minutes, but each scene achieves that most special effect of all: the shock of the new. You leave feeling restored-renewed by the experience of watching something, unlike anything you've watched before. A pretty neat trick for a sequel and one I'm not sure even Godfather 2 pulled off. Here's hoping Winterbottom doesn't wait another four years before cooking up a third course.
The Trip to Italy screened at the Sundance Film Festival and the Newport Beach Film Festival.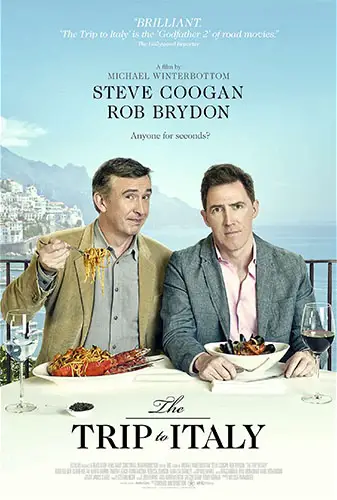 "…Think My Dinner with Monty Python."