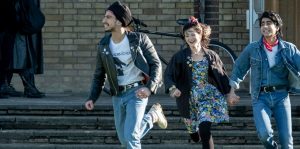 Director Gurinder Chadha's latest film Blinded by the Light is a pleasing movie featuring some outstanding acting and plenty of cleverly executed humor, but it feels too familiar for its own good. Much like her other well-received film, Bend it Like Beckham, the story follows a teenager obsessed with something that seemingly flies in the face of his familial traditions. In Bend it Like Beckham, it was obviously soccer (or football outside of the US), and in this film, it just so happens to be the music and attitude of Bruce Springsteen. I loved the film, but I'm not going to pretend that these obvious similarities didn't bother me.
Javed (played by relative newcomer Viveik Kalra) is a teenage writer in the late 1980's caught in a struggle to find his identity and voice. His father, Malik (played by Kulvinder Ghir) is a hardworking man who has specific plans for Javed's life and career pursuits. Javed and his family are Pakistani in a town where they are made to feel unwelcome by young fascists. Javed is introduced to the music of Bruce Springsteen's music, and things start to click and collect in brand new ways. The music almost acts as a sort of super fuel to boost his confidence, and soon he finds himself bucking back at his Father's strict rules. The music also inspires him to win the heart of his first ever girlfriend, Eliza (played by Nell Williams) in one of the film's funniest scenes.
"…Javed is introduced to the music of Bruce Springsteen's music, and things start to click…"
I understand how music can empower and enlighten. For me, it was Green Day as my introduction to punk music. It was loud, defiant, honest, and in your face…all the things I was not, and all the things I wish I could be. The lyrics, the sounds, the heart and the soul of the songs changed me. They formed me, so I can understand the message this film is going for even though I'm not really that much into Bruce Springsteen. This is a straight-up love letter to Bruce Springsteen and Bruce Springsteen fans. Despite the fact that I am neither of the two, I still found a lot to adore in Blinded by the Light. I loved that the lyrics to Springsteen songs sometimes appeared around Javed, it was very reminiscent of Edgar Wright's underrated treasure Scott Pilgrim vs. The World. The scene where Javed first discovers The Boss's music is delightful and visually powerful. There are entire sequences that revolve around Javed quoting lyrics in place of typical dialogue, and sometimes it works, other times it strays into a weird fantastical vibe that doesn't fit well with the rest of the movie.
The plot does tread into clichéd waters. You have a Father character that doesn't want his son to do the things he wants to do. A treasured possession gets ripped up. There's an act of defiance that leads to predictable reconciliation between two characters. Still, these familiar tropes do not hinder the movie too much. It's a fun, poignant story with an insanely talented cast behind it. Viveik Kalra is a future star in the making. His performance is so honest and vulnerable. He's always so damned likable, even during the parts of the movie where he's kind of not supposed to be. The scenes he shares with Kulvinder Ghir perfectly capture all of the nuances that come with a relationship between a father and son. Ghir is a captivating actor, and his comedic timing was always spot on.
"…never feels preachy or overly cheesy. Even with its obvious predictableness…"
Nell Williams plays Eliza, the love interest. She's political, progressive, and the chemistry she shares with Kalra is both adorable and believable. Hayley Atwell plays Ms. Clay, the kind-hearted, yet challenging teacher that pushes Javed into developing and sharing his talent for writing. She's always a pleasure to watch, and nothing about that is different here. Aaron Phagura and Dean-Charles Chapman play Javed's best friends, Roops and Matt. Matt has his own character arc, but Roops is kind of just there as a true blue sidekick. Matt's Dad played by the great Rob Drydon appears in all of the most hilarious bits, and I would have loved to see the character pop up throughout the movie more often.
This is a feel-good movie that tackles a bunch of tough topics, from politics, race, family traditions, social frustrations, and romance. It never feels preachy or overly cheesy. Even with its obvious predictableness, there's just too much here to love for me not to strongly recommend it. Bruce Springsteen's music acts as inspiration and motivation to millions of die-hard fans around the world, and Blinded by the Light uses his songs flawlessly. It works if you're not a Bruce Springsteen fan, but I'm certain it works even better if you are.
Blinded by the Light (2019) Directed by Gurinder Chadha. Written by Paul Mayeda Berges, Sarfraz Manzoor, and Gurinder Chadha. Starring Viveik Kalra, Nell Williams, Kulvinder Ghir, Aaron Phagura, Dean-Charles Chapman, Hayley Atwell, Meera Ganatra. Blinded by the Light screened at the 2019 Sundance Film Festival and the Los Angeles Asian Pacific Film Festival.
8 out of 10