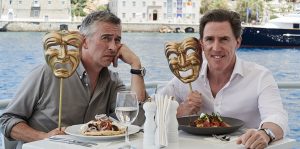 In 2010, Michael Winterbottom, Steve Coogan, and Rob Brydon invited us to join them on The Trip. Their entertaining travelogue mockumentary produced a few sequels – The Trip to Italy, The Trip to Spain, and now The Trip to Greece, which is the fourth and final installment.
Once again, The Observer asks Steve and Rob to write an article about their travels. This time they're going from Troy to Ithaca, just like Odysseus in The Odyssey. Except they only have six days. Over this period, they go to insanely beautiful and historically important places such as the Temple of Apollo at Delphi, the Ancient Agora of Athens, the Ancient Theatre of Epidaurus, the island of Hydra, the Caves of Diros, Nestor's Palace, Niokastro Fortress in Pylos, and Ancient Stagira. As par for the course, they also visit several incredible hotels and restaurants in Athens, Hydra, Lesvos, Chalkidiki, Pelion, Kavala, and the Peloponnese.
Naturally, there's a lot of lighthearted bickering between Coogan and Brydon and many impersonations by both of them. A few Coogan takes on include Mick Jagger and Ray Winstone. Brydon does a pretty good Sean Connery and Dustin Hoffman, among many others. Brydon singing the theme to the movie Grease, while Coogan berates him for knowing nothing about Ancient Greek history, is a standout moment.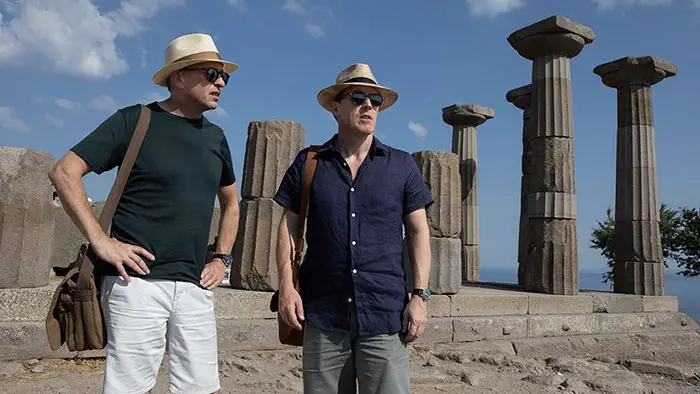 "…they're going from Troy to Ithaca…there's a lot of lighthearted bickering between Coogan and Brydon…"
Unlike the rest of the very comedic films in the series, The Trip To Greece has a serious edge to it. Coogan discovers his father is sick, only after his son calls him. Coogan then has a series of black-and-white dreams about his father and his ex-wife. Rob misses his family and calls his wife to meet him after the "trip" is over.
Director of photography Ben Smithard's cinematography is incredible. It's fascinating to see the juxtaposition between the beautiful Greek scenery and the general nonsense Coogan and Brydon talk about. Michael Winterbottom knows how to get great performances out of both actors and it's a shame that this will be the last Trip film. It's good that it's going out with some emotional heft. The Trip to Greece is a meditation on aging and mortality, as well as a hilarious send-off of two old friends. It's also a reminder to everyone that Steve Coogan has won 7 BAFTAs, which you will never be able to forget after watching this film, considering how often the exaggerated egomaniacal version of Coogan mentions them.
If you enjoyed the rest of the series, you'll love The Trip to Greece. Don't start with this one if you haven't seen the others, but you could and still understand its plot. If you've never seen any of The Trip movies and you like Steve Coogan and Rob Brydon, then I don't know what you're doing with yourself. The Trip to Greece was supposed to premiere at the 2020 Tribeca Film Festival, but thankfully it will be coming to VOD so everyone can see it from the comfort of their own homes. It's a little sad that The Trip is over, but The Trip to Greece means the gang went out with a bang.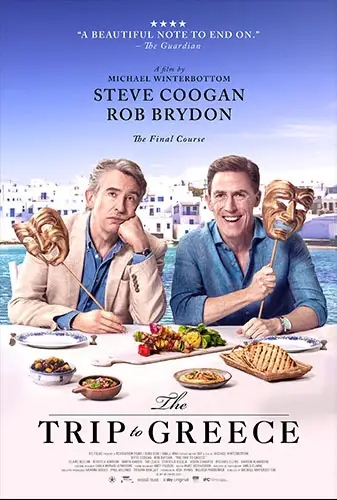 "…has a serious edge to it."