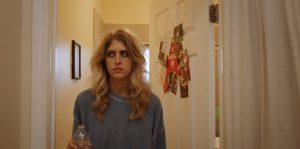 Moose (Matisse Rose Haddad) is an eccentric art student looking for anything that can potentially move her. One morning, after a night of partying, Moose notices a tampon on her floor, and she begins to question why it's there. While it may not seem like a big deal, The Tampon forces Moose and her friends to begin thinking about consent and other important issues surrounding women. As her eyes are forcibly opened to the world, Moose will start to understand that consent is a far deeper issue than she may have originally understood it to be.
The existential crises of consent and feminism play a significant role in The Tampon. Moose grapples with these ideas and considers the fact that they are not what she once thought and begins to understand that they do, in fact, play a large part in her life. Both ideas, particularly consent, are thrown around throughout the film and invites viewers to partake in the deep discussion about what is and what isn't consensual. While The Tampon is listed as a comedy, it takes a very serious approach toward consent and what it means for everyone involved in a sexual encounter.
While I believe the movie's purpose is to enlighten viewers and express how important consent is, Moose's conversation with her most recent sexual partner, Alex (Alex MacNicoll), feels like an attempt to express the flaws of movements such as #MeToo. Regardless of your stance on such matters, The Tampon feels a bit ambiguous, and those involved come off as unsure of their true beliefs regarding #MeToo and the like. Ultimately, I'm unsure what director Erica Ortiz and star/screenwriter Haddad are trying to accomplish here. There are clear political undertones throughout, and while this can be a turnoff for viewers, the fact that Ortiz and Haddad leave much of what is said open for interpretation is intriguing.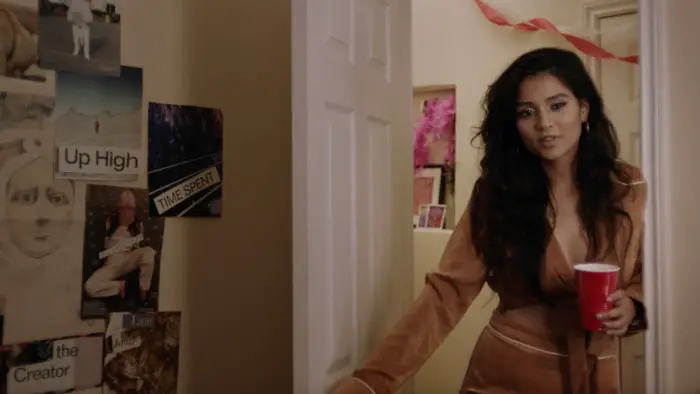 "…forces Moose and her friends to begin thinking about consent and other important issues surrounding women."
The ambiguity of the content is attractive, but the individuals tasked with bringing this story to life are not. Haddad, Toni Christopher (Sarah), Sadie Kuwano (Zan), and the others fail to entertain through their limited acting abilities and far too eccentric way about them. Viewers have to look past the rough exterior of these performances to appreciate the story being told. What makes the cast even more dreadful to watch is the fact that MacNicoll does, in fact, possess talent and outshines everyone else. It is evident very early on that the majority of the actors in The Tampon are not very good or convincing; MacNicoll's prowess makes it that much more obvious.
On the positive side, however, viewers are provided the opportunity to see this young man shine. There is something simple about him. His expressions and lines are delivered very naturally due to this simplicity. His confusion and frustration appear genuine, ultimately becoming the reason for political and moral ambiguity in the film and enticing viewers in the process.
Throughout The Tampon I found myself frustrated with what was being said, but the ability of Ortiz and Haddad to allow viewers to come to their own conclusions makes these moments tolerable. The ever-changing world and expectations of those living in it are brought to the viewers' attention in a slightly confusing but ultimately effective fashion.
Viewers can't be sure that they will agree with everything being said in the short film, but rest assured, they will appreciate the sentiment on some level. The Tampon is edgy and unrelenting, and that might be exactly what the world needs.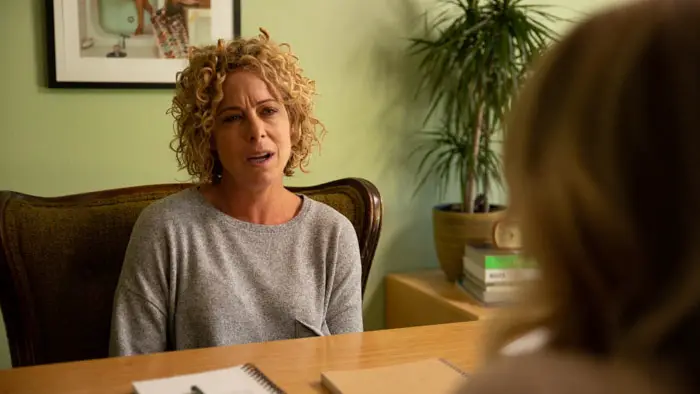 "…the ambiguity of the content is attractive, but...those involved come off as unsure of their true beliefs..."