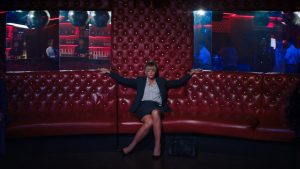 SUNDANCE 2020 FILM FESTIVAL REVIEW! Promising Young Woman is a clever and well-made comedy-horror movie for the feminist at heart (wink, wink) and adding to the slew of #MeToo films within every genre. I like this film because of its nuances and hilarious banter and dialogue, which speak to the soul, not just what's happening on screen.
Cassie, played by Carey Mulligan, who was so commanding in Far from the Madding Crowd, captures your attention immediately with her deadpan comedic skills as a seemingly intoxicated woman baiting a man to take her home. This trap sets the tone for a journey of revenge that has all kinds of amusement from décor to gore, which is more action than blood. All carried out with a singular purpose and carefully documented in her own "pink" book. We know something is off because Cassie lives with her parents, played by Jennifer Coolidge and Clancy Brown, harboring no shame over this fact.
She is a medical school dropout and works at a barista with a boss that does not mind continuous social banter. It fast becomes clear that Cassie is going through the motions except when it comes to her specialized and planned man-eating dramatics that is, perhaps, a little perverse. Nonetheless, she remains steadfast in her well-executed, recorded, and intense acts of revenge. She lures men as a damsel in apparent drunk distress to take her home only to make them realize she's not only sober, but they are preying upon her leaving these "nice" guys baffled and embarrassed.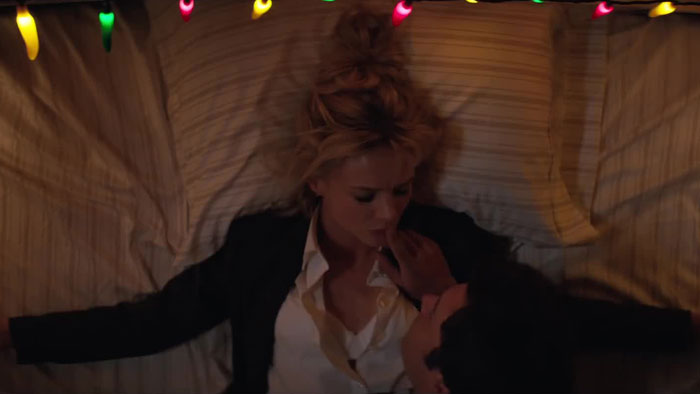 "…a seemingly intoxicated woman baiting a man to take her home."
When a former medical school classmate, Ryan, played by Bo Burnham, refuses to take no for an answer for a date, even drinking her spit-filled coffee to prove himself, the plot thickens. It comes to light that Cassie's malevolent behavior, unbeknownst to Bo, is due to her best friend's death. The friend was also a medical school student.
Now, Cassie, utilizing very witty banter and ingenious antics, places people in some very paralyzing positions. As a femme fatale, with a rainbow manicure, Cassie's ultimate revenge plays out as larger than life. Plus, as a nurse (well, almost), she knows exactly what buttons to push against the male cruelty that plagues her. At the end of it all, I would say she's a perfect girlfriend, with a lot of guts and glory.
Promising Young Woman is director Emerald Fennell's feature-length debut. She is an accomplished screenwriter, director, actor, and novelist nominated for two Emmys. The Promising Young Woman script was on the 2018 Black List. All of that to say, Fennell's directing here utilizes all her skills in a fun, enjoyable manner.
Promising Young Woman screened at the 2020 Sundance Film Festival.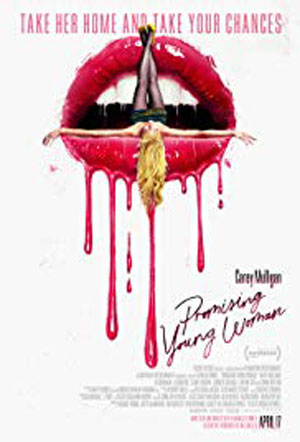 "…a clever and well-made comedy-horror movie for the feminist at heart..."