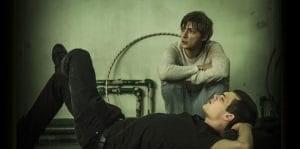 The Student is a dark drama focused on the extremism of ideas and behaviors. Written and directed by Kirill Serebrennikov, who sought inspiration in a play by the German Marius von Mayenburg, the film comes equipped with comedic undertones and inflamed religious discourses.
The script focuses on Venya (Pyotr Skvortsov), a tumultuous high school student turned religious fanatic whose preachy attitude and behaviors fall out of the normal standards, especially considering his young age.
Venya might want to preach the good but ends up sinning badly. At first, one may wonder if this is not a way he found to do what he wants: skipping school's swimming classes, loitering without studying, disregarding rules and duties, and calling the all the attention to himself. However, as the story advances, we notice that this boy has no solid background, as well as no father as an authoritarian voice. Actually, he only has this pathetic mother, Inga (Yuliya Aug), who seems in need of as much help and orientation as he does. Venya has this ability to muddle her vision about his real intentions and compel her to stand up for him regardless the unremitting misconduct.
"…The Student is a purposely exaggerated satire that feels simultaneously mindful and nerve-wracking."
At school, Venya tries to disguise his physical attraction to the conceited Tkacheva (Aleksandra Revenko). He also offers God's salvation to Grisha (Aleksandr Gorchilin), a bullied crippled boy who falls in love with him, a sacrilege that will have terrible repercussions.
The only one who dares confront him in his ideas is Elena (Viktoriya Isakova), a liberal and atheist pedagogue who gradually becomes a religious junkie as she attempts to understand the boy's conduct and motivations. She dives so obsessively into the Bible's writings that her boyfriend Oleg (Anton Vasilev) decides to leave her until she returns to her normal state.
This opposite view is also a form of extremism and Serebrennikov awkwardly manages to make it work by setting an open battle between two obstinate persons: a fervent Christian and a rational scientist.
All the characters, including the unhelpful school's principal (Svetlana Bragarnik) and a pointless priest (Nikolay Roshchin), got on my nerves, so childish they behave. Here, we have kids playing adults and adults behaving like kids, all wrapped in a philosophical circus that feels half realistic, half staged.
Beautifully shot by the cinematographer Vladislav Opelyants, who knows how to use light in his favor, The Student is a purposely exaggerated satire that feels simultaneously mindful and nerve-wracking. Among extensive angry sermons, inflamed egos, and emotional vulnerabilities, the film looks at contemporary Russia with biting sarcasm.
The Student (2016) – Written and directed by Kirill Serebrennikov. Starring Pyotr Skvortsov, Viktoriya Isakova, Yuliya Aug, Aleksandr Gorchilin, Aleksandra Revenko.
6 out of 10