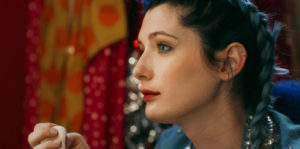 CINEQUEST FILM FESTIVAL 2022 REVIEW! There's a certain creepiness that comes hand-in-hand with traveling circuses. Behind the glitz and glamor are disheveled tents, peeling paint futilely attempting to cover up cracks, despondent performers, malnourished animals, and a permeating atmosphere of anguish. No wonder circuses have been featured in a plethora of film noir and horror movies, and clowns are the go-to cinematic monsters. Writer-director Em Johnson's take on the vérité-style Balloon Animal differs from these approaches. She attempts to realistically portray circus life – more specifically, the inner life of her protagonist – and imbues the film with childlike wonderment and a prevailing hope. The result is irresistibly charming.
The turquoise-haired Poppy Valentine (Katherine Waddell) makes balloon animals at Valentine's Traveling Circus, owned by her possessive father, Dark Valentine (Ilia Volok). Together they perform basic magic tricks to increasingly scanty, unenthused crowds. Poppy knows things have to change radically in order for them to survive, yet Dark is tragically set in his ways. Abandoned by his wife years ago, the aging man harbors deep resentment, consequently creating a borderline-suffocating environment. So when Dark offers Poppy the role of assistant manager, she's understandably reluctant: "Who would do the balloon animals?" To escape, Poppy goes out with her friends and fellow circus workers, Sadie (Erin Rae Li) and Lala (Danielle Baez).
One night, she meets the awkward-but-hunky Drew (Michael David Wilson) at a gas station. A semblance of romance blossoms, but the filmmaker cleverly uses this subplot as a catalyst for Poppy to arrive at the conclusion she ultimately does. The finale is sublime in its straightforwardness and simplicity, but also its open-endness – from this point onward, Poppy's life could either change dramatically or revert back to a monotonous slog. Even if the latter occurs, however, it will be her decision, her choice. She's ultimately the master of her destiny.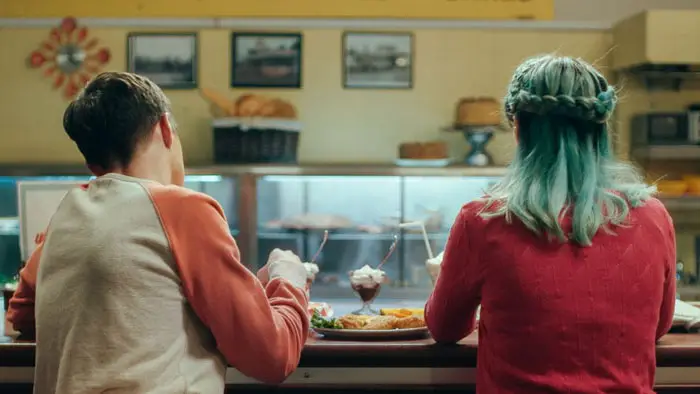 "…when Dark offers Poppy the role of assistant manager, she's understandably reluctant…"
Balloon Animal is a simple tale with next-to-no embellishments, both visually and thematically, which is quite a feat for a film that revolves around a circus. One almost wishes that Johnson added a flourish or two, perhaps some more details and insights, as there's little emphasis on what life in the circus must be like. The one scene involving Poppy and Dark's performance feels underpopulated and not in the way the filmmaker intended. The budget limitations are most evident here. The sequence where Poppy discovers her circus vandalized is the closest the film comes to depicting her actual existence and all the odd occurrences that must be dealt with on a regular basis.
The filmmaker elicits indelible performances from the entire cast, taking a particularly deep dive into the mind of her protagonist. Waddell is more than up to the task. She's such a natural, charismatic screen presence, effortlessly switching from despair to joy, that it's almost a guarantee she'll be gracing silver screens nationwide soon enough. Screen veteran Volok is bound to break hearts with a soulful, torn feat of acting that somehow manages to be both intro- and extroverted. He unknowingly twisted the women in his life into his versions of balloon animals and now witnesses the second one untangle and flee. The two share sizzling chemistry, particularly in a sequence involving a bitter grapefruit.
Aided by Alexa L. Borden and Connor Cook's effervescent score, Balloon Animal intermittently reaches moments of poetry. It's a coming-of-age tale that examines how parents enforce their unrealized ambitions on their children, how important change is, and how our lives are too short for regret. This circus movie may not reinvent the "circus movie" – there's too little circus in it, ironically – but it's still refreshing to see one that does not involve demonic demons or a mugging Bradley Cooper.
Balloon Animal screened at the 2022 Cinequest Film Festival.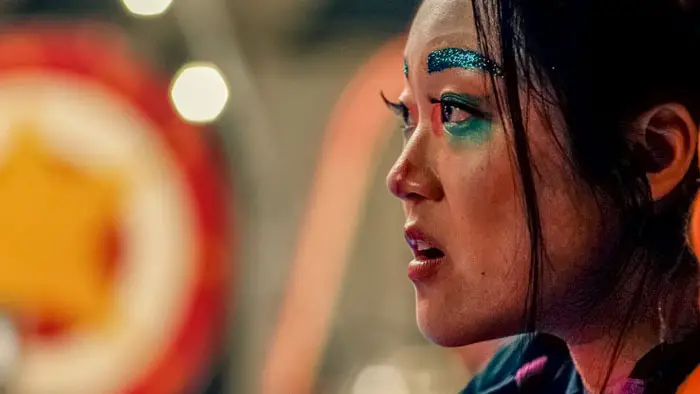 "…irresistibly charming..."