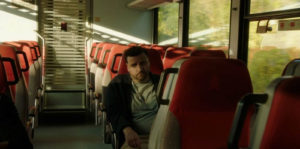 LOCARNO FILM FESTIVAL 2023 REVIEW! Writer-director Bob Byington's Lousy Carter tells the story of an irrational, hopeless, and borderline narcissist who, in creative irony, is named Lousy. Literature professor Lousy Carter (David Krumholtz) is rude, unsparing, unreasonably sardonic, and evidently self-centered. But the comedy doesn't make an example of its eponymous protagonist. Instead, each character by his side behaves precisely similar.
Lousy's ex-girlfriend, Candela (Olivia Thirlby), is outright honest about her disgust and disdain at his neer-do-well lifestyle. Friend Kaminsky (Martin Starr), a Russian literature expert who also happens to be ironically named after a Russian artist, is unequivocally emotionless toward Lousy's issues. When the title character takes it upon himself to flatter a student named Gail (Luxy Banner), he is met with a girl who is unapologetically cynical, self-serving, and glacially dispassionate.
But then Lousy discovers he has six months to live. Coincidently (or not?), he had just joked about how doctors increase a terminal patient's lifespan when medical bills are due. This shocking reality usually sends the characters on an epiphanic journey in most movies, but it's not the case for Lousy Carter. Owing to the ludicrous and humorous narrative, Lousy Carter instead treads a more downhill road. Now, with nothing to lose, he is unrepentant and unashamed, being a jerk. And the result of his subsequent idiocies is a series of amusing madness.
Is the feature bizarre by having these unfounded characters engage in baseless conversations? Is its purpose just to entertain the audience through internal ridicule without purpose? Or are these characters just resonating in a meta-physical form of Lousy's imperfect and arbitrary interpretation of the world?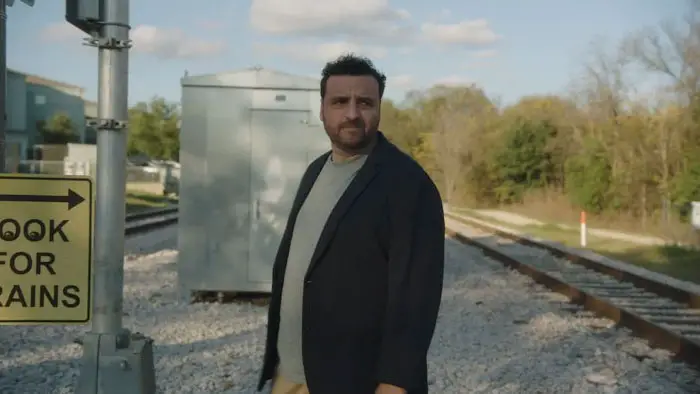 "…with nothing to lose, he is unrepentant and unashamed…"
Whatever the case, you can be sure of one thing – Lousy Carter is absurdism, with a capital A, at its finest. The best part is that it's authentically written with the intentionally ridiculous and bizarre traits of absurdity, not just in dialogue but also in atmosphere. At every juncture and conversation, Byington reminds you that everything choreographed on-screen may not make logical sense, yet the cast's unfiltered and blunt embodiment of goofy traits is fascinating.
This is a twisted take on the themes of loneliness, abandonment, existential crises, and dysfunctional familial troubles. The filmmaker's use of deliberate insults is intriguing to the point that it makes you wonder about the unsurmountable verbal insanity being induced. The characters seem to behave according to a pandemonium, which is incomprehensible but fun. Such moments are inconsistent and even forgettable, but they are sufficient to lure you into the story.
Krumholtz is perfectly cast. Lousy is a character who resorts to negligent laziness and reckless daily functioning. These traits make him a lethargic and irritating personality. Krumholtz manages to bring it all out on-screen throughout Lousy Carter. After catching a glimpse of him in Oppenheimer, it's genuinely an exciting turning point to watch the actor embody the traits of an obliviously inconsiderate human being.
It's admirable that Byington doesn't loosen his story of its strange, peculiar, and unusual unraveling. For much of the movie, there seems to be no change in the main character's traits, nor is there any change in the atmospheric humor and tone. Even through the climactic end, the motion picture retains its odd and eccentric nature.
Lousy Carter is not a blockbuster kind of film. However, it won't be surprising when the comedy finds its audience. Nevertheless, in terms of narrative, writing, and performance, the flick is hardly lousy to watch and will leave an impression, though it may not be everlasting.
Lousy Carter screened at the 2023 Locarno Film Festival.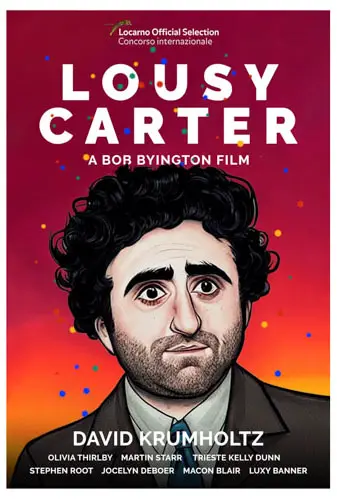 "…a twisted take on the themes of loneliness, abandonment, existential crises, and dysfunctional familial troubles."