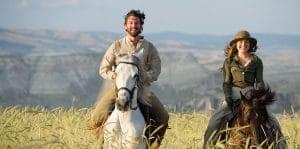 I did the research before watching the movie. Should I have looked? Do you ever read about a movie before viewing or do you go in cold? I do both for different films. I don't avoid spoilers in films/TV. I'd rather not be surprised.
The  conditions leading up to the Armenian genocide evolved through complex layers of events with multiple drivers over time but the short version is that the Ottoman Turks worried that the Christian Armenians (who were a reviled and oppressed underclass in the Ottoman culture) would side with the Russians in the coming war (WWI)  and decided they'd mitigate that risk by systematically deporting, conscripting, imprisoning, and killing most of them.
According to wikipedia: "Turkey, the successor state of the Ottoman Empire, denies the word genocide as an accurate term for the mass killings of Armenians that began under Ottoman rule in 1915. It has in recent years been faced with repeated calls to recognize them as genocide. To date, 29 countries have officially recognized the mass killings as genocide, as have most genocide scholars and historians"
I'm puzzled as to why the word is what hangs people up. Nobody argues with the body count. When you kill 1.5 million people, who gives a s**t what it's called? Let's just not do that again. Unfortunately, words do matter. This is particularly noteworthy now in the U.S. where we are saddled with a government rife with stupid semantics and "alternative facts."
"The eponymous Ottoman officer Ismael (Huisman) is a romantic wet dream…"
Then I watched the movie. I should have gone in cold and then looked it up but I'm rarely that patient. Aspects of it would have annoyed me even if I hadn't done the research. My resulting bias shows here: It's disturbing that the film strips down a complicated moment in history to brightly colored basic ideas and impulses. Heroism, altruism, and passion are presented in the simplest terms and most convenient definitions without the messy contradictions (or the full accounting) of historical reality.
Taken as just a film it's not terrible. Dutch actor Michiel Huisman is great in the HBO show Treme and commendable here as the Ottoman officer. Josh Hartnett is sturdy and delivers a reliable performance. Sir Ben Kingsley is beyond review at this point. His very presence brings the room up a notch. Maybe less so these days? It's been a long time since Gandhi. He is still a fine actor and right at home as the tormented ether-addicted doctor running the hospital in the dusty wartime hellscape.