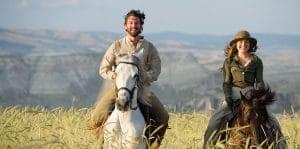 Leni Riefenstahl was by all accounts a serious, talented, and ambitious filmmaker. She was also an amoral opportunist who ignored facts in the interest of her film career and personal advantage. She hitched her wagon to the wrong goddamn rising star. See: the verdict of history. I wonder if director Joseph Ruben isn't following the same path to some extent?
Ruben's film The Ottoman Lieutenant is Turkish propaganda to promote the idea that the Armenian genocide wasn't a systematic program by the Ottoman government and therefore doesn't fit the definition of the word "genocide."  It's meant as a retcon for the bloody history of that time, cleaning up the record for the country that became Turkey. History is (re)written by the victors even a century later.   
It is releasing concurrently with a similar film called The Promise starring Oscar Isaac that presents the generally accepted narrative about the genocide.
Cara Buckley, in a New York Times article from April, 20th, 2017, says "six weeks before The Promise hit theaters this weekend came another film that shared uncanny parallels. Like The Promise, The Ottoman Lieutenant hinges on a love triangle set in Turkey during the early days of World War I. Unlike The Promise, The Ottoman Lieutenant, which stars Michiel Huisman and Josh Hartnett, was backed by Turkish investors and has been pilloried by critics for whitewashing historical events."
"Heroism, altruism, and passion are presented in the simplest terms…"
I'm not as well-versed in 20th-century history as I should be. I spent more time with movies and books than paying attention in history classes, though as an adult I realize that history is relevant and I've taken an intense interest. Ironically I have learned history from watching movies, which is a shaky way to go about it, only works if you augment with skepticism and dig for facts. Most dramatic films exist to sell tickets, not to preserve historical fidelity.  The Ottoman Lieutenant exists to give a particular interpretation of history.