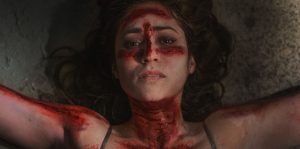 NEW TO VOD! The Old Ways, directed by Christopher Alender from Marcos Gabriel's screenplay, opens in Mexico with a little girl watching her mother being healed in an ancient ritual. The mother tells her everything will be alright, then her mouth erupts with shark teeth, and the girl starts screaming. Years later, the little girl, Cristina (Brigitte Kali Canales), all grown up, is tied to a chair with a bag over her head and a strange man (Sal Lopez) in the room.
Cristina yells in English that she is a journalist from Los Angeles who has come back to Mexico to research an article, with no answer from the man, who seems to be making preparations. Finally, he steps out of the room, and out from the shadows comes a bruja (Julia Vera), an old witch with charms, face paint, and a staring dead eye. The witch says she sees something hiding inside Cristina that needs to come out, and the man bursts back into the room to pour gallons of goat's milk down her throat.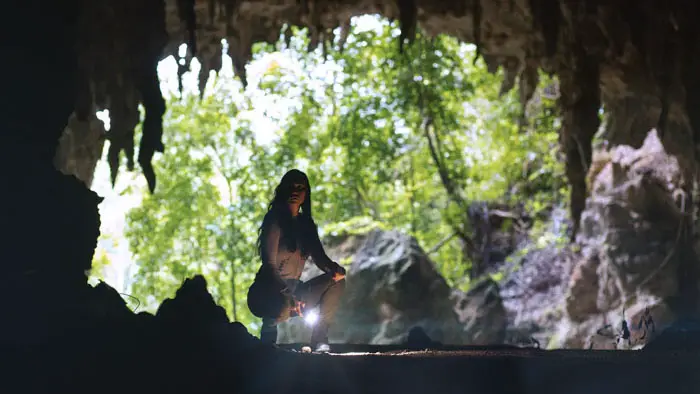 "…the witch and her son will be working to exorcise a demon from Cristina."
Cristina's cousin, Miranda (Andrea Cortés), then makes herself known and explains that the witch and her son will be working to exorcise a demon from Cristina. To do this, they'll be using the old ways that are still followed in that part of the jungle of Mexico. When Cristina asks Miranda to please contact the authorities, she informs her that in this area, the witch and her son are the authorities. So starts a twisted ride through extreme exorcism rituals that go further through Cristina than she had ever feared.
The Old Ways is a masterpiece that shows how great horror will be done in the future: swiftly paced, engrossing and terrifying. The film could have easily worked as a dramatic movie with occult trappings like Serpent and the Rainbow, as it takes its characters and themes seriously and nurtures them throughout the story. Its pacing helps engross audiences, with everything starting when it is the most exciting. The stakes are known from the jump, which helps sell the danger of the situation Cristina faces. It is off to the races immediately, setting up the exorcism in record time and delivering what the genre fans want right away.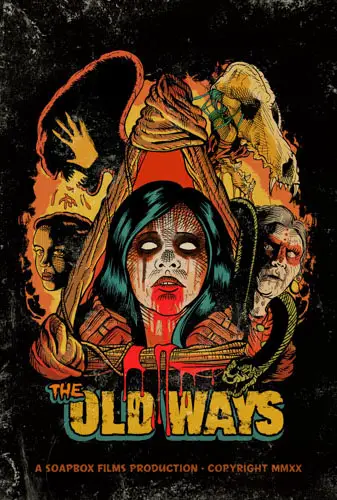 "…easily passes the Bechdel Test."