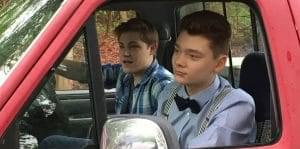 The Exorcist is one of the scariest movies of all time, and like anything in the horror genre that succeeds with an innovative premise, it spawned a whole legion of copycats. These imitators still crop up from time to time: some, like The Last Exorcism, put their own spin on the formula, while others stick to the blueprint. Along Came The Devil falls firmly into the latter category, but despite its by-the-numbers script, solid acting and inspired directing choices elevate it above typical video-on-demand horror fare.
Along Came The Devil's premise seems interesting at first but quickly devolves into a standard "possessed young girl" story. Ashley (Sydney Sweeney) and Jordan (Kyla Deaver) are twins with an absent mother and abusive father (who inexplicably has an English accent while everyone else in this movie is from the American South). When Jordan goes to college, Ashley moves in with their aunt Tanya (Jessica Barth), who helps to raise them in their parents' absence. As the movie proper starts, Ashley is settling back down into life in her hometown, where strange things are happening.
"Ashley is settling back down into life in her hometown, where strange things are happening."
The rickety, backstory-filled beginning could have removed a lot of unnecessary detail without losing anything—maybe the writers were trying to make the "Based On A True Story" tag seem believable. Nonetheless, when the incomplete explanations of family drama stop and the spooky things start, Along Came The Devil can be a good time.
It's interesting to watch a movie where some aspects of the production are of such a higher quality than others. The script's dialogue is wooden, character motivations are often unclear, and it's hard to infer what we're supposed to get from some exchanges (a scene between Ashley and the local pastor that plays like a meet-cute is one example). Meanwhile, the acting is all-around excellent. Sweeney, in particular, conveys the vulnerability of a teenager trying to make new friends, along with the inner terror of something not being right in her new life. Barth as the caring aunt who goes above-and-beyond and Bruce Davison as a rough-around-the-edges reverend are also standouts.
"…inspired directing choices elevate it above typical video-on-demand horror fare."
The fundamental question in a horror movie is always "is it scary?" Along Came The Devil is often nerve-wracking, mainly due to the fine cinematography from Justin Duval. The camera swoops through empty houses and forests, tracking characters as they follow mysterious sounds; it takes a page from the Val Lewton, "tension building" style of horror, not overwhelming the viewer with jump-scares and blood. It's also just a nice movie to look at—everything is shot in anamorphic lenses that make small-town America look quaint and inviting.
The problem is, it's still a beat-for-beat typical possession/exorcism movie. There are some solid twists on the formula, particularly in the last scene, but this is a movie where a young high schooler falls into sin, then madness, then she's tied to a bed and starts calling people "c********r" in a weird voice, then black stuff starts coming out of her mouth and her eyes get all weird and her bones look like they're breaking while she's walking around. It's the same thing you've seen a million times, whether in an actual horror movie or parodied on SNL. But if you're watching a VOD horror film like this, you probably don't want anything too fancy. If you're in the mood to see an innocent teenage girl get her s**t f****d up (no judgment from me, I guess?), Along Came The Devil will give you what you paid for.
Along Came The Devil (2018). Directed by Jason DeVan. Written by Jason DeVan, Heather DeVan. With Sydney Sweeney, Madison Lintz, Jessica Barth, Bruce Davison.
5 out of 10 stars