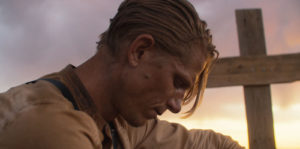 In Andy Kastelic's short film The Misanthrope, a man named Jeb (Kastelic) in the American Old West takes on the job of gravedigger as a sickness is sweeping across his town. He works night and day out of a sense of decency and duty to the community until his own great tragedy sours him on all humanity. When his wife, Kitty (Sarah Minnich), dies, he declares himself the law of the land and makes a decree that stuns the townspeople.
Short films are the most challenging style of cinema. The filmmaker must capture the audience from the start with no backstory or exposition. They also have very little time to embed the viewer in the time and place firmly, or the characters, as shorts start in the middle of events already in progress. Kastelic achieves all this with breathtaking clarity and skill by phrasing the spoken word in the form of poetry, accompanied by beautifully composed cinematography.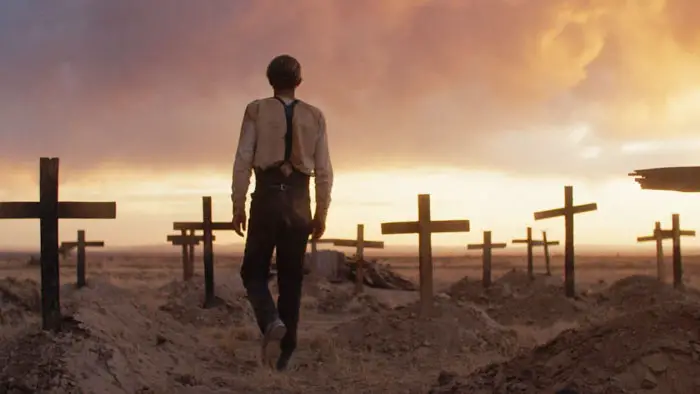 "…declares himself the law of the land and makes a decree that stuns the townspeople."
Of course, the pandemic metaphor is clear. In fact, it's not even a metaphor so much as just a window into how people have always dealt with what we are going through during Covid times.
The images of the desert graves and Jeb's sweat-streaked face in close-up tell the story better than long-winded dialogue ever could. We stand with the townspeople in the windswept graveyard as they eulogize lost loved ones and say their last goodbyes, offering particular flowers they've chosen to honor their departed. Flowers are life. When Jeb abandons humanity in his grief over Kitty, the mood and the images turn dark. The beautiful, mournful soundtrack of The Misanthrope offsets the poetic narrative, and for 14 minutes, we are at the edge of town, grieving the loss of family and friends.
For more about The Misanthrope, check out the filmmaker's site.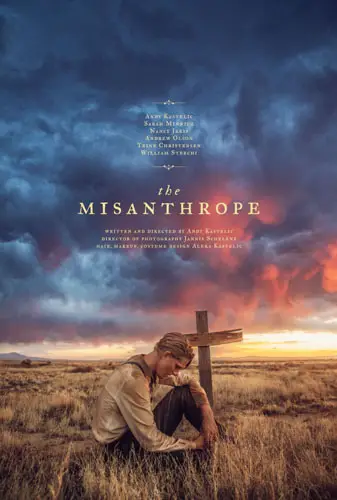 "…beautiful, mournful..."