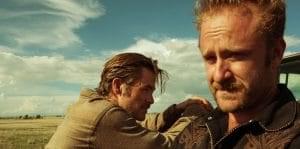 This is a great movie, well deserving of its place nominated for a Best Picture Oscar. Hell or High Water sneaks up on you and catches you unawares, revealing some things about America, and possibly about yourself that you maybe didn't want to know. It's rough and raw. There's beautiful cinematography, sharp dialog, and a compelling story that keeps you in the moment until credits roll. The soundtrack provided by Nick Cave (!) and Warren Ellis punctuates the stark landscape and hard realities perfectly.
There has always been something about Texas. Outside the bigger cities and discounting Austin which has it's own thing going on (I love Austin) out in the countryside of Texas there lies a plain and sometimes dangerous truth.  There's s**t out there that can kill you including your own ignorance of the land and the people. Texas is a place that holds little regard or sympathy for the uninformed. It's unforgiving of negligence and carelessness.  This is reflected in the culture too, very black and white. Texans are confident and unimpressed with anything extraneous.  Texas was its own country once and could be again, they carry that swagger with them. Tanner Howard (Ben Foster) is a Texan for his time and place, he fits right in there.
As we meet the Howard brothers, Tanner has just been released from prison, having missed the death and funeral of his mother.  His younger brother Toby (Chris Pine) is a man with a difficult past himself, estranged from his wife and sons, and they are both faced with the impending foreclosure on the family farm by Texas Midlands bank based on a reverse mortgage their mother took out before she died. They conceive a plan with the help of a somewhat morally casual lawyer to rob the same bank to pay back their debts.
This story is American right down to the dusty ground. The family is a dumpster fire, the bank cold and predatory, and the brothers violently desperate and boundary challenged.
Fold into this mix retiring Texas Ranger Marcus Hamilton (Jeff Bridges) and his partner Alberto Parker (Gil Birmingham) who wind up investigating the robberies and predicting the Howards next moves.
Alberto is Native American and there's a casual racism to the approach Hamilton has to him, but it's in the context of good friends and partners who are accustomed to giving each other s**t through the years and who dread the coming changes as Hamilton retires.  The real love in their friendship becomes apparent as the story plays out in ways the rangers could not have anticipated.
Ben Foster is a monster.  He's an actor that demands you keep eyes on him when he's on the screen. I've been hoping we'd see more of him in more significant roles, and as Tanner Howard in Hell or High Water he's doing exactly what he was meant to do. Right actor in the right place at the right time.  This is to take nothing away from Jeff Bridges or Chris Pine, who are also both amazing.
Jeff Bridges at this point has the same problem that Tom Hanks does: He's been so consistently good for so long that we just expect it, and he delivers here.  He's going to have to play some really outlandish character for anyone to take special note of the performance. Maybe Bridges and Hanks could make a film together?  Directed by David Lynch? That would shake up the hoi polloi. Every nuance of Ranger Hamilton shines in a performance that is deceptively casual. Bridges makes this look easy, always has.
Toby Howard (Chris Pine) is the moral center of the story, which is bad news for morality, as his ethics are questionable at best, but he does hold the line on his commitment to family and to his sons. Pine captures the hopeless and helpless rage of Toby as he navigates through this shitty moment in his life.
Minor demerits for trotting out the old "retiring policeman" trope. I get that it's shorthand for life transition and scary changes, particularly if the person has invested too heavily in the career to the detriment of his/her life, but it's little worn at this point.
There are defining moments throughout the film, with some of the best lines delivered by Foster as Tanner and a killer moment at a casino poker table where Tanner learns the meaning of the word "Comanche." (The film was originally entitled Comancheria) .  It's been a long time since dialog delighted me as it did here.  The words just sparkle and hang in the air. It's exciting to know this can still be done.
The movie is tight, well written, sympathetic, without resorting to cloying sentimentality, and brutal in its consequences.
If you're prioritizing which "Best Picture" nominees to see this year, put this one at the top of your list.
Hell or High Water (2016) Directed by: David Mackenzie. Written by: Taylor Sheridan. Starring: Ben Foster, Chris Pine, Jeff Bridges 
8 out of 10