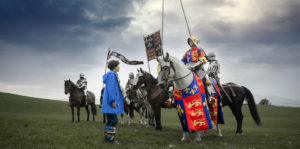 LOFT FILM FESTIVAL 2022 REVIEW! The great English director Stephen Frears delivers the piping hot goods again with his charming The Lost King. Based on a true story, the script by Steve Coogan and Jim Pope follows Philippa Langley (Sally Hawkins) on her search for the missing remains of King Richard III. A divorced mother of two suffering from chronic exhaustion, Langley takes her son to a performance of Shakespeare's Richard III and is electrified. Her searches on the internet lead her to discover The Richard III Society, a group dedicated to reforming that king's reputation. They feel Richard III was branded a usurper due to being falsely accused of crimes by the succeeding Tudors' rewriting of history.
Langley is impressed with Richard III's reforms, such as the concept of innocent until proven guilty. She becomes obsessed with locating the lost grave of the tarnished king, much to the chagrin of her ex-husband John (Steve Coogan). Her obsession leads Langley to be haunted by the apparition of Richard III (Harry Lloyd). Instead of the gnarled wicked villain Shakespeare imagined, she sees a tall, misunderstood hunk of a king who she confides in. Her unlikely quest is met with resistance from the academics, who dismiss her as a nut. Nevertheless, Langley still plows ahead, determined that Richard III is found and given the burial a monarch deserves.
Stephen Frears is a lost king of modern cinema. Working in film and TV since the late 1960s, he tore my world apart in the 80s with his amazing triptych of films My Beautiful Launderette, Prick Up Your Ears, and Sam and Rosie Get Laid. These British arthouse epics brought England's class wars up on the screen. They also had an unprecedented amount of queer representation, which was still fairly scarce then. Frears' next film, Dangerous Liaisons, lead to a Hollywood career in the 90s and lots of respectable work in the new century. However, those three films in their time burned through the dry crust of the cinema world like glowing lava.
"…becomes obsessed with locating the lost grave of the tarnished king…"
Like Richard III, Frears should have a much more revered reputation than he seems to have. He certainly can still make an excellent picture. The Lost King is precisely the kind of movie my mother streams on a nightly basis. Its got an underestimated outsider who gets fire up her spine and is off to do the impossible. You can't get pluckier than that. It also has traces of the core works here and there, especially the ghost motif present in Sam and Rosie Get Laid. No, there isn't anything cinematically revolutionary here, but that is because Frears already changed the world of film decades ago.
Hawkins is a delight throughout. She takes the monumental task of simultaneously making someone fractured and determined and making it look easy. The actor manipulates weakness and strength like a punk magician juggling chainsaws. It is weird seeing Coogan tamp it down and play the straight man. But he's great at it, probably because he has already done his mayhem in writing the screenplay. Lloyd takes a role that could have been a prop and fleshes it out completely. He reflects the superhero-like appeal Hawkins has for him out back to the audience. There's going to be more cape work for Lloyd in the future, you can bet.
The story twists and struggles keep engaging through, whether you know the outcome or not. If you do not know the real story, please avoid brushing up on it or watching the trailer prior to viewing. The Lost King is an engaging journey by a master filmmaker that will be a lollipop parade for older audiences coming back to the theaters. Let's hope it recaptures former glory for both its subject and creator.
The Lost King screened at 2022 Loft Film Festival.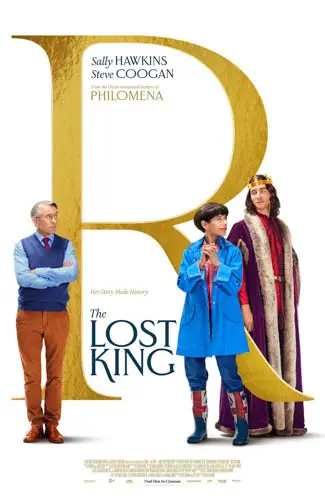 "…a lollipop parade for older audiences coming back to the theaters."