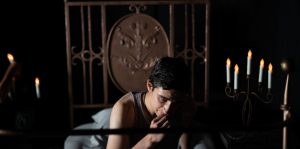 Anyone who's taken a high school senior English class knows the story of the Prince of Denmark named Hamlet, and if you, dear reader, are one of the outliers who does not, please proceed with haste to read and see William Shakespeare's play. You may also consider watching Kenneth Branagh's 1996 film version, an adaptation that is most faithful to the original text.
For everyone else, there's director Paul Warner and writer David Vando's Hamlet/Horatio. The drama opens at the moment of Hamlet's (Andrew Burdette) death on an empty stage, with a modern film camera documenting the action. He dies in the arms of his beloved companion Horatio (Themo Melikidze), who promises Hamlet that his story will be told and the truth will out. What follows is Horatio's version of Shakespeare's timeless tale. Horatio's love for Hamlet takes center stage as he directs a retelling of the events leading up to this tragic moment.
The film strips the accessories down to a bare minimum. The set is a soundstage, with only enough backdrop and props provided to suggest the scene. The costumes are period-friendly but not exact. Hamlet wears a leather jacket with princely accouterments. The soundtrack is also minimal. A particular climactic scene uses Aaron Copland's Fanfare for the Common Man. The cinematography is as claustrophobic as the staging, using close-ups and hazy lighting to focus attention on the actors. This leaves only their performances to sell the story, and the power team of Burdette and Melikidze seize the moment grandly, making the small space large with little more than stage presence and skill.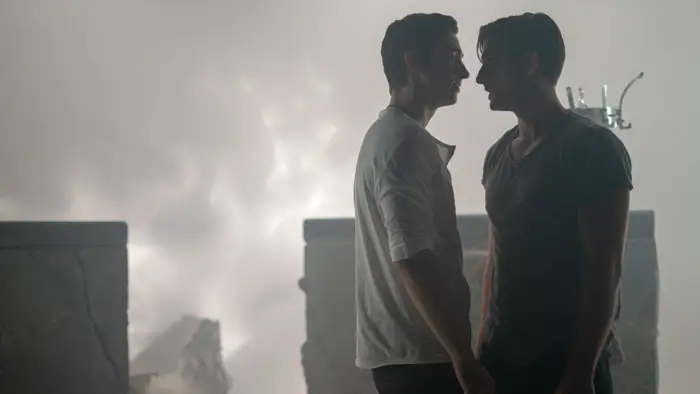 "…dies in the arms of his beloved companion Horatio, who promises Hamlet that his story will be told…"
Shakespeare's language is, of course, inextricably woven into modern English, and the study/retelling of his plays is essential to keeping those idioms and familiar patterns intact. Shakespeare's works have become pop culture touchpoints, infinitely referenced as shorthand metaphors to complex ideas. Phrases from Elizabethan English we would have never considered preserving are pulled through time by the sheer inertia of his continuing popularity. Hamlet is among the most referenced, with phrases like "To be or not to be…" and "This above all, to thine own self be true."
In the 1987 black comedy Withnail and I, the notion of playing Hamlet becomes Withnail's benchmark for success when his uncle Monty reveals that the moment he knew he was not going to make it as an actor was when he realized he would "never play the Dane." The film ends with Withnail pondering a similar fate, standing in the rain alone, reciting Hamlet's monologue about losing his joy in life.
Hamlet has proven to be one of Shakespeare's most enduring works, presented again and again, sometimes in a traditional way, but often re-contextualized. Both approaches keep this essential work alive. Vando collaborated for 20 years with producer David Wenzel to bring Hamlet/Horatio into existence. They aimed to create a concept of Shakespeare to bring in younger audiences, to spark an interest in the Bard's work.
Wentzel explains his motivation for making the film: "David Vando and I felt there was a need to introduce Hamlet/Horatio in a new concept to make it more relatable to a newer audience that might have been standoffish with Shakespeare in the past." This is a noble impulse, and Hamlet/Horatio is a mighty result, but the real joy is experienced by those who already know and love the play. If you roll the Bard's words around in your mind and have no choice but to finish lines from Hamlet when you hear them, then this film will hit you like a masterful remix of your favorite song. It's something familiar in a challenging new context and is delightful.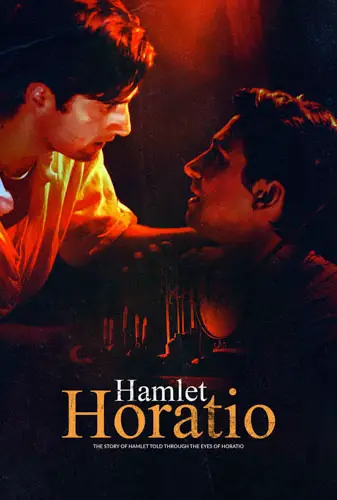 "…will hit you like a masterful remix of your favorite song."