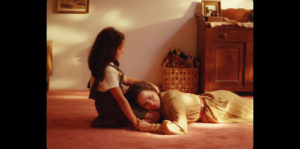 The Light Keeps Me, directed by David Orantes and written by Nora Alameddin, has a three-minute runtime, and yet, there is so much emotion and craft on display.
The film begins with six-year-old Yosselin (Allyson Juliette) sitting on the living room floor. She's putting round objects in her pocket and admiring the patches of sunlight that are seeping through the curtains. She looks to the right of her, with a cutaway unveiling a middle-aged woman named Ximena (Elena Rojas). The camera cuts back to Yosselin, who grabs a patch of sunlight and puts it in her pocket. Time has passed, and Yosselin peers around the corner of a dimly lit hallway and stares ominously at a closed door at the end of the hall.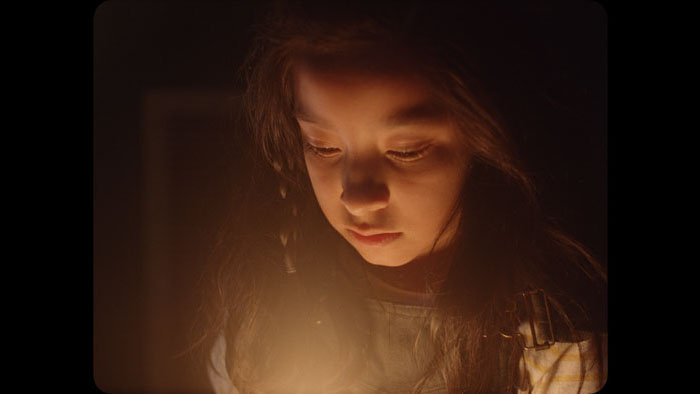 "…[Yosselin] grabs a patch of sunlight and puts it in her pocket."
The Light Keeps Me is beautifully edited and shot, framing close-ups in softer focus and cutting between then and now with an emphasis on simple gestures, such as Yosselin and Ximena holding hands, swapping smiles, and peeling oranges. Orantes makes it so Yosselin's innermost thoughts and fears are accentuated by glaring light and all-encompassing darkness. Regardless of Ximena's relation to Yosselin, the fact of the matter is that Ximena's absence hurts Yosselin to the core.
Yosselin struggles to relive blissful and painful memories. In a non-verbal performance, Juliette instills the character with a palpable sense of yearning and mourning as the days without Ximena become bleaker. Yosselin now lives with a woman who keeps her locked in a dark, cluttered laundry room. Yosselin must find strength in memories and, ultimately, light.
With the concept of light being at the center of this quiet, mournful tale, Orantes aims to spotlight the brighter and hopeful moments amid the abstruse darkness: the turning on of a light switch, the holding of hands, and the frivolous act of stacking orange peels. The Light Keeps Me unfurls like a reverie with tints of coldness and warmth. The light could represent a lot of things: hope, power, life, and perseverance. For young Yosselin, as long as she has hope, there is light at the end of the tunnel — or, more likely, in her pocket.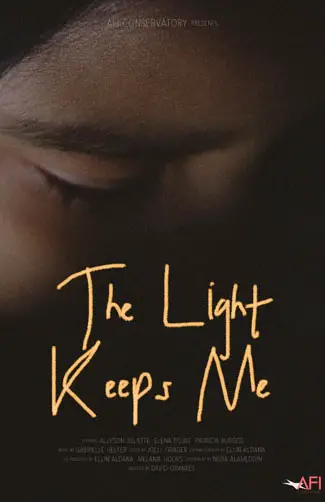 "…beautifully edited and shot..."